Celebrating 20 years as headline sponsor of The BRIT Awards, Mastercard is launching a world first concept which gives anyone the opportunity to listen to a 'Soundtrack of their Life', by simply entering their Twitter username.
The innovative new technology allows users to type any Twitter username into
https://uk.mastercard.com/socialsong
and Mastercard will use the emojis, key words and pictures posted over the past year to translate into a series of unique beats, married together to create a personalised soundtrack.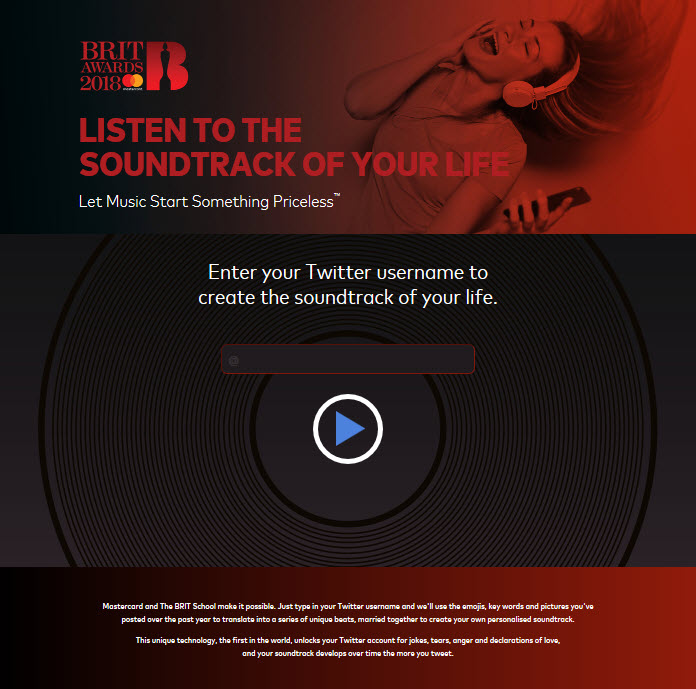 This exclusive technology can unlock any public Twitter account and scan for jokes, tears, laughter, anger and declarations of love to create beautiful, bespoke and fascinating personalised soundtracks. Each soundtrack develops over time the more a user tweets and posts; unveiling emotions through melody.
The music has been written and produced by student, Daniel Lazenby at the BRIT School for Performing Arts and Technology, using a variety of instruments to create unique sounds. Each piano note or cello string has been allocated to represent emotions on a spectrum of happy to sad, joyous to angry and all that's in-between.
Combining these exclusively written harmonies and advanced technology, Mastercard can translate the emotional tone of each tweet into a bespoke tune;
a Soundtrack of your Life
.
Nicola Grant, Head of Marketing and Communications, UK and Ireland at Mastercard said
"Mastercard's relationship with The BRIT Awards has always been about helping fans get closer to the music they love. This year, our 20th in partnership with the BRITs, we are going one step further. By working with exciting new talent at The BRIT School, as well as using cutting-edge British technology, anyone with a twitter username can create their very own personalised soundtrack to their life, reflecting their highs, lows and everything in between!"
Mastercard worked with British software development company
StyleTech
, to create the 'Soundtrack of your Life'. The technology platform determines the sentiment and emotional value of each individual tweet. This advanced software then scans through a user's Twitter feed detecting facial (in images) and written emotion to correctly grade the sentimental tone of each post on a scale from one to 100. The number for each post is assigned a bar of music, resulting in a personalised soundtrack when each Twitter post is looped together.
The world-famous and free BRIT School for Performing Arts and Technology offers young people recognition, access and the tools to develop the skills which will prepare them for the future. Previous alumni include BRIT Award winners Adele, Jessie J and Amy Winehouse.
Music Director at the BRIT school, Connor Doherty says: "
We as a Music Department are delighted to be producing music for the Soundtrack to your Life software. It's an unusual challenge and one that final Year Music Student Dan Lazenby has relished. One hundred levels of emotion expressed through music is a daunting task, but the process has taught us a lot about how we respond to music and what we expect to hear."
Composer and upper sixth student Daniel Lazenby said of the challenge:
"Participating in this ground-breaking artistic effort has been an immense pleasure; working with the unorthodox style of composition required in such an activity has proven rewarding and forced me to look at music from an entirely fresh perspective that will undoubtedly become valuable throughout my future writing career."
The BRIT Awards have established themselves as a global music institution that annually celebrates UK chart and commercial successes. Mastercard is celebrating its 20th year as headline sponsor of The BRIT Awards and continues its sponsorship of the much sought-after Mastercard Album of the Year Award. Mastercard is commemorating two decades of commitment and dedication to music by creating this truly unique opportunity to listen to the Soundtrack of your Life.
Create, download and share your personal Mastercard Soundtrack of your Life here: https://uk.mastercard.com/socialsong@MastercardUK#StartSomethingPricelessENDSFor further information please contact:
Vikki Wallis: 07990 521750 / vikki@talkertailor.comVictoria Mitchell: 07807968937 / victoria@talkertailor.comEmail:
MastercardBrits@TalkerTailor.com