LONDON, January 30th, 2018
– Vocalink, a Mastercard company, has announced a partnership with Shieldpay, to use Pay by Bank app, its market leading mobile payments services as a new deposit method available to Shieldpay customers.
Shieldpay's trusted payments network protects both buyer and seller in any transaction by verifying the identity of all parties – funds are held securely in the Shieldpay Vault, and are only released when both parties agree. Shieldpay enables either individuals or businesses to create this instant digital escrow facility with no set-up costs to eliminate payment fraud so that anyone, anywhere can transact with total confidence.
Pay by Bank app, a brand new way to pay, will be a deposit method available to Shieldpay customers, along with credit card, debit card and bank transfer. When layered together, Shieldpay and Pay by Bank app will create the most secure, yet seamless way to pay via your bank account.
Pay by Bank app allows the customer to pay from their existing mobile banking app – an immediate payment that settles instantly, and has the added benefit for customers of being able to see their real-time balance whilst doing so.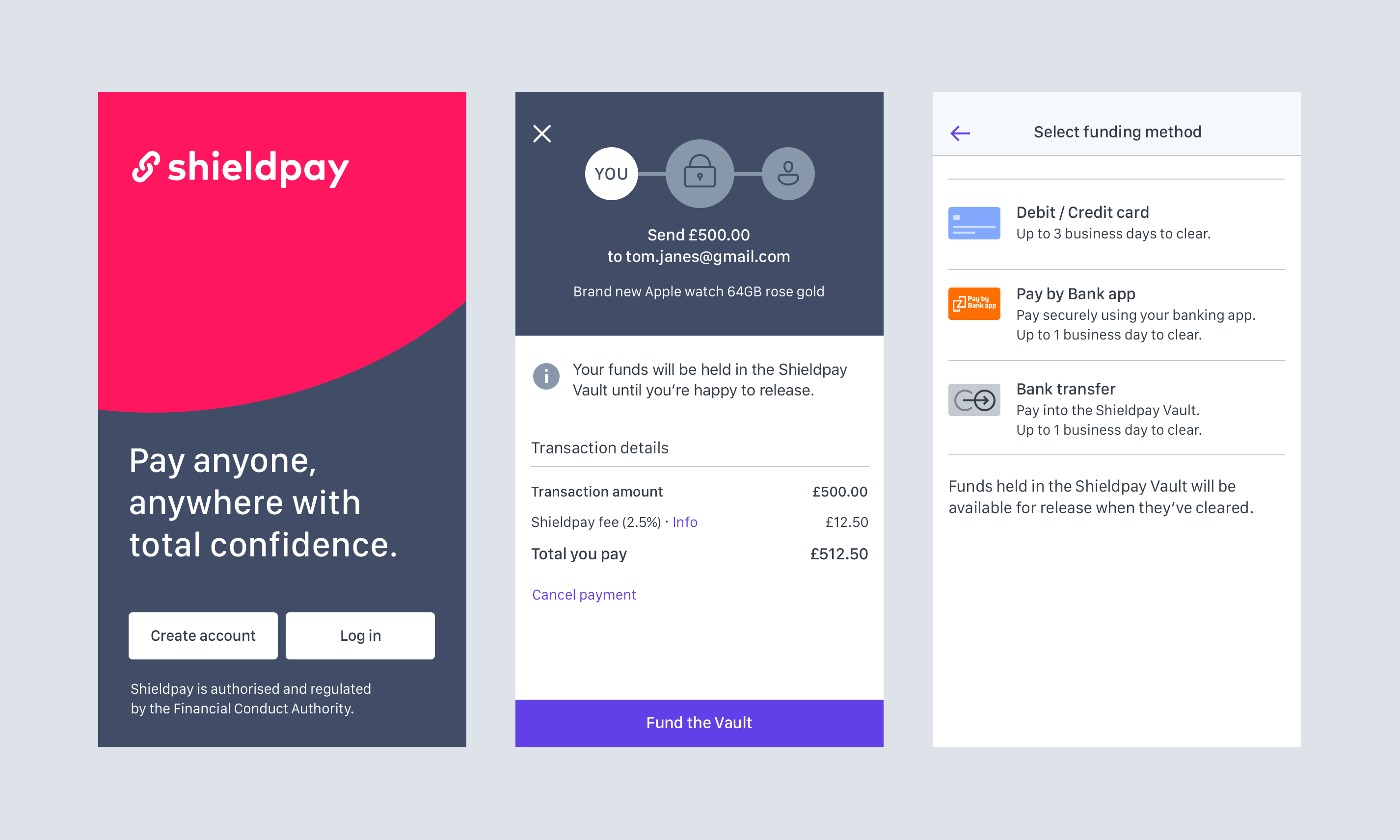 Tom Clementson, Director of Consumer & SMB at Shieldpay, commented:
"Fast, reliable and secure marketplace payments are why platforms choose the Shieldpay API. I'm delighted to welcome Pay by Bank app as a new funding method, for consumers and businesses it means they can make frictionless payments instantly and even more securely"
Jerome Gudgeon, Co-founder and Chief Technology Officer at Shieldpay, commented:
"Pay by Bank app is a game changer in the way people pay for goods and interact with their banking app. Simply being able to approve a purchase within their familiar banking app eliminates any potential errors and minimises friction. Working with an innovative and customer focused team has meant Shieldpay can incorporate this unique technology into our award-winning service."
Jon Wood, Chief Commercial Officer, Pay by Bank app, said:
"Shieldpay is a brilliant concept that gives buyers and sellers peace of mind. The payment aspect is crucial to this so incorporating Pay by Bank app is a huge endorsement for us. Pay by Bank app is set to shape the future of online and mobile shopping, as more banks and retailers offer this as a payment option to shoppers."
Shieldpay was part of the Barclays "Tech Stars" programme, and is also a participant in Start Path Global, Mastercard's initiative to support scale-up businesses shaping the future of commerce.
-ENDS-
Notes to Editors
The information in this statement is intended for journalists and media professionals only. The information should not be construed as a financial promotion under the Financial Conduct Authority's (FCA) Handbook of rules and Guidance.
Further Information:For Shieldpay For Mastercard
Adam.Keal@mastercard.com
07710 916144
About Shieldpay

www.shieldpay.com
@shield_pay
First and foremost, we are a Fintech business, fully authorised and regulated by the FCA for payment services. We are an alumnus of the 2017 Barclays Accelerator Programme, powered by Techstars.
Our mission to eliminate fraud in peer-to-peer payments and to enable anyone, anywhere, to transact with each other in total confidence. Whether you are an individual or business, Shieldpay enables you to create an instant digital escrow facility with no set-up costs.
Our platform protects both payer and payee in any transaction by verifying the identity (and beneficial ownership) of all parties. Funds are held securely in the Shieldpay Vault, and are only released when both parties agree.
We created Shieldpay as traditional payment systems and banks failed to protect buyers and sellers of goods and services from fraud. Core to our culture is giving our customers an easier and safer way to be able to Buy Safe, Sell Safe and Pay Safe.
We are a passionate bunch of technologists, designers, marketers and legal and compliance experts who share the same vision of making the payments ecosystem a safer place for all.
About Vocalink
A Mastercard company, Vocalink designs, builds and operates industry-leading bank account-based payment systems. Our technologies power the UK's real-time payments, settlements and direct debit systems, as well as the UK's network of over 70,000 ATMs. In 2016, we processed over 90 percent of salaries, more than 70 percent of household bills and almost all state benefits in the UK. In addition, our proven real-time bank account-based payment solutions provide more payment choice to customers in Singapore, Thailand and the United States. For payment news and insight from Vocalink visit CONNECT -
http://connect.Vocalink.com/
About Mastercard
Mastercard
(NYSE: MA),
www.Mastercard.com
, is a technology company in the global payments industry.  We operate the world's fastest payments processing network, connecting consumers, financial institutions, merchants, governments and businesses in more than 210 countries and territories.  Mastercard products and solutions make everyday commerce activities – such as shopping, travelling, running a business and managing finances – easier, more secure and more efficient for everyone.  Follow us on Twitter
@MastercardUKBiz
, join the discussion on the
Beyond the Transaction Blog
and
subscribe
for the latest news on the
Engagement Bureau
.