A European study by Mastercard, 'Lights, Camera, Action', reveals vital components of the best opening scenes ahead of the Palme d'Or prize at Cannes Film Festival 2018


Steven Spielberg is 'king' of the opening sequence


Generation Netflix make a decision about a film in just 17 minutes


Research highlights how passion for film goes beyond the opening scene and can inspire cinema lovers to "start something priceless"


It's official: emotions rule.
New research by Mastercard*, official partner of Cannes Film Festival, reveals Europe loves a romantic start to a movie, with Europeans voting for modern classic films over today's cinematic smash hits. Over 55% of respondents in Germany, Hungary, Republic of Ireland, and Sweden said that they judge a film by the starting scene.
Titanic (1997)
came out floating on top across Europe;
voted as having the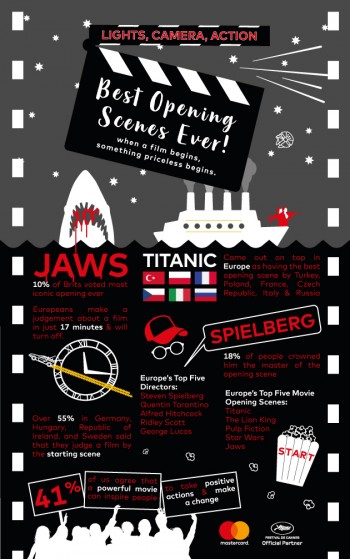 best opening scene by Turkey, Poland, France, Czech Republic, Italy and Russia. While the family friendly song and dance in
The
Lion King (1994)
stole the hearts of film lovers across Germany, Switzerland, Sweden and The Netherlands.
The top five most popular movie opening showreels, as voted by cinema lovers across Europe are big screen epics: Titanic (1997), The Lion King (1994), Pulp Fiction (1994), Star Wars IV (1977) and Jaws (1975).
Steven Spielberg
creates the perfect start to a box office hit, with the majority of Europe countries crowning him the master of the opening scene. Bloodthirsty
Quentin Tarantino
and the chilling scenes created by
Alfred Hitchcock
were also in the top five.
Generation Netflix waste no time on films that don't immediately capture their emotions. Old or new, the starting scene of a film is essential with most of Europe taking just
17min
to decide whether the movie is worth their time.
72%
of Europeans collectively agree that an incredible opening scene makes a film more memorable as a whole.
Clever dialogue (26%), an unexpected twist (40%) and a romance (19%) are key factors to a box office hit; tapping into emotions and allowing viewers to engage with their own desires.
Investigating the most memorable elements of an opening scene,
25%
of Europeans cited an
amazing soundtrack
as the key factor with Saturday Night Fever (1977) coming on top of votes. Elton John's emotional rendition of 'Circle of Life' for the opening visuals of
The Lion King (1994)
was also a firm favourite. Impactful photography snapped up 13% of respondents citing budgets requiring eye-catching visuals to create a memorable opening sequence – with
Apocalypse Now
(1979)
drawing in popular European votes.
The 'Lights, Camera, Action' report investigated the power that the art of film can have on cinema fans. Movies, classic and contemporary, are inspirational Europe-wide, with 41% agreeing that a powerful movie can inspire people to start something new or make a positive change.
Jeannette Liendo, SVP Marketing Europe Mastercard said:
"Today, movies are not just about special effects but marrying all the different components to truly draw out an emotional reaction from the viewer. At Mastercard, we strive to become closer to consumer passions, like the art of film.  Through our new Start Something Priceless campaign we are encouraging, inspiring and empowering people across the world to pursue a passion or goal meaningful to them. This research reflects the importance of how cinema can be inspirational, with 41% of people agreeing that a powerful movie can light a fire in you to make a positive change, which is exactly what we want to encourage. Cannes Film Festival is globally renowned for championing cinema and celebrating the importance of passion points exactly like this."
@MastercardEU#StartSomethingPricelessFor further information please contact:Notes to editor:
*Research conducted on behalf of Mastercard by OnePoll
Survey of 32,000 respondents across 15 markets In Europe
Europe's Top Five Movie Opening Scenes


Titanic


Lion King


Pulp Fiction


Star Wars IV


Jaws


Europe's Top Five Directors (of movie opening scenes)


Steven Spielberg


Quentin Tarantino


Alfred Hitchcock


Ridley Scott


George Lucas


About Mastercard
Mastercard
 (NYSE: MA), 
www.mastercard.com
, is a technology company in the global payments industry.  We operate the world's fastest payments processing network, connecting consumers, financial institutions, merchants, governments and businesses in more than 210 countries and territories.  Mastercard products and solutions make everyday commerce activities – such as shopping, traveling, running a business and managing finances – easier, more secure and more efficient for everyone.  Follow us on Twitter 
@MastercardNews
, join the discussion on the 
Beyond the Transaction Blog
 and 
subscribe
 for the latest news on the 
Engagement Bureau
.
About Start Something Priceless
People today believe in the power of brands to effect positive social change, and that they themselves, have a duty to make the world a better place. Start Something Priceless is Mastercard's global brand platform designed to inspire people to pursue their passion or purpose - a reminder that every day, we all have the power to create a memory, ignite a passion, make a difference, and even launch a movement.  It is intended to spark a new mindset and encourage people to take an action to create a positive impact in their lives, their communities or even the world.
About Cannes Film Festival 
The International Festival de Cannes is the most important film festival in terms of worldwide impact. 2018 marks the 71st season and the festival remains faithful to its founding purpose which is to draw attention to and raise the profile of films, with the aim of contributing to the development of cinema, boosting the film industry worldwide and celebrating cinema at an international level.