Mastercard and Cardsmobile Launch Universal Tokenization Platform
February 27, 2019 | Barcelona
Today, at Mobile World Congress in Barcelona, Mastercard and the Cardsmobile Russian technology company presented a universal tokenization platform powered by the Mastercard Digital Enablement Service (MDES). The new platform provides issuers worldwide with a service for adding existing Mastercard cards and issuing new ones to smartphones and wearables that support contactless payment technology – key chains, smart jewelry, car keys, watches and other devices.

The innovative solution, presented by Cardsmobile at Mobile World Congress, passed Mastercard's certification as a trusted open digital wallet and aggregation platform. Agreements have been reached for connecting a number of Russian banks to the service.

Several companies producing wearables, such as the Swiss Rosan Diamond company with its exclusive jewelry, Russia's ISBC with its AIRTAG Pay product line, and PayRing with its smart rings, were among the first to join the Cardsmobile platform. The brand new patented PayRing creation – payment rings made from precious metals that work on the Cardsmobile platform – were showcased at the Mastercard booth. Prior to this, only ceramic rings had been available on the market.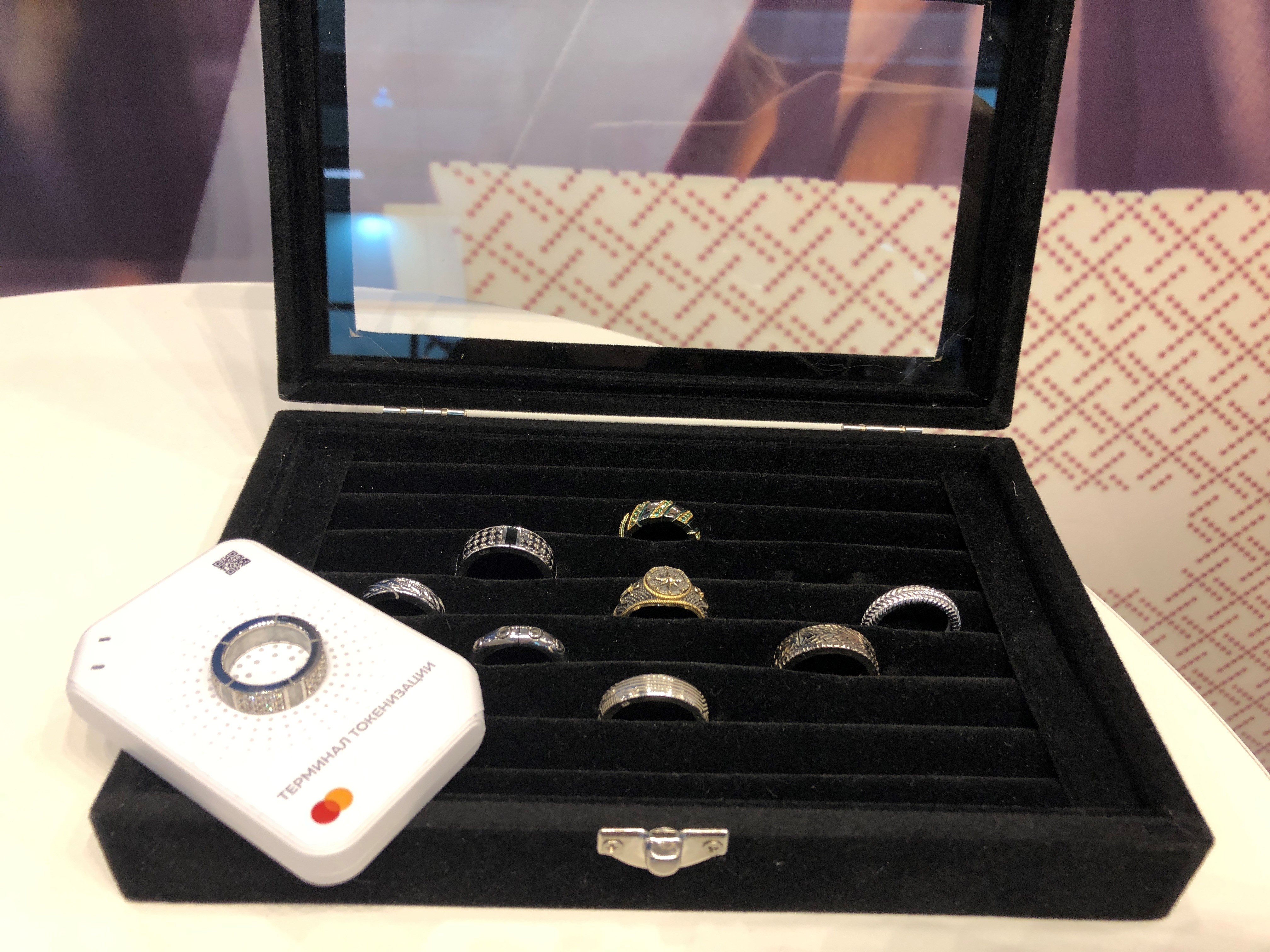 PayRing a new way of paying contactless starting in Russia


Dmitry Tartyshev, Business Development Director Mastercard Russia: "We work globally to make modern payment technologies and solutions accessible. Working in Russia, one of the most dynamic and innovative markets in the world, we actively cooperate with the leading tech companies to provide Mastercard cardholders with an opportunity to pay in the most convenient way at anytime and anywhere. Cardsmobile is our strategic partner in contactless payment development, and today we are happy to announce the launch of a universal card tokenization platform that has the potential for a global rollout."

Kirill Gorynya, CEO Cardsmobile: "Our company has been Mastercard's strategic partner in the field of contactless payment development in Russia for over six years. Cardsmobile technologies have made contactless payments available to millions of Russian Mastercard cardholders. Today we are pleased to present a new solution — the universal payment card tokenization platform that has no geographic boundaries. We are open to partnerships and invite Russian and foreign card-issuing banks, as well as the manufacturers of wearable devices to enroll."

Sergei Lazarev, CEO PayRing: "PayRing sets a standard for modern payment devices for a new generation. We are one of the first companies in the world to have successfully implemented the concept of card payment using an electronic ring. Our mission is to provide banks and their customers with a convenient and secure method of paying for goods and services. In partnership with Mastercard and Cardsmobile, we offer a modern product with the highest standards of payment security protection coupled with beautiful design."
- ENDS -

About Mastercard

Mastercard (NYSE: MA) https://www.mastercard.com is a technology company in the global payments industry. Our global payments processing network connects consumers, financial institutions, merchants, governments and businesses in more than 210 countries and territories. Mastercard products and solutions make everyday commerce activities – such as shopping, traveling, running a business and managing finances – easier, more secure and more efficient for everyone. Follow us on Twitter @Mastercard_RU and Mastercard Facebook, join the discussion on the Beyond the Transaction and subscribe for the latest news on the Engagement Bureau.



Media Contacts

Mastercard
Elena Prorokova
Communications Manager in Russia, Belarus, Armenia and Kazakhstan
+7 (495) 937-77-10
elena_prorokova@mastercard.com


For additional information and comments, please call Mastercard press-office:

Alexandra Kasymova, Inna Romanova, Oleg Stolyarchuk
+7 495 664 28 88
Moscow.Mastercard@ketchum.com


About Cardsmobile

Cardsmobile is an IT company based in Russia, St. Petersburg. It is a strategic partner of Mastercard in mobile contactless payment development and has Mastercard's Gold Partner status as a vendor of digital solutions with a long-standing niche expertise. The company participates in the global MasterCard Start Path program that was created to support start-ups and innovative technological solutions.

Cardsmobile developed the Wallet App that aggregates all types of plastic cards in a user's smartphone. Currently, the Wallet App has 4.5 million active users.

Website: https://pay.cardsmobile.ru/en


Media contacts

Marina Ivanova, PR-manager
+7 962 345 74 96
press@cardsmobile.ru


About PayRing

PayRing is a technological developer and manufacturer of smart rings. PayRing products are unique for using state-of-the-art technologies and solutions to produce lightweight smart rings in a wide variety of designs. PayRing partners with Mastercard on a range of projects involving the manufacture of payment rings. These projects provide consumers with innovations that are useful in everyday life. For instance, newlyweds can use their traditional wedding rings to make purchases, store data and present personal identification in various settings.

Website:https://payring.ru

 Media Contacts

+74959742397 info@pay-ring.com