Mastercard continues focus to champion women with new additions to global sponsorship portfolio
May 21, 2019 | LONDON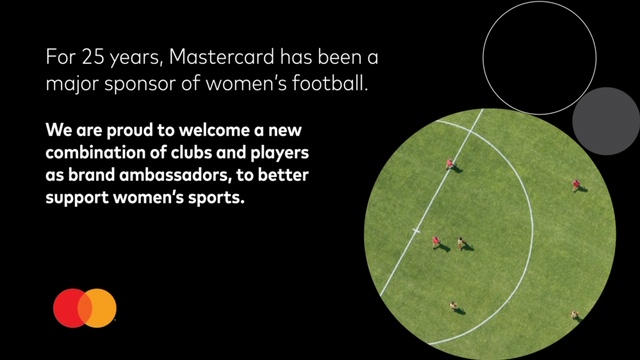 Mastercard, one of the world's most active sponsors of major sporting events, is strengthening its commitment to women's football. The move sends a powerful signal for gender equality in sports and demonstrates a continued focus on gender balanced marketing. Mastercard has been a long-standing advocate of the importance of diversity, inclusion and partnering to promote good governance and integrity in sport.

For 25 years, Mastercard has been a major sponsor of women's football. As the game becomes more professional and competitive, Mastercard believes it is an opportune moment to invest in clubs and players, as this is the most direct way of putting much needed resources into women's sports. Designed to help to grow the clubs and players while raising visibility and appeal to a broader range of fans and enthusiasts, Mastercard's latest investment recognises the women who play and supports the clubs they play for.

Women's football is now the leading participation sport among young women and is projected to continue to grow through the success of the club game and the emergence of "super talents" on the world stage.

The latest global sponsorships in women's football are trailblazers in this process and feature a combination of clubs and players: Arsenal Football Club and Olympique Lyonnais together with a series of team brand ambassadors.

Olympique Lyonnais has just become European Women's Champions for a record sixth time in their eighth consecutive league final. The club also completed the French domestic double, their 13th league title in succession.

Leading the Olympique Lyonnais Mastercard women's football ambassador charge is Ada Hegerberg, Olympique Lyonnais striker and the first ever Ballon d'Or Feminine Recipient in 2018. The Ballon d'Or is historically an annual award given to the best male player in the world.  It was started in 1956. Hegerberg is joined by teammates Kadeisha Buchanan, Olympique Lyonnais defender, Canada National Team captain; Saki Kumagai, Olympique Lyonnais defender, Japan National Team captain; and Wendie Renard, Olympique Lyonnais captain and former French National Team captain who has played in all six of the club's European championships.

Arsenal Women FC is the reigning Women's Super League (WSL) champions and have won the league a record 12 times out of a potential total of 17 contests.

With her historic ties to Arsenal, Alex Scott, retired captain for Arsenal & English National Team, Financial Times Woman of the Year, MBE, pioneering broadcaster and the first female analyst for men's football will be Mastercard's lead female football ambassador.

"I am honoured to join Mastercard in supporting and advocating for women athletes in their quest for greatness and their pursuit of careers in all areas of professional sport. Together with Mastercard, I am thrilled to help make a difference in growing women's football," said Scott.

Both teams' success is a model for women's football and has been built on a progressive vision conceived many years ago of having fully professional teams.

Joining this strong and influential roster are team captains Pernille Harder, VfL Wolfsburg striker, Danish National Team captain; and Sam Kerr, Chicago Red Stars forward, Australia National Team captain.

"We believe that brands that connect to the passions of their audience become more relevant, trusted and integrated into people's lives. As we move from moments to movements, our focus is on ensuring that both are activities and our sponsorship properties represent the passions and beliefs of those we serve," said Raja Rajamannar, chief marketing and communications officer, Mastercard. "By investing significantly in women's football, as a professional and influential sport, we have an opportunity to directly impact the lives of athletes and help build sustainable programs to which girls and women around the world can aspire."

Mastercard's premier circle of sports sponsorship includes many of the world's marque sporting events and organizations such as the Roland-Garros, The Australian Open, UEFA Champions League, PGA TOUR®, Major League Baseball, Rugby World Cup, The Open, Copa América, and League of Legends Esports among others.  Mastercard uses it partnerships and assets to create Priceless experiences and Priceless surprises to help cardholders get closer to the games and athletes they love.
-   ENDS   -

Note to editors:

About Mastercard

Mastercard (NYSE: MA), www.mastercard.com, is a technology company in the global payments industry. Our global payments processing network connects consumers, financial institutions, merchants, governments and businesses in more than 210 countries and territories. Mastercard products and solutions make everyday commerce activities – such as shopping, traveling, running a business and managing finances – easier, more secure and more efficient for everyone. Follow us on Twitter @MastercardNews, join the discussion on the Beyond the Transaction Blog and subscribe for the latest news on the Engagement Bureau.

 

Contact:

Rose Beaumont at rose.beaumont@mastercard.com

Kara Condon at kara.condon@mastercard.com

Jennifer Stalzer at jennifer.stalzer@mastercard.com