Mastercard Conversation Series brought the magic and power of cinema in Venice with masters of filmmaking and acclaimed actors  
September 11, 2020
Mastercard and La Biennale di Venezia gave cinema lovers the chance to See Life through a Different Lens

Demi Moore, Nadine Labaki, Gia Coppola, Wim Wenders, Luca Guadagnino, Sam Rockwell and Claire Denis were the amazing protagonists of the digital conversation series organized by Mastercard to celebrate the 77th Venice International Film Festival


The "Life Through a Different Lens: Contactless Connections" series, a digital event organized by Mastercard, brought supporter of cinematic magic, in collaboration with La Biennale di Venezia to celebrate the 77th Venice International Film Festival, gathered together incredible personalities of worldwide cinema, giving them the opportunity to reflect and discuss on major themes, from filmmaking to society, from the evolution of cinema to the role of women in the industry.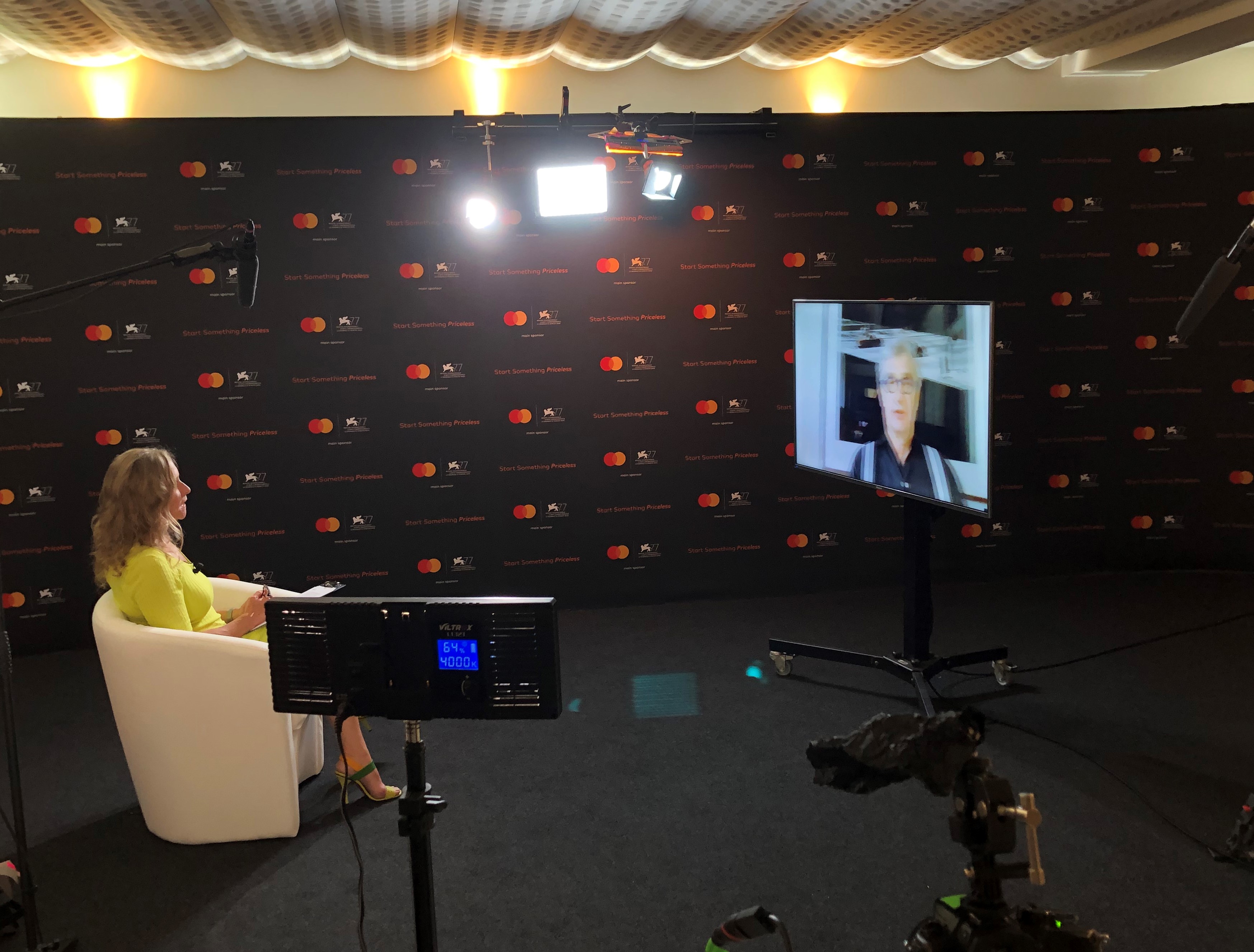 Rose Beaumont speaking to Wim Wenders


The Conversation Series has been a great opportunity to give relevance to both technical and artistic topics, hearing the opinion of world-class filmmakers and actors who offered their unique perspectives. By sharing their thoughts and their experiences, they not only gave extraordinary insights about the cinema environment, but managed to inspire an audience of young talents enthusiastic about undertaking the path of their role models.

Demi Moore, Nadine Labaki, Gia Coppola, Wim Wenders, Luca Guadagnino, Sam Rockwell and Claire Denis shared their thoughts on how great cinema can drive different perspectives, trigger a myriad emotions and influence our lives from the moment the film begins. Their main topics were how to empower future film making, discussing the power of cinema to depict reality and social problems, the role of women in both directing and acting, and the power that technology can have in the further development of cinema fruition and enjoyment, especially after a difficult period for theatres and the "physical" cinema experience.

The "Life Through a Different Lens: Contactless Connections" Conversation Series was an opportunity to bring young people closer to cinema and creative experiences. In this exclusive series of events, we explored the role of the director, actor, cinematographer and all those in the film world, in building the stories that not only help us see life through a different lens but connect us to new worlds, changed worlds and different worlds, filled with priceless possibilities.

The Conversations are still available on Priceless.com.

"Representation is by far one of the strongest ways in which we can support other women. The fact at Venice Film Festival competition this year there are 8 women directors is what encourages the little girls, the teenagers, knowing that there are other women that they can see. Taking on these different roles that have predominately been held by men is what I think makes the difference", commented Demi Moore.

"Cinema has a completely different impact on the people that receive it. Cinema humanizes problems: when you start understanding the impact cinema can have, it becomes for you a responsibility, you start understanding the mission you have, the responsibility you have as an artist", commented Nadine Labaki.

"The next generation is always creating a new path, making a difference. That feels very inspiring. I find inspiration in talking to people, being with my friends, reading books, photography: it's everything in life. I'm trying to culminate all these little moments that I feel connected to", commented Gia Coppola.

"There's always a truth in movies. It's the characters, the place, the rhythm that make it true. The filmmaker has to find the truth, it is not there. If you have any script in the world, it's not true as such: you have to make it true while you do it", stated Wim Wenders.

"Young filmmakers today must not be impressed by the history of cinema. They have to select what they like, find their own film history inside that vast empire that is cinema, because you can't possibly know everything. But I'm convinced that every filmmaker can possibly do something that nobody else can do", added Wim Wenders.

"Do things! Don't wait for people to allow you to do things. If you want to do cinema or anything else, do it! Find pals, comrades, partners in crime to help you doing things. Give yourself to others in generosity but, most importantly, think with your mind! Be social, meet people, use your opinions even if those sound difficult for another person, to open up new conversations. Be open to the other person's conversations and ideas, don't think that you have to think in the way everybody thinks", said Luca Guadagnino.

"I don't understand people who have small TVs, I don't understand them. We shouldn't be ashamed of having giant TVs in our house, it's a beautiful thing to be able to recreate the movie theatre experience in any way", stated Sam Rockwell.

"What you need in your heart if you want to make films it's to be ready to embark into a destiny that is not very secure, that could be with some drawbacks. But you have to be sure this is really what you want to do. In a way, you will have to survive things, you know. First of all, the fear: the fear is the first thing", said Claire Denis.

[on where to best watch movies] "in theatre, obviously, with people. Not alone, not in my bedroom. No, not on a small or even big screen. Not alone. It's great to be together – said Claire Denis.
-ENDS-

 

For further information please contact:
giuliana.abbate@mastercard.com
kara.condon@mastercard.com
gloria.zerbinati@gmail.com

About Mastercard (NYSE: MA), www.mastercard.com Mastercard is a global technology company in the payments industry. Our mission is to connect and power an inclusive, digital economy that benefits everyone, everywhere by making transactions safe, simple, smart and accessible. Using secure data and networks, partnerships and passion, our innovations and solutions help individuals, financial institutions, governments and businesses realize their greatest potential. Our decency quotient, or DQ, drives our culture and everything we do inside and outside of our company. With connections across more than 210 countries and territories, we are building a sustainable world that unlocks priceless possibilities for all.

Follow us on Twitter @MastercardEU @MastercardNews, join the discussion on the Beyond the Transaction Blog and subscribe for the latest news on the Engagement Bureau

 
About Priceless.com
Priceless.com is Mastercard's experiential lifestyle hub designed to inspire and create once in a lifetime moments to be shared with family and friends at home, online, and everywhere in between. Exclusive to Mastercard cardholders, its unique multicultural proposition allows people to connect closer to their passions, fuels their desires for continuous learning and discovery, and gives them the opportunity to gift experiences, enter sweepstakes, and participate in special auctions to benefit important causes. Inspired from over 40 destinations and accessible from 90+ countries, consumers can find dynamically curated experiences both physical and digital across culinary, sports, arts and culture, music, and more, as well as custom editorial content enabling them to Start Something Priceless.