Mastercard Partners with livi bank and Emperor Cinemas to Roll Out Exclusive Offers for VIP House Bookings
June 20, 2022 | Hong Kong
livi Mastercard cardholders can enjoy 20 percent livimoment cashback on private screening experiences for bookings via livi App or Mastercard Priceless.com
Mastercard today announced a partnership with livi bank and Emperor Cinemas, introducing exclusive private screening experiences for livi Mastercard cardholders, who can enjoy special privileges and cinematic treats with their loved ones this summer.
From today until August 31, 2022, livi Debit Mastercard and livi PayLater Mastercard cardholders can enjoy 20 percent[1] livimoment cashback on private screening experiences for bookings via livi App or Mastercard Priceless.com for exclusive booking offers at VIP House 'the CORONET', Emperor Cinemas in Central and Tsim Sha Tsui.
Each standard VIP House booking includes the following:
One complimentary bottle of Prosecco
Complimentary use of the VIP area or balcony at Emperor Cinemas, Entertainment Building in Central or the VIP lounge at Emperor Cinemas, iSQUARE, Tsim Sha Tsui [2]
Waivers on cake-cutting and corkage fee
A food and beverage combo set for each guest
Some of the highlights on the big screen this summer:
| | | | |
| --- | --- | --- | --- |
| Jurassic World: Dominion | Lightyear | Minions: The Rise of Gru | Uncharted |
|   |   |   |   |
livi Mastercard cardholders can watch these blockbusters, among other big screen choices, in June – Jurassic World: Dominion and Lightyear, now showing on theaters; and Uncharted as well as Minions: The Rise of Gru, premiering June 23 and 29 respectively.
Eric Lin, Chief Marketing Officer, livi bank, said: "We are excited to collaborate with our valued partners - Mastercard and Emperor Cinemas - to bring an amazing private screening experience to our customers, underlining livi's dedication to making life more delightful and rewarding for customers. With the summer holidays approaching, we have selected four family-friendly movies for customers to enjoy a long-awaited big-screen experience with their loved ones. To enjoy this excellent offer, all you need to do is to make your booking online with ease – using livi Mastercard Debit Card or livi PayLater Mastercard Debit Card."
Cecil Yow, Chief Operation Officer, Emperor Motion Pictures, said, "We welcome the further relaxation of social distancing measures and we are seeing a lot of Hongkongers coming back to our cinemas, embracing a return to some semblance of 'normal life'. Watching a movie in the cinema has always been one of the best ways to create priceless and precious moments with your family and friends and Emperor Cinemas is dedicated to elevate cinema experience by offering the most thoughtful and detail-oriented services to our guests, from offering Hong Kong's first online/app ticketing with surcharge waivers, gourmet-standard food and beverage to private screening experiences in which our guests can enjoy a five-star movie experience with ultra-services."
Helena Chen, Managing Director, Hong Kong and Macau, Mastercard, said: "Hongkongers always deserve a break from their busy lives to spend quality time with their families, and the cinema is a great way to create priceless moments and memories with loved ones. As part of its commitment to supporting local brands, Mastercard is pleased to collaborate with livi bank and Emperor Cinemas to make cardholders' cinematic enjoyment fuller and more satisfying, allowing them to save more and appreciate their bonding time with their household and valued companions even better."
Book your private screening with exclusive privileges at Emperor Cinemas via your livi Mastercard Debit Card or livi PayLater Mastercard Debit Card in the livi App or Mastercard Priceless.com now!
###
[1] Each eligible cardholder can earn up to HK$25 for each eligible transaction and earn up to HK$100 in a calendar month.
[2] Subject to availability.
Photo captions: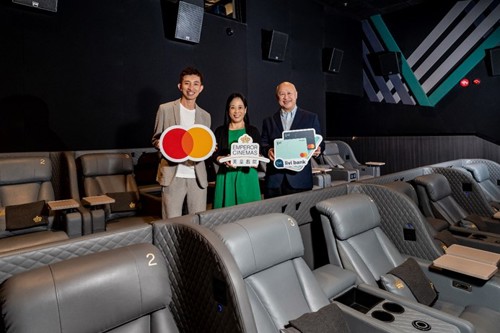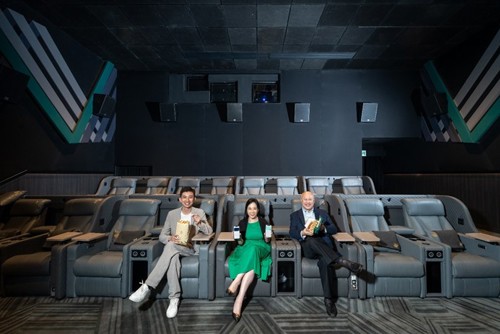 Eric Lin, Chief Marketing Officer, livi bank; Helena Chen, Managing Director, Hong Kong and Macau, Mastercard; and Cecil Yow, Chief Operation Officer, Emperor Motion Pictures at the VIP House of 'the CORONET,' celebrating the partnership that allows livi Mastercard cardholders to enjoy movies with exclusive livimoment booking offers for private screening experiences.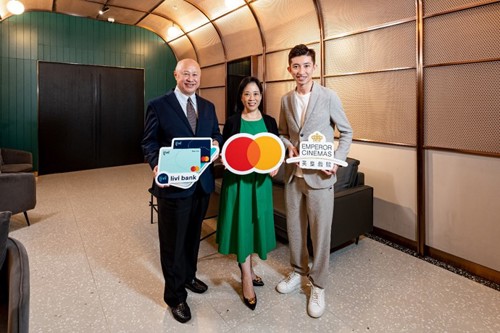 A unique blockbuster movie-going experience awaits livi Mastercard cardholders at the VIP Lounge in Emperor Cinemas, iSQUARE, Tsim Sha Tsui.
- The End -
About livi bank, www.livibank.com
livi has brought a unique, fresh and different banking experience to Hong Kong since 2020 with its goal to foster digital innovation, promote financial inclusion and enhance customer experiences. We aim to provide our customers with secure flexible solutions anytime and anywhere coupled with the benefits of ecosystem partnerships that complement their everyday lives. Connecting with our customers, understanding their needs and earning their trust is core to the way we work at livi.
Capitalizing on our customer-centric business model, agile development process and quick go-to-market strategies, in 2022 we are ramping up livi's innovative product development and expanding into new customer segments. We are introducing new financing and insurance products that serve our customers' needs both in their personal and business lives; and providing financial options for Hong Kong's small entrepreneurs.
livi bank is backed by BOC Hong Kong (Holdings), JD Technology and the Jardine Matheson Group, which together bring to livi an unparalleled range of benefits in terms of financial strength, technological expertise and marketing excellence.
livi's outstanding service to its customers has received widespread industry recognition, which includes being voted as 'Best Virtual Bank' at the Hong Kong Living Awards 2021 by Hong Kong Living; earning a 'Gold Certificate' at the Privacy-Friendly Awards 2021 from the Office of the Privacy Commissioner for Personal Data; being named 'Excellent Brand of Fintech (Virtual Bank)' by Metro Finance's Hong Kong Leaders' Choice Brand Awards 2021; and receiving the 'Outstanding Flexible Payment Product in Virtual Banking' at the FinTech Awards 2021 by ET Net. 
About Emperor Cinemas, www.emperorcinemas.com
Emperor Cinemas Group is dedicated to the development of movie theatre business, with a network of cinemas spanning across Hong Kong from Central (Entertainment Building), Causeway Bay (Times Square), Tuen Mun (New Town Commercial Arcade), Ma On Shan (MOSTown), Tsim Sha Tsui (iSQUARE), Tsuen Wan (Citywalk), Tseung Kwan O (The LOHAS) to Lisboeta Macau. In late 2021, Emperor Group continues to expand their cinema network with its seventh addition at Times Square, bringing a more comprehensive, intimate and quality movie experience.
The Emperor Cinemas at Central and Tsim Sha Tsui offers VIP House 'the CORONET', offering the audience a first-class luxurious viewing experience elevated with carefully crafted gourmet delights and an intimate setting. Emperor Cinemas (iSQUARE) and Emperor Cinemas (Lisboeta Macau), in particular, offers the largest IMAX® with Laser Theatre in Hong Kong and Macau respectively, equipping with the latest IMAX® with Laser projection technology and 12.0-channel audio system, the perfect combination of sound and video enhance viewer immersion.
To stay abreast of the digital lifestyle, Emperor Cinemas actively promotes the full electronic ticketing services, from waiving online handling charge for 365 days to getting access to the house by scanning the dedicated QR Codes.
About Mastercard (NYSE: MA), www.mastercard.com
Mastercard is a global technology company in the payments industry. Our mission is to connect and power an inclusive, digital economy that benefits everyone, everywhere by making transactions safe, simple, smart and accessible. Using secure data and networks, partnerships and passion, our innovations and solutions help individuals, financial institutions, governments and businesses realize their greatest potential. Our decency quotient, or DQ, drives our culture and everything we do inside and outside of our company. With connections across more than 210 countries and territories, we are building a sustainable world that unlocks priceless possibilities for all.