Sustainability
In India, conflicts between humans and elephants are rising. This tree-growing effort could restore the balance
April 18, 2023 | By Caroline Morris

Every summer in eastern India, hundreds of elephants migrate south along a forested corridor from the Dalma Wildlife Sanctuary in the state of Jharkhand to Similipal National Park in neighboring Odisha.
They trek more than 100 miles to escape Jharkhand's scorching heat and to feast on the park's food and water supply while the forest in Dalma regrows its vegetation. When the monsoon season ends in September, they lumber north along the corridor, protected and fed by the lush jungle cover once more.
But those safe passageways are being threatened as land is cleared for agriculture, housing or other development or, worse, as villages set fires to remove the dense shrubbery and debris off the forest floor and gain access to lumber, fruit and flowers their communities  need. These fires can rage out of control and tear through the corridor, pushing the elephants farther out of their habitats. The animals, already considered endangered, are injured or killed, and their waning food supply is destroyed.
As the corridor borders recede, some elephants ransack local farms for food, harming local people in the process. Understandably, this can lead to fear and retaliation, from outright attacks on elephants to the use of electrified fences that can injure or kill them. This cycle pits humans against elephants in a conflict that kills an estimated 500 people and 100 elephants each year in India. 
One organization is working to change these deadly dynamics. Mumbai-based social enterprise Grow-Trees has committed to restoring 1 million trees, expanding the Dalma-Similipal wildlife corridor in conjunction with Mastercard's Priceless Planet Coalition. The Coalition is a consortium of more than 100 organizations combating climate change and global deforestation. Its goal is to restore 100 million trees worldwide by working with organizations like Grow-Trees that work on the ground in at-risk areas.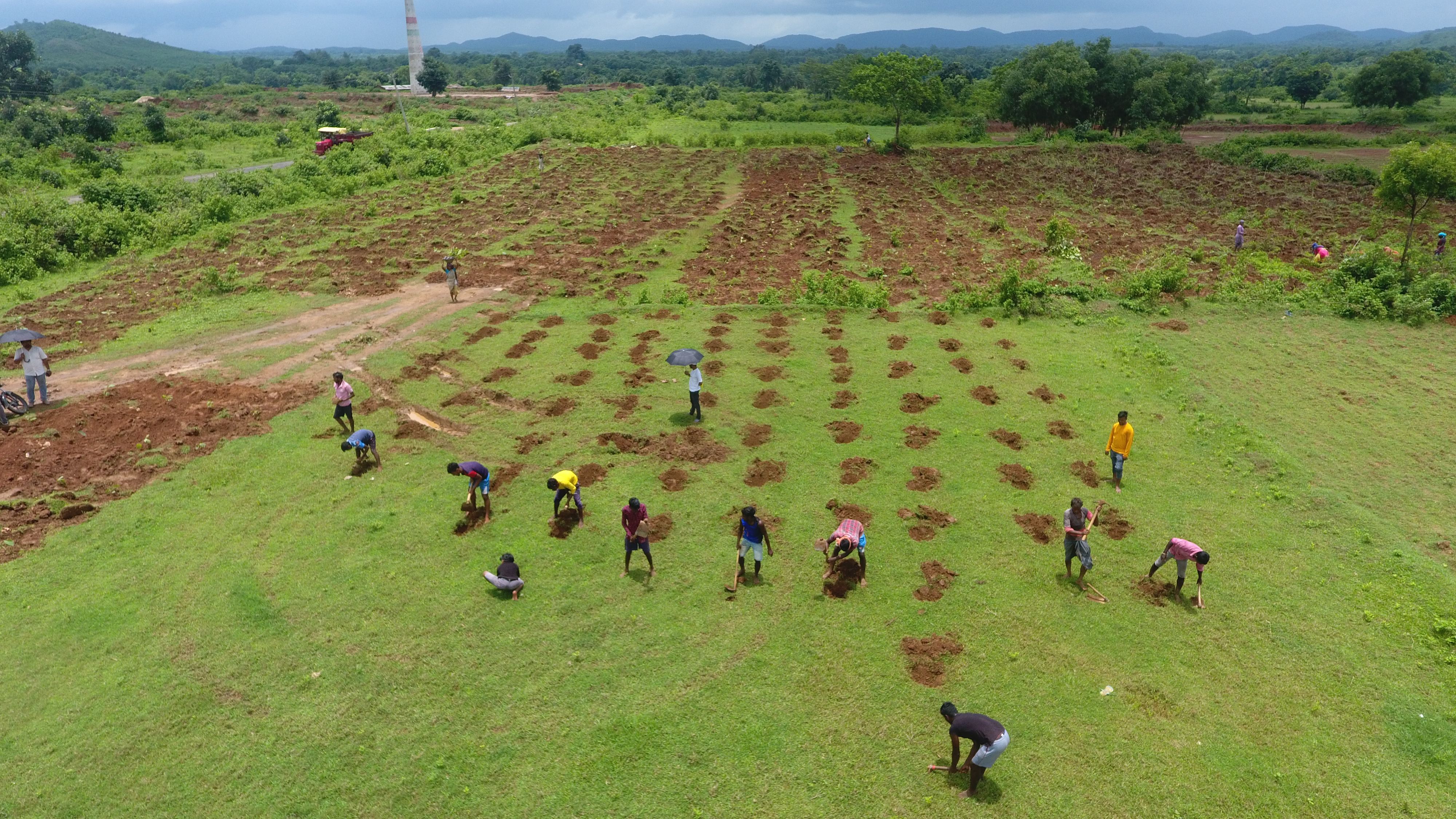 The ground along the elephant corridor between Dalma Wildlife Sanctuary in the state of Jharkhand and Similipal National Park in neighboring Odisha is being prepared for planting. (Photo courtesy of Grow-Trees). 
Grow-Trees has already planted 18 million trees across India and Africa, an effort with wide-ranging benefits, from reducing greenhouse gases to combat climate change, to improving wildlife habitats and biodiversity, to preventing soil erosion and reducing flooding, to creating new jobs in rural areas.
Along the elephant corridor in eastern India, Grow-Trees is considering the problem from three different perspectives — the environment, the communities along the corridor and the wildlife that depends on it, says the organization's CEO Amit Modi.
To better serve the communities, Grow-Trees employs local villagers to help grow and plant the indigenous trees the community needs. They include tree varieties such as Indian blackberry, North Indian rosewood, Pongame oil tree and Indian lilac that can provide ecological and socioeconomic benefits. Once mature, these trees will become permanent assets for local people and improve food security. And by providing these villages with  income, Grow-Trees stimulates the economies of local indigenous people.
"This project has to be mutual," says Gargi Chandane, sustainability manager at Grow-Trees. "You have to create a balance. You have to save wildlife, you have to save the environment and you have to serve the local communities, as they are an integral part of the habitat for generations."
And, of course, this project serves the elephants. Planting more trees around the periphery of the corridor is desirable to the communities because it creates a barrier to minimize dangerous interactions between wildlife and humans and discourages villagers from setting fire to the trees to more easily reach other valuable resources in the neighboring forests beyond. In addition, when the corridor is expanded, the elephants have their habitat restored, regain consistent access to food, and benefit from the space needed to live and migrate freely and safely.
"They need food, they need shelter, they need to have their own habitat, but those basic needs have been endangered, so we have to provide them."
Currently, the local community members are monitoring the 1 million saplings, which were  raised in local nurseries in January 2022 and planted along the corridor through September. Workers care for the saplings and track their survival, replacing the ones that don't survive in order to hit the million goal, and they've learn best practices to make similar projects more effective in the future.
"We are creating more and more vegetation so that elephants can move around easily in that area," Chandane says. "They need food, they need shelter, they need to have their own habitat, but those basic needs have been endangered, so we have to provide them. They should be able to survive in that area without any severe impact."
Sustainability
Cards expire. Species shouldn't.
Mastercard Wildlife Impact payment cards highlight the urgency to protect wildlife and their habitats by having the card's expiration date reflect the potential extinction date of many critically endangered species. For each gift card purchased in the U.S., $1 will be donated to Conservation International. 
Learn more