Inclusion
See it, be it: When young women have STEM mentors, they shine
June 25, 2020 | By Kristin Kloberdanz
The science, technology and math (STEM) fields have a reputation for leaving entire generations of girls and women behind, but Madison Loren is not one of them. As a young makeup entrepreneur, her entree into STEM began in the second grade, when she learned to write code. Problem-solving and troubleshooting are second nature to her, and when she feels impossibly stuck, as many of us do at one point or another, she reaches out to her mentor for clarity and guidance to get it fixed.

Oh, and one other tiny detail: Madison is only 12 years old.

As for her age 7 start, she says, "I really didn't know much about coding, but I was very interested. The first thing I learned is an online code editor called Thimble, and it shows you how to build your own website. It was really cool."

The Madisons of the world are giving hope to women like Mastercard's technology advisor Dana Lorberg, who knows how tough it can be to bring more women into STEM. As a college student at the University of Arkansas in the '80s, Lorberg's love of technology distracted her from noticing just how rare women were in the field. But then she entered the workforce and took a job that involved taking apart military tanks. That, she says, "gave me exposure to the fact that I was one of the few women."

She worries that the lack of women in STEM has become a self-fulfilling prophecy as women entering the field lack role models and mentors. "If you can't see it, you can't be it," Lorberg says.

A lack of representation is only part of the equation, though. A recent online survey conducted by Mastercard of 3,803 boys and girls between the ages of 7 and 18 showed that lack of confidence and differences in motivation often keeps women and girls away from studying STEM and pursuing careers in the field.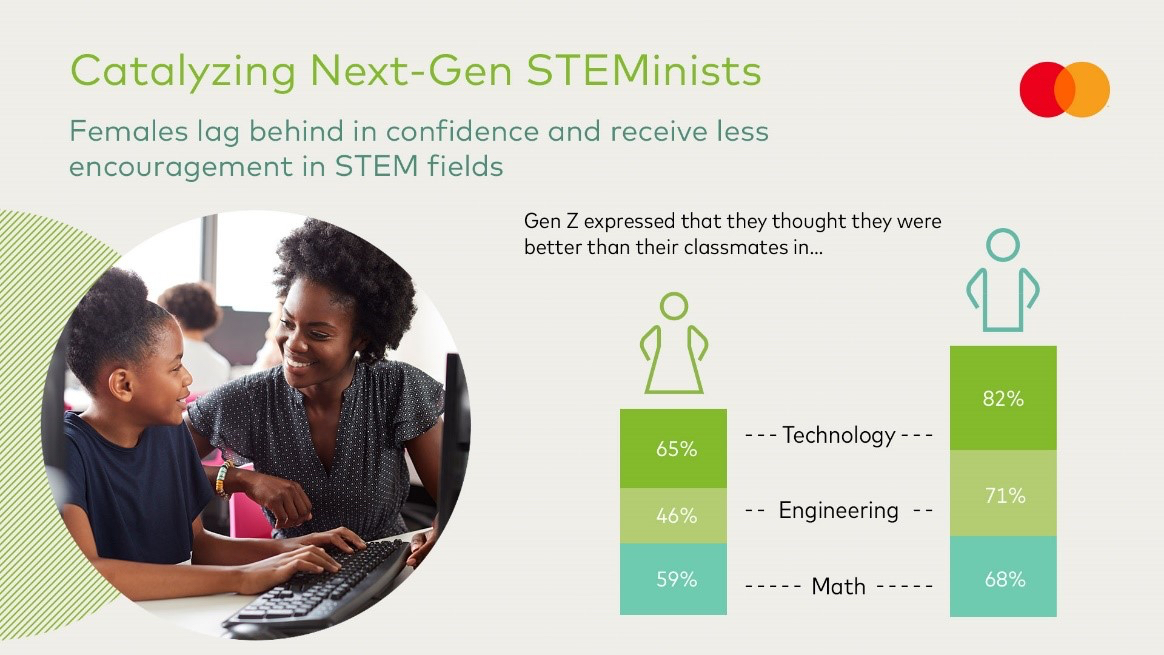 "I'm afraid things are getting worse at a time when the world already faces a severe shortage of STEM-ready workers," Lorberg says "We need to make some serious changes to overcome these challenges and ensure that girls can live up to their potential and help a future that is better and brighter for everyone."

The survey data also reveals compelling motivators with the potential to ensure more girls not only enter the STEM space, but also remain there and move on to promising and long-lasting careers. The foundation for this starts with encouraging young girls to enter into STEM fields with enthusiasm, and doing so early and often to combat this loss of confidence later on.

Another crucial step is to ensure that girls have relatable mentors who encourage them to stay in the game. Only 1 in 10 young women reported having a mentor in their lives, but, despite the small amount, the study also found that girls were likely to turn to their mentor for advice and encouragement far more than their male counterparts.
"There's a problem, and every problem has a solution. You have to find a solution to create what you want."
Kimberly Bryant, the founder of Black Girls CODE, understands young girls' need for mentorship and representation. Her program, which she founded in 2011, specifically nurtures young women of color ages 7 to 17 in technology and encourages them to pursue careers using the skills they have acquired. Like Lorberg, her experience as an outsider in the room – in her case, as both a woman and as a person of color – gave her the motivation and drive to ensure that girls with a passion for technology get the attention and resources they need.

"It was important to build a space for Black girls to feel empowered. A few key elements of our work include empowerment and self-confidence," Bryant says. "Not to leave anyone out, but to get more diverse voices in the room."

Black Girls CODE works with schools as community partners, including the Bronx elementary school where Madison took her first coding class at the age of 7. Now, at 12, she's developed a particular fascination with cryptology, the study of codes that help keep information safe online. She's also used what she learned in Black Girls CODE to help launch her lip gloss business that that went online in December.

Madison says her participation in the program has given her confidence that she did not have before. Exposure to the real world of tech has also given her life lessons and an understanding of how to navigate tight spaces both at – and away – from the computer.
"There's a problem, and every problem has a solution," she says. "You have to find a solution to create what you want." 

Top Photo: Madison Loren, left, participates in Girls4Tech, Mastercard's signature STEM program to inspire girls, ages 8 to 16, to build technology skills and become the future problem solvers of the world.