Why inclusive cities aren't just smart ones: Centering equity in technological innovation
November 9, 2020 | By Alena Stern
COVID-19 has dramatically transformed how cities and residents use technology. As the pandemic spread, cities acted quickly to create virtual resident forums and engagement tools, move services and schools online, and leverage technology to track and contain the coronavirus. It accelerated a technological transformation that was already well underway in cities. Research estimates that cities around the world are poised to spend $124 billion on tech applications — such as smart meters for utilities and Wi-Fi kiosks — this year.
The pandemic has thrown into stark relief how this move toward "smart" cities has the potential to either narrow or widen existing inequities: Cities have launched new digital services and forms of engagement that make it easier for residents to access government services, but may be inaccessible to residents impacted by the digital divide, who are disproportionately low-income and people of color. Investments in public Wi-Fi hotspots that could narrow gaps in connectivity may systematically underserve households without internet access. Digital contact-tracing technology could be a vital tool for cities to contain the spread of COVID-19, yet it may be less effective for the very groups hit hardest by COVID-19, and raise privacy and discrimination concerns for communities of color.
In fall 2019, we interviewed 39 local officials and representatives of community organizations from six leading cities to examine how they were ensuring that their use of technology would close gaps, not widen divides. One thing immediately became clear: The inclusive smart city reorients the conversation from a technology-first approach that prioritizes efficiency to a problem-first approach that prioritizes equity as the central goal of technological innovation.
Inclusive smart cities need actionable tools and insights to facilitate putting equity at the forefront of technology programs — especially as budgets and time are stretched thin with COVID-19 response and declining city revenues. With support from the Mastercard Center for Inclusive Growth, the Urban Institute has created two new tools to help city officials and advocates working to create inclusive smart cities.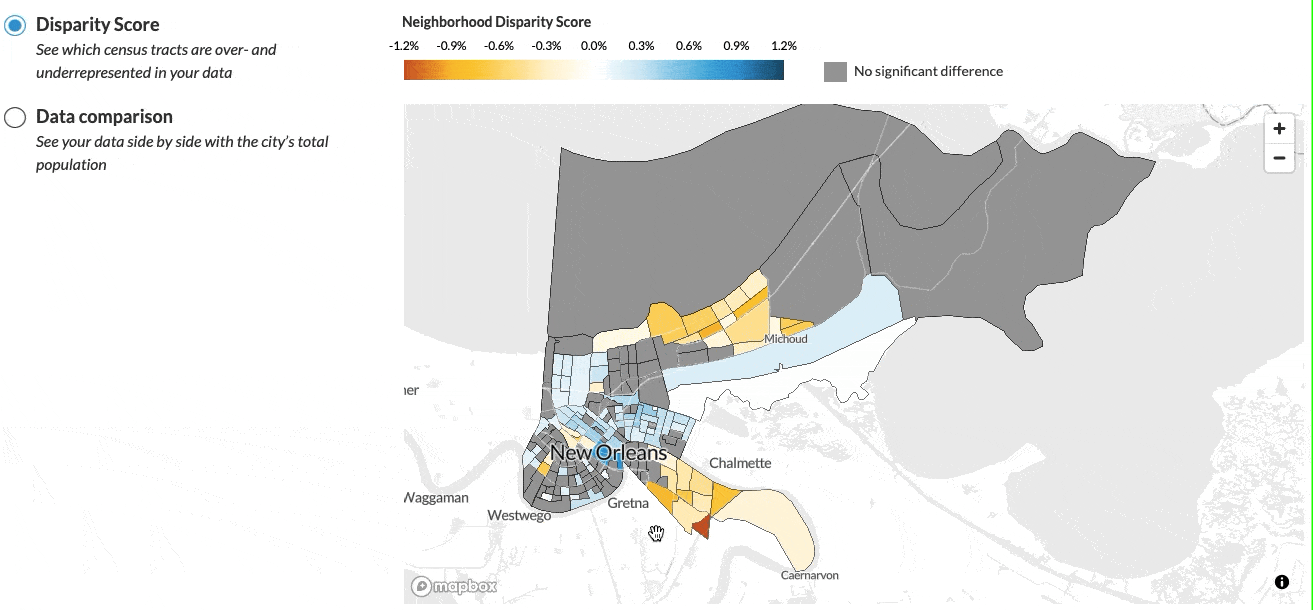 The Spatial Equity Data Tool allows users to upload their own city-level location data (such as the locations of WiFi hotspots, bike-share stations and 311 requests for pothole or sidewalk repairs) to quickly assess whether all neighborhoods and demographic groups are equitably represented in the data. When we used the tool to analyze 311 requests in New Orleans from 2014 through 2018, we found that white residents were 4.4% overrepresented in the neighborhoods where 311 requests are located, and Black residents were 3.9% underrepresented. Audits like these can help cities target outreach to underrepresented neighborhoods and raise key questions about how to equitably use resident-request data like 311 requests to inform service delivery.
In a time of budget cuts and thin resources, cities will also need to be innovative when it comes to funding technology initiatives. The guide highlights new partnership models with universities and private companies that have helped cities fund technology equity work, despite declining revenues. As cities rapidly adopt new technology, we hope that these tools can help urban leaders ensure that smart cities are better and more inclusive cities for all residents.