Innovation
Does this carbon footprint come in a smaller size?
December 14, 2021 | By Deborah Abrams Kaplan

Diners are used to looking at calorie counts and vegan-friendly symbols on menus, but at Just Salad, they have an extra option. Last year, the chain introduced a carbon label that shows the impact that their bowls have on the planet through a number that reflects the estimated carbon emissions from growing and transporting their meals.
People may not completely understand the science behind the number (the company shares its methodology here), but they can see how each salad compares to another, and they can order the salad with the lowest impact on the environment. You've heard of vegetarians, flexitarians and pescatarians? Just Salad offers a "climatarian" version of their menu that groups the lowest carbon-producing menu items into one list. The Vital Greens salad, which includes arugula, feta and pickled red onions, has the lowest impact with a .28 kilograms of carbon dioxide equivalent emitted per salad.
"For a segment of customers, it gives them pause to say, 'I'll go with the lower one,'" says Sandra Noonan, chief sustainability officer of Just Salad. "Our Climatarian menu is a way to give consumers a shortcut and not have to decipher actual carbon labels, which is a tall order."
Consumers are more concerned about climate change than ever before, according to a recent Mastercard survey across 24 countries. They are closely watching what's happening on the domestic and global front during the United Nations' COP26 conference in Glasgow last month. They see the need for nations to cut greenhouse gas emissions to cap global warming in hopes of slowing climate change. But they also want to take individual steps to make a difference, and that's where tools to increase carbon literacy come into play.
"We developed a carbon calculator that will give consumers a way to make more informed spending decisions and take climate-conscious action by connecting card transactions to their personal carbon footprint," says Cindy Chastain, the senior vice president for Customer Experience & Design at Mastercard, who led the design of the consumer experience to be integrated across the Mastercard network for its banking customers.

Developed in partnership with Doconomy, a Swedish fintech company, the calculator is offered via partner bank apps in multiple regions, including Latin America and Europe. It tracks a cardholder's footprint month by month across a variety of spending categories – food and beverage, home and garden, and transportation, for example – and offers tips for reducing their impact. The experience can also support donations, allowing consumers to contribute to forest restoration via Mastercard's Priceless Planet Coalition (of which Just Salad is a part). The coalition aims to restore 100 million trees by 2025.
"Embedding sustainability into our everyday spending decisions is a meaningful way to create positive change," says Jorn Lambert, the company's chief digital officer. "Through our network, we have tremendous reach to consumers across the globe who are looking to make more sustainable choices, which is why we continue to invest in digital products that support the environment, such as the carbon calculator."
This carbon footprint data has been available for years but not widely accessible to consumers. The challenge, Chastain says, was to design an experience that will encourage more sustainable purchasing choices. "This is about driving behavioral change in an entirely new category. It's like calorie counting with the environment," she says. "But many people simply don't have the everyday knowledge to know if a CO2  number is good or bad."
To understand how to ensure the calculator could have the most impact, she and her team engaged with cardholders at every stage of the product development process. They conducted experiments, integrating consumer research within the prototyping phase to answer some of these questions: What will make a CO2 number more tangible and relatable ? What kind of mechanisms could cultivate positive new habits? What will inspire a donation to reduce the impact of deforestation to counterbalance the cardholder's spending?
"A purchasing decision is never based entirely on one data point — quality and cost, for example, will always be important factors," Chastain says. "But as the world moves toward a net-zero future, understanding the environmental impacts of what we buy will only grow in importance."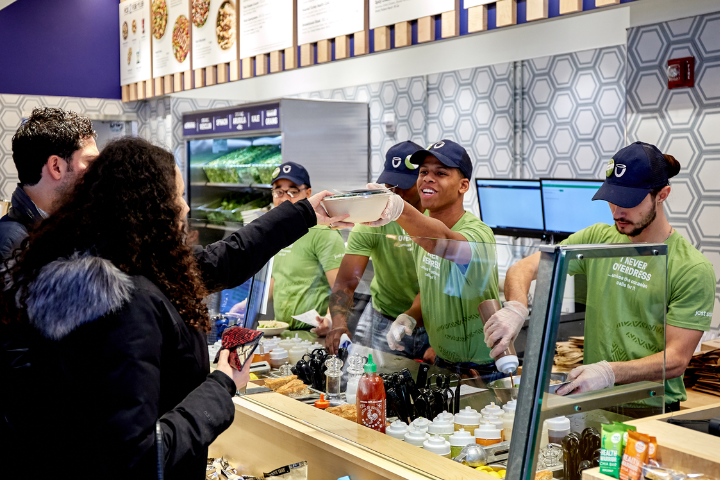 Food is one of the best places to start making changes. Food systems account for about 34% of greenhouse gas emissions, according to the U.N. Food and Agriculture Organization. More sustainable use of agricultural land can help slow climate change and biodiversity loss but also add jobs to rural economies and help them grow and thrive after the pandemic.
Customers appreciate when companies make carbon information available, easy to understand, and actionable, Noonan says. And while the cost of calculating carbon footprints can be high for brands, she says, "the generational and ecosystem cost of taking no action to create a more sustainable food system is much bigger."