Inclusion
A two-track pandemic? Why vaccine inequity is a problem for everyone
June 24, 2021 | By Vicki Hyman
Nearly 1 in every 5 people in the world live in Africa, but the continent accounts for just under 1% of the COVID-19 vaccination doses administered globally.
Geneva-based Gavi, the Vaccine Alliance, has been at the forefront of the battle for more equitable distribution of vaccines, co-leading COVAX, the largest, most complex rollout of vaccines in history. COVAX is a global initiative to accelerate the development and manufacture of COVID-19 vaccines, and to guarantee fair and equitable access to vulnerable groups across the world.
Underpinning COVAX is the principle that all countries should have access to COVID-19 vaccines, regardless of their ability to pay; to that end, Gavi coordinates the COVAX Advance Market Commitment (COVAX AMC), which pools purchasing power and allows the participating 92 lower-middle and low-income economies to receive vaccine doses at a subsidized price.
Earlier this month, Gavi hosted the Gavi COVAX AMC Summit, during which donors from the public and private sector pledged $2.4 billion to secure 1.8 billion fully subsidized doses for lower-income economies through early 2022, including an earlier pledge from Mastercard of  $25 million. This is enough to protect nearly a third of the population in eligible economies.
"In the context of this unprecedented global pandemic, equity is not just the right thing to do, it is the necessary thing to do," says Li Zhang, Gavi's director of New Investors, Private Sector Partnerships and Innovation.
Mastercard Newsroom spoke with Zhang about vaccine equity, the logistical challenges of getting shots into arms, and what we can learn from the current crisis to prevent future ones.


Why is vaccine equity a problem for all countries, not just the low- and middle-income ones?
Zhang: Infectious diseases do not respect borders, which means that no one is safe until everyone is safe. COVID-19 has already cost millions of lives and disrupted the livelihoods of billions more. We've also seen the devastating impact of variants that spread more easily in countries like India, Brazil, South Africa and the U.K. If the virus continues to spread in a single country, we risk prolonging the pandemic and new variants emerging.  
In addition, if large parts of the world continue to experience delayed access to vaccines, we risk deepening socioeconomic inequalities that already exist. For example, women have disproportionately shouldered the heavy indirect social and economic burdens of the pandemic and we threaten to roll back progress if we do not fight vaccine inequity.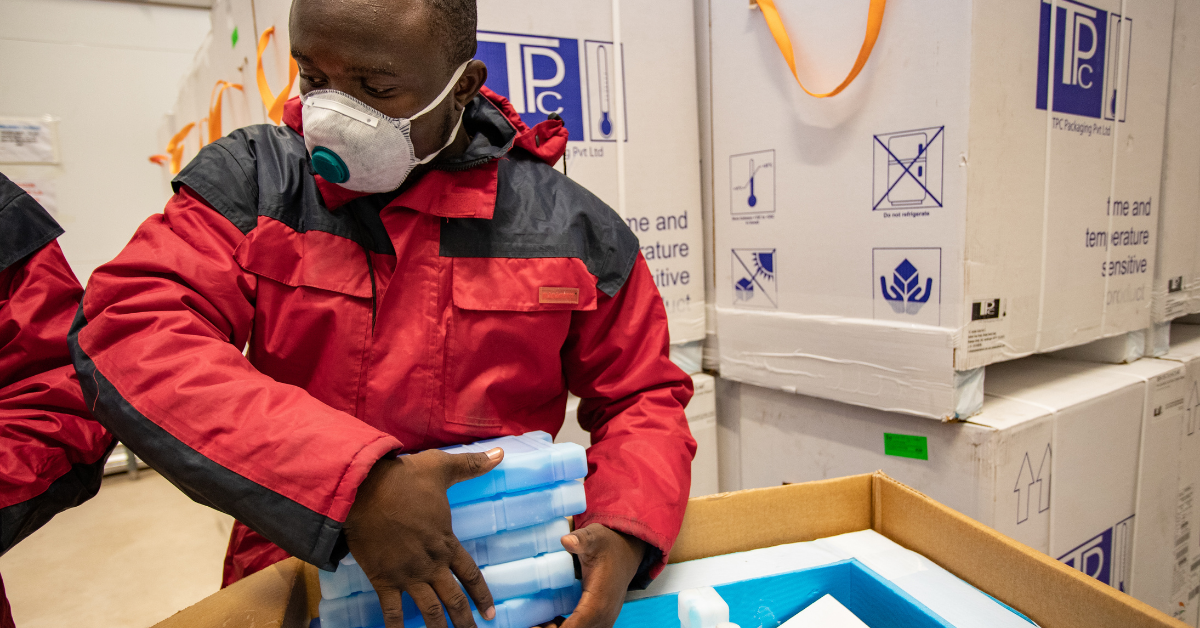 More than 1.7 million vaccine doses arrive in a cold storage storage warehouse in Kinshasa, Democratic Republic of Congo. (Photo courtesy of GAVI, the Vaccine Alliance)
Once vaccines are delivered to lower-income countries, they often face additional challenges getting into arms. How are you tackling those?
Zhang: It's not just vaccines that save lives, we need people to administer them and people to receive them. We also recognize that countries experience challenges around the storage and distribution of vaccines, which is a logistical challenge at the best of times, and during a pandemic, those challenges are inevitably exacerbated.
Fortunately, Gavi has been working closely with lower-income countries to strengthen their health systems and their infrastructure by investing in communities so that they can better withstand these kinds of shocks.
For example, last year Gavi approved $150 million in funding to support improvements to cold chain infrastructure and technical assistance to support the introduction of COVID-19 vaccines for 92 AMC countries. We also work closely with governments and partners on ensuring country readiness and delivery. This includes providing support for not only cold chain equipment and technical assistance, but also syringes, vehicles and other aspects of the vastly complex logistical operation involved when delivering vaccines.
What are some ways you, your partners and people on the ground have worked to resolve these challenges?
Zhang: Together with our partners World Health Organization and UNICEF, we're helping countries prepare for rapid vaccine rollout by providing tools, guidance, monitoring and on-the-ground technical assistance, and we continue to support front-line health workers with digital tools, such as the ones developed in partnership with the Rockefeller Foundation.
We've also developed efficient and novel ways to deliver vaccinations. For example, we partnered with the UPS Foundation and Zipline to create the world's largest vaccine delivery network using drones to provide vaccines to areas without the infrastructure for conventional delivery. This delivery network has been used in Ghana for both our routine immunization campaigns, and to deliver COVID-19 vaccines.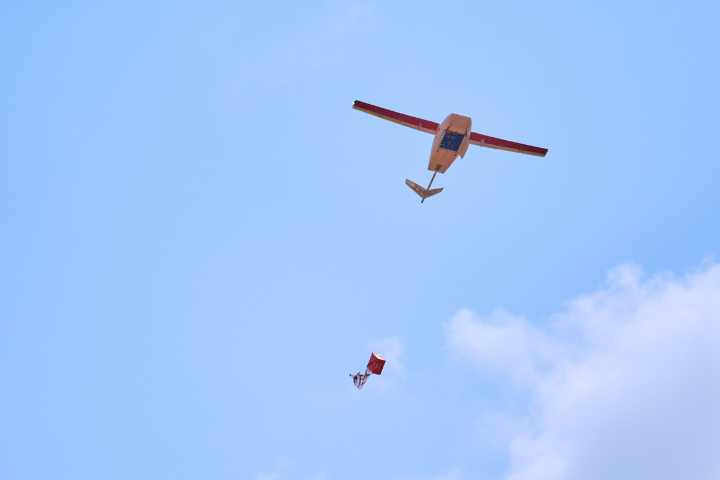 The world's first drone delivery campaign for COVID-19 vaccines brought 250 doses to Asuofua Health Centre in Ghana. Here it is launched into the air at one of the four regional delivery hubs operated by Zipline, a medical drone delivery service, and it arrived at the health center 46 miles away in 34 minutes. (Photo credit: Samuel Moore/2021)
And we've seen innovative solutions developed by everyday people who recognize the importance of immunization. For example, on the Kenya-Somalia border, a group of women activists is fighting to ensure COVID-19 vaccines reach the most vulnerable, despite the challenges they face from al-Shabab. And in Nigeria, health workers are going above and beyond the call of duty to ensure that the children of Borno state are vaccinated.
In addition to these compelling stories and innovative strategies, Gavi is adopting human-centered design thinking at the community level to support countries in developing solutions that work.
We must do everything we can to keep ourselves and each other safe and if everyone, from grassroots community health workers to world leaders, do their part, we have a real chance to bring an end to the acute phase of the pandemic.  


Is misinformation, both about COVID and vaccines, as virulent in lower-income countries as it has become in the U.S. and other richer nations? Is there vaccine hesitancy for other reasons?
Zhang: Vaccine hesitancy isn't unique to the United States. A recent Gallup poll of 116 countries found that 32% of adults — or 1.3 billion people — would not take the COVID-19 vaccine. This obviously poses a huge risk to ending the pandemic.
A fundamental component of building confidence in vaccines and trusting their efficacy is transparency. We also know that misinformation is often shared by family, friends, occasionally politicians, religious leaders, and even doctors, which makes community-level action crucial. Our on-the-ground partners, including governments and UNICEF, work closely with local and religious leaders as well as community mobilizers to engage communities and provide them with the necessary communication tools to help respond to questions and concerns about vaccines that they may get and help build demand for vaccines.
Lastly, we all know the power and influence of social media. Platforms are stepping up efforts to evaluate the trustworthiness of content, but there is much more work to be done. Gavi continues to collaborate with social media platforms with the goal of preventing misinformation. For instance, we partnered with Facebook to launch a social media campaign to tackle vaccine hesitancy in India, where young mothers were not taking their children to be vaccinated. We urge these platforms to continue the hard work.


Looking back at the crises of the last year, what are some lessons learned on how you can better respond to global health threats, or even lingering diseases like polio?
Zhang: First and foremost, we must accept that the emergence of new diseases, or their novel means of transmission, is an evolutionary certainty. The pandemic is a timely reminder of the nature and impact of public health emergencies and exemplifies that the world needs a strong global health system now more than ever.

We simply cannot afford to be caught flat-footed again. It's imperative that countries learn from this experience and shift from nationalism and self-reliance to multilateralism, shared responsibility and mutual accountability.
We have also seen how fragile health systems are, and we must do everything we can to bolster them. For instance, due to the COVID-19 pandemic, more children are likely to miss out on basic vaccines, threatening to unravel two decades of progress. And we know that communities with a large number of underimmunized children are more vulnerable to disease outbreaks. That's why Gavi, together with our partners, is seeking to reduce the number of zero-dose children — those who have not yet received a single dose of basic vaccinations — by 25% in Gavi-implemented countries by 2025.
Wellness Pass, developed in partnership with Mastercard, is another innovation that is streamlining health care access. The pass is a tool that takes paper-based immunization records and turns them into digital records that are securely stored on a tablet or smart card. The pass can be accessed at any health facility through a tablet and enables health workers to administer the right vaccines at the right time. Most notably, it can work without an internet connection, which is often a challenge in remote and rural areas. In addition, health care facilities can easily share the relevant anonymized and secure data insights with governments, enabling them to support health systems and stock up on the vaccines needed.
Over the next five years, we will continue to adopt innovative solutions that will enable us to expand access to COVID-19 and other vital vaccines.
Top banner: A health worker at the Asuofua Health Center in Ghana's Ashanti region draws up a shot of a COVAX COVID-19 vaccine, delivered earlier the same day by a Zipline drone. Part of an initial COVAX delivery of 600,000 doses, these vaccinations targeted health workers on the front lines and government officials. (Photo credit: Samuel Moore/2021)