Innovation
How to build a scent for a brand for all senses
November 30, 2021

While most people binge-watched Netflix, Dora Baghriche spent the early part of the pandemic at her home in Paris, blending oils from Moroccan roses with hints of orange and geranium.
As a senior perfumer at Firmenich, the world's largest privately owned perfume and taste company, Baghriche has developed dozens of fragrances for celebrities and fashion brands across the world. She draws her inspiration from nature, travel and cooking, and often spends a year mixing and testing ingredients to fine-tune a custom fragrance.
Most recently, Baghriche and fellow perfumer Marie Salamagne used their talented noses to create two custom fragrances for Mastercard. Called Priceless Passion and Priceless Optimism, they're the latest fruit of the company's multisensory branding strategy, which includes a symbol-only brand mark, a Mastercard melody, two original macaron flavors and Mastercard restaurants. 
"This approach taps into the sentiments unique to the Mastercard brand through multiple doors of perception — the eyes, ears, taste, touch and now smell," says Raja Rajamannar, Mastercard's chief marketing and communications officer. "When consumers receive messages this way, they are moved more deeply and develop a stronger connection with those brands."
The sense of smell is a particularly potent way for companies to make a lasting impression. Studies show that people recall 35% of what they smell versus just 5% of what they see.
"These scents are a way to be distinctive and memorable in a world which is filled with more and more clutter," says Monica Biagiotti, who oversees consumer marketing and sponsorships for Mastercard. In an increasingly digital world, "it helps us engage emotionally with our consumers."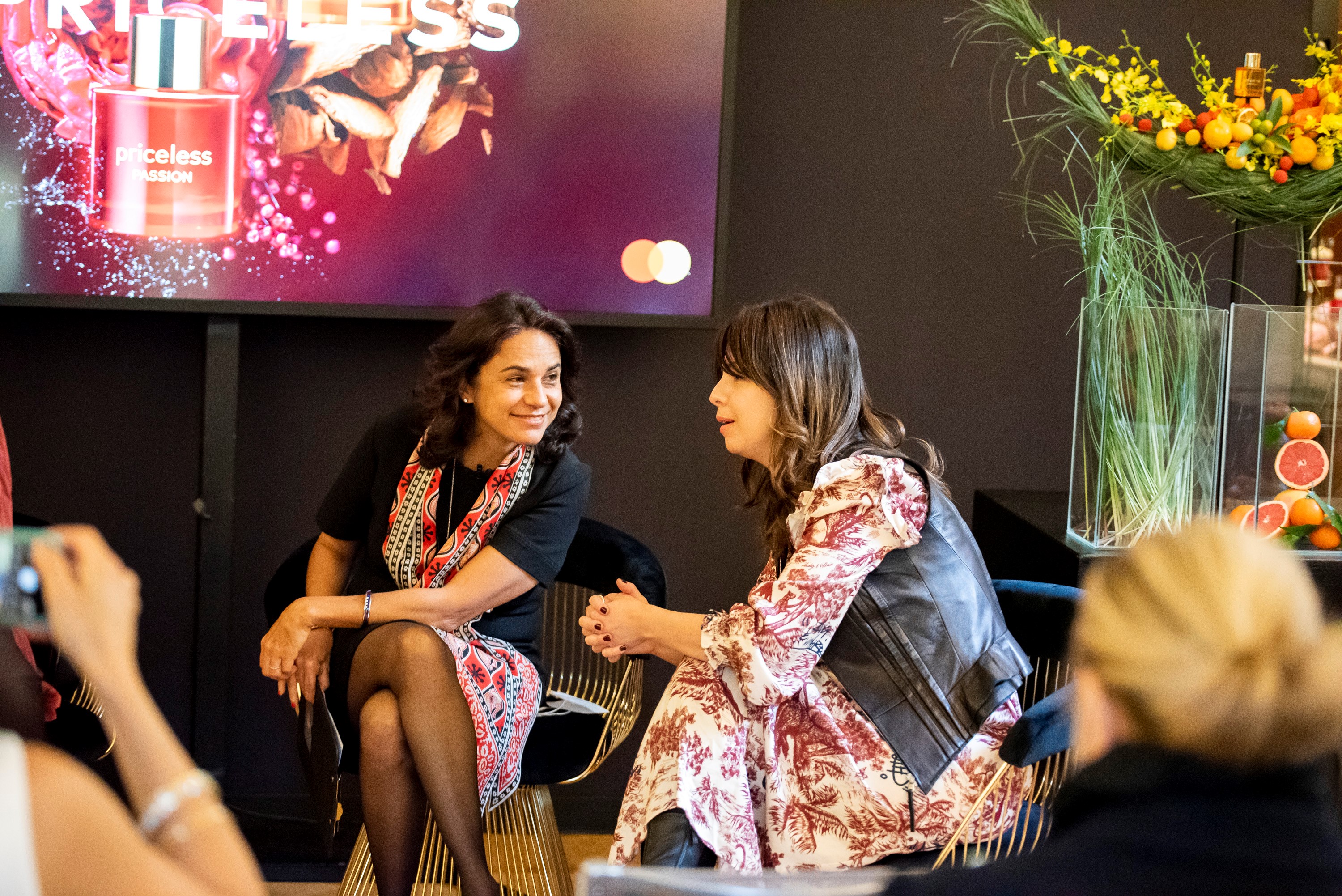 Baghriche, who was born in Algiers and grew up around the Mediterranean, surrounded by comforting scents. Both of her grandmothers worked as pastry chefs, and Baghriche remembers smelling almonds and pine nut cream wafting from their kitchens.
Intrigued by the challenge of representing a brand through scent, she began by sitting with the emotions and adjectives Mastercard wanted to convey — passion, optimism, universal, inclusive, genderless and sustainable. As the world slowly emerges from the challenging years of COVID-19, she settled on passion and optimism as the most appropriate themes.
Baghriche knew roses were essential to both fragrances. The rose is a symbol of passion, she says, and people gravitate to the flower when they feel a strong emotion like love or loss.
As she created Priceless Passion at home and in her lab, she pictured the small sustainable family rose farm in Morocco that grows the flowers she uses. "I travel in my head when I create," Baghriche says.
She then took an imaginary trip to Italy to incorporate Sicilian oranges — which for her embody "the sun and the light"— into both perfumes. The scent also takes her back to her grandmothers, who used orange blossoms in their decadent desserts.
For Priceless Optimism, Baghriche chose the earthy root vetiver, sourced from Haiti, which smells like fresh-cut grass. She combined that with Sicilian orange, grapefruit, mandarin and rhubarb to create an uplifting, invigorating scent for the yellow fragrance.
She sourced several ingredients from Firmenich's NaturalsTogether program, which prioritizes sustainable natural ingredients, promotes biodiversity, and contributes to the livelihoods of thousands of small farmers and their families.  
After beginning work on the two scents with Rajamannar and Biagiotti, Baghriche invited Salamagne to join the journey. "This 'out of the box' project is also about the number two: two circles as the Mastercard signature, two colors, two fragrances," Baghriche says. "Why not two perfumers to share and support this vision of togetherness?"
The fragrances, which will be sold as a set, are meant to be layered to create a unique signature scent. They are now available on Priceless.com in North America and in select markets in Europe. A portion of the proceeds will go to Mastercard's Priceless Planet Coalition, which fights climate change and protects the environment through its mission to restore 100 million trees around the world by 2025. 
Through the end of the year, shoppers can find both fragrances at a pop-up store in Milan inside high-end retailer Rinascente. Biagiotti chose Milan for the global launch since, along with Paris, it is long associated with fashion and fragrance.
As for Baghriche's own signature scent: It's usually nothing. Sometimes she'll wear a scent featuring her favorite ingredients — rose, orange blossom and iris — but going fragrance-free has professional advantages.  
"I want to keep my mind clear," she says. "I want to stay open and to be inspired by everything I smell and see."