Inclusion
When the economy stumbled, these Black entrepreneurs rose up
February 28, 2022 | By Sophie Hares

When Egypt Otis lost her job as a political campaign manager early in the pandemic, she saw an opportunity to make her own dreams come true.

For years, she imagined opening a bookstore specializing in Black authors and other writers from communities of color in her hometown of Flint, Michigan. There, she could share her love of literature and create an outlet for local artists and designers. So despite the risks of entrepreneurship and the restrictions resulting from the pandemic, she decided to make a big bet on herself. She found the perfect spot and came up with the perfect name, Comma Bookstore & Social Hub.
But when it came to financing, she hit a wall. As a new business, she didn't qualify for COVID-19 relief grants and was wary about applying for a loan without knowing if the bookstore would fly. She instead turned to her local community and raised $20,000 through crowdfunding. "People wanted to support us," she says, "and make sure we were successful."
Black-owned businesses were almost twice as likely to close during the early months of the pandemic as businesses overall, with one report from the New York Fed citing "weaker financial cushions, weaker bank relationships, and preexisting funding gaps" that were exacerbated by COVID-19.
But entrepreneurship has since recovered — in fact, new business creation is at record levels in the U.S. — with Black small business owners leading the way.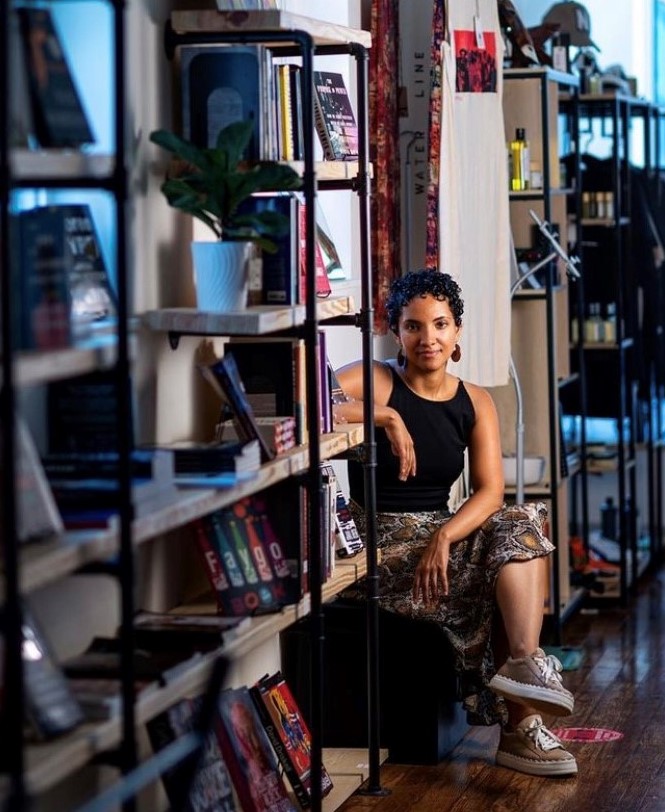 Egypt Otis, above, opened Comma Booksore in Flint, Mich., during the pandemic. Research shows that Black-owned businesses took a significant hit at the start of the pandemic, but Black entrepreneurship is now outstripping that of other racial and ethnic groups. (Photo courtesy of Egypt Otis)
The same barriers, however, remain. Like Otis, thousands of Black women who launched startups amid the pandemic needed to get creative for financing. They've sought support through crowdfunding, applied for corporate grant and mentorship programs and found new customers through the #BuyBlack movement, which found greater resonance in the wake of 2020's racial justice protests.
These new routes for funding have birthed a dynamic new generation of Black businesses, but they also show that progress is still needed to ensure people have equal access to traditional finance.
"Digitization of credit applications — providing a streamlined process that gets money in the hands of entrepreneurs faster — and the use of alternative data such as open banking to make loan decisions hold great promise for democratizing this access and helping close the racial opportunity gap," says Jane Prokop, Mastercard's executive vice president for small and medium enterprises.


Growing their passion
Lifelong friends Kelly Brown and Maya Haynie turned to crowdfunding when their plant delivery business quickly outgrew their home and co-op location. They were able to raise more than $9,000 from friends, family, customers and supporters to aid in opening a storefront in suburban Montclair, New Jersey, last summer. Their business came to life after taking their passion for plants and plant care to a larger scale during the pandemic — deVINE Plantery offers personalized services such as repotting, plant styling, classes and more.
"Black people, especially Black women, have to turn to other avenues for funding due to the fact that we are turned down the most by banks," says Haynie, top photo on left. "If you aren't able to cash-flow your business like we were, it can be a major deterrent looking for loans."
Access to capital remains stubbornly uneven, particularly for women of color. Research shows that 61% of Black women self-fund their total startup capital — that's on top of Black people taking on higher debt for college and being less likely to own their own home, which means less collateral for loans. Mastercard's Strivers Initiative and partnership with Fearless Fund is helping address this and support Black women business owners with additional funding, mentorship and digital tools to build and grow their business.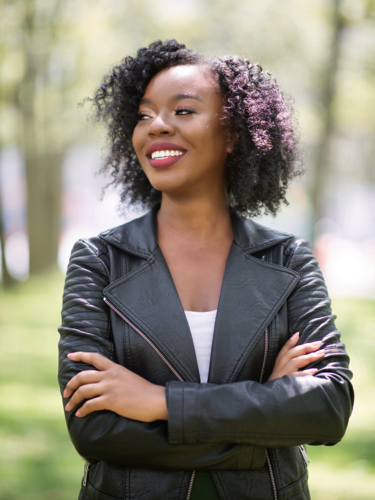 "There is a lot of work that needs to be done there," says Mandy Bowman, right, whose digital platform, Official Black Wall Street, helps connect consumers to local Black-owned businesses. "When it comes to the biases associated with being a double minority, you have much more to prove that you're able to run this business."
Entrepreneurs on OBWS have also benefited from #BuyBlack, which started in 2014. Bowman says OBWS's servers crashed as the killing of George Floyd and subsequent protests sparked a massive spike in shoppers looking to support Black-owned brands. Even though it has now tapered off, the initiative has left a much better understanding of why Black founders need more backing, she says. 
"That's been the most rewarding part of all of this, just that understanding of 'Oh my gosh, you guys really need support,'" Bowman says. "The entire movement has grown tremendously, especially in the last few years."
Back at Comma Bookstore, Otis says more shoppers are choosing to put money into their communities by frequenting stores like hers, where they can learn everything they need to know about the Black-authored books that line the shelves. 
"There's this trust that exists when people shop local," she says. "But it's also about making sure you have more conscious shopping methods being practiced when you're shopping Black."
Top banner, Maya Haynie, left, and Kelly Brown, transplanted their passion for plants to a brick-and-mortar storefront called deVINE Plantery in Montclair, New Jersey, last year. (Photo courtesy of deVINE Plantery)