Sustainability
How an IoT startup is tackling single-use plastic, one load of laundry at a time
June 5, 2023 | By Sophie Hares
While spending time in Nairobi's Kibera, Africa's largest informal settlement, entrepreneurs Zahid Mitha and Edoardo Biraghi kept noticing a pattern inside the small retail stores known as dukas. Shoppers often could afford to buy only very small amounts of some essentials — sometimes as little as a cup of washing powder at a time.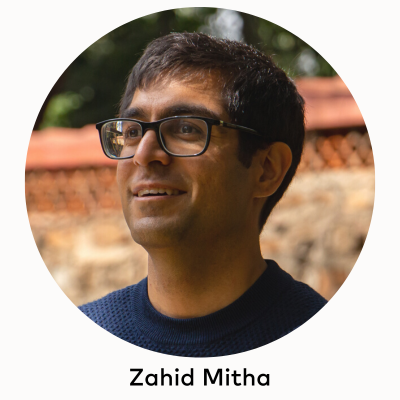 But that meant they were actually paying more per cup. As anyone who has ever shopped at warehouse clubs knows, buying in bulk gets you discounts, thanks in large part to less packaging. Buying goods in small, prepackaged containers means paying more.
Mitha, 33, and Biraghi, 34, who for the previous four years had been building internet-enabled dispensing and supply chain tech to distribute condoms and HIV testing kits, thought they knew a way to use technology to eliminate this so-called poverty tax — by helping customers purchase only as much of a good as they needed.
Their company, Novek, is now piloting an Internet of Things-enabled machine that allows Kibera shopkeepers to accurately dispense as little as a few cents' worth of washing powder into reusable containers and sell it at the same price as if it were being sold in bulk — increasing sales and profit margins for store owners while reducing single-use plastic, a major contributor to water pollution.
"We believe that if we improve both the product small business owners deliver to customers and their incomes, we will ultimately drive economic prosperity for everyone," Mitha says.
Dubbed the "Silicon Savannah," Kenya has become a hotbed of innovation as entrepreneurs like Mitha take advantage of its extensive high-speed internet, deep mobile phone penetration, and widely used digital payments infrastructure to develop products and services to strengthen the economy, improve everyday life and create opportunities for more people.
Calculating that Kenyans spend over $300 million a year on washing powder, Mitha says Novek is already drawing interest from multinational consumer-goods companies looking for more reliable and greener ways to reach customers.
By using IoT — which allows machines equipped with sensors and software to use the internet to connect with other devices — manufacturers can track their product from the time it leaves the factory to when it is sold in Kibera's tin-roofed kiosks, giving them real-time insights into a retailer's inventory and triggering restocking, which makes the supply chain more resilient. It could help them reduce the plastic used to package tiny quantities of washing powder — which can make up some 20% of the cost — and pass those savings back to low-income consumers through cheaper prices.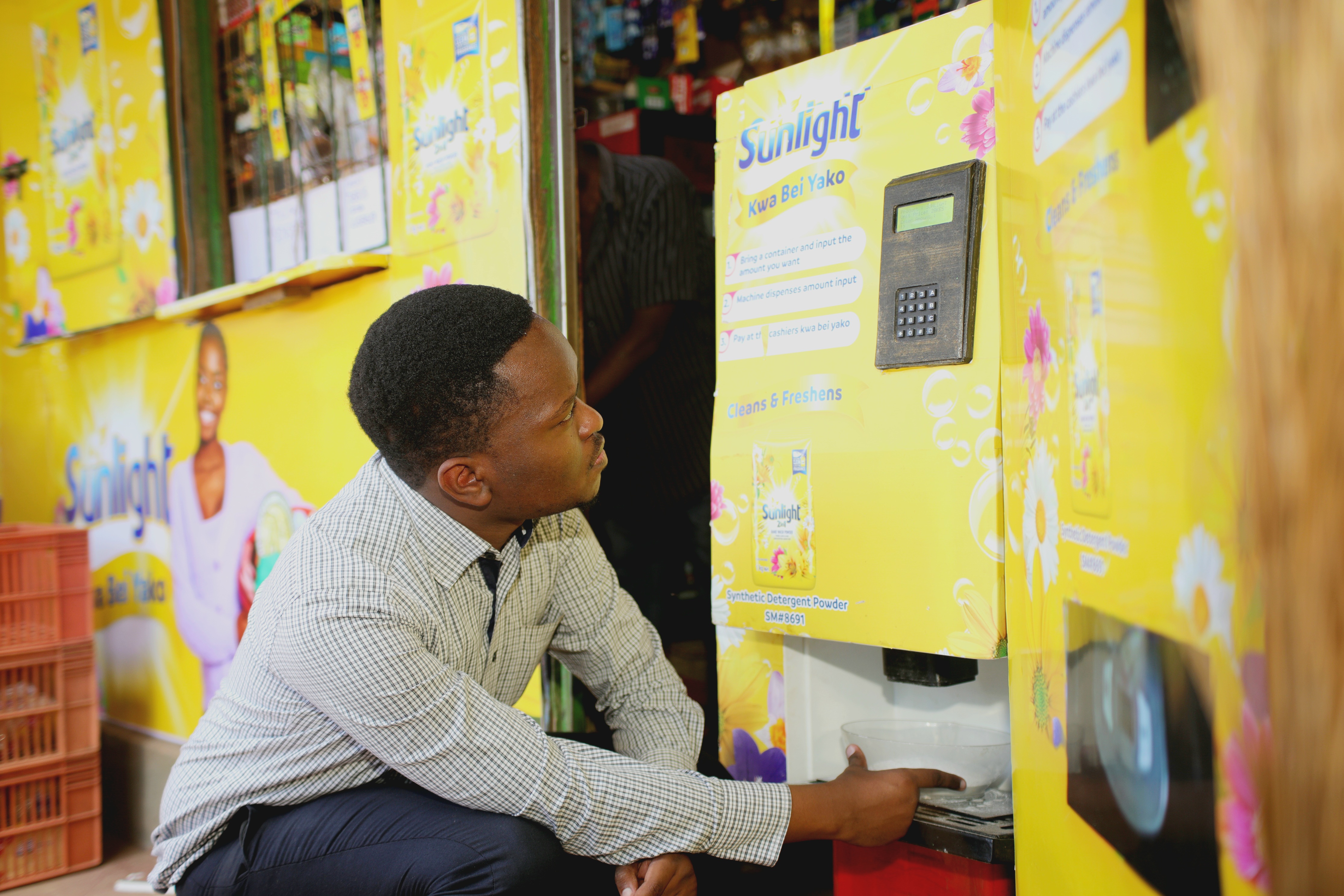 The IoT-enabled vending machine allows customers to buy just the amount of detergent they need. (Photo credit: Eugene Kaiga)
Novek has been able to speed up the research and development needed for its detergent dispenser machines so they're ready for shopkeepers to test thanks to a grant from the Strive Community Innovation Fund, which last year awarded a total of $1 million to eight enterprises focused on creating ways to strengthen small businesses' digital capabilities. Strive Community is part of a portfolio of programs launched by the Mastercard Center for Inclusive Growth with Caribou Digital.
Designed to save space in cramped shops while being simple to use, the IoT machines can dispense amounts as small as a few ounces and pull in penny-conscious shoppers. The hope is that by bringing in more customers, the shops will do better and help the whole economy thrive.
For Kibera shopkeeper Brian, the bright yellow dispenser Novek recently installed in his shop is already proving a hit with customers and tripling the amount of detergent he sells each week.
It's also a way he can help cut down on plastic packaging, which invariably ends up being burnt in Kibera's massive garbage dumps or clogging its already polluted streams.
"Customers here are attracted by new things in the market, and technology is something that really piques their interest. The more curious they are, the more word spreads," he says. "They prefer the machine-dispensed soap because it gives them more for their money than the prepackaged sachets."
Mitha says Novek's dispensers can eventually be used with many products, such as sugar or honey, in low-income areas around the world.
"The vision here," he says, "is that this is viable everywhere in the world where people buy small quantities of goods. The scope is global."