Inclusion
How women can level the playing field in sports — off the field
March 13, 2023 | By Tyler Blint-Welsh

Playing sports offers invaluable lessons for children, teaching them perseverance, teamwork, and leadership skills, and for girls in particular, it has been shown to boost confidence and self-esteem. And the impact lasts — 94% of female C-suite executives played sports when they were younger, 52% at the university level, according to one report.
Sports can help level the playing field for women in their careers, but ironically women remain underrepresented in leadership in the global sports industry. Women make up only 26.9% of the executive leadership of 31 major international sports federations, and only three are led by women, according to research by the Sport Integrity Global Alliance, which hosted a summit on female leadership in sports at Mastercard's New York City Tech Hub last week for a second consecutive year.
"My criteria is not how many women are practicing sport," said SIGA CEO Emanuel Macedo de Medeiros. "That is relevant, but I want to see women having equal opportunities to sit where the decisions are made, to assume their responsibility, their leadership in equal standing."
Leaders from across the sports industry discussed how to drive more equity and elevate women in sports, whether they're athletes, coaches, entrepreneurs or even data scientists — and what men can do to promote female leadership.
 "If you're ever on panels and you do not see a woman, you should not attend," Sandra Lopez, a technology executive who is co-chair of the SIGA America advisory board, challenged the audience. "You should not participate until you see diversity on that panel. That's something that's easy. And by having those conversations with the conference planners and the programming, you can drive change."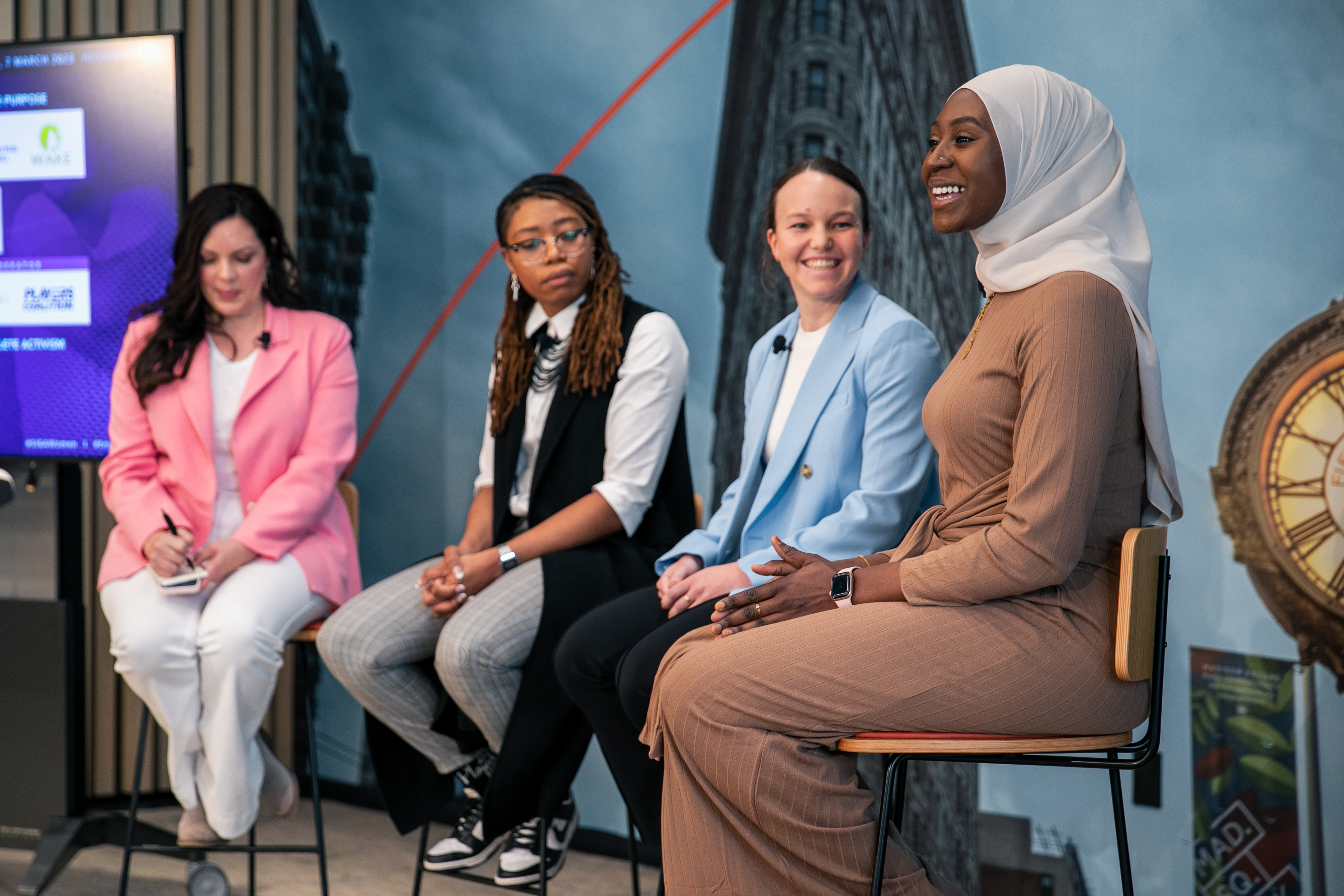 Former pro basketball player Batouly Camara, right, founded Women and Kids Empowerment, which sponsors basketball camps, builds courts and provides education scholarships to help keep girls engaged in sport. She was joined on a panel on athlete activism by, from left, LaChica Sports Group CEO Angela LaChica; Lyzz Ogunwo, vice president for international development and global impact for the National Basketball Players Association; and Lauren Esrig, Voice in Sport Foundation head of development.  (Photo credit: Rebecca Abraham)
The day-long summit was presented by Mastercard, which sponsors the National Women's Soccer League in the U.S. and Women in Rugby globally among other women's sports leagues and is also a founding member of SIGA. Here are some of the insights:
Consider a sports career, even if you're not an athlete: When girls hit middle school, they often quit both sports and STEM subjects, usually because they lack the confidence and role models to continue, says Susan Warner, the founder of Girls4Tech, Mastercard's global STEM education program. As a result, they may miss out on viable careers in sports, such as sports technology, an industry projected to be worth $49 billion by 2028.
"If we could solve the issue of young girls dropping out of sport in middle school, we'd have a lot more [role models] for young girls to follow across the industry," said Alex Taylor, a designer for Adidas and the founder of the women's basketball community Hoop York City.
Identify the barriers: One of the most pervasive barriers to keeping girls in sports stems from crises in confidence and body positivity that often arise with puberty. For Hoop York City's Taylor, it was a female coach she had in the sixth grade who instilled a love for the sport and made her who she is today. "When I moved into high school, I had a male coach and he almost made me fall out of love with the game, because there was a disconnect in how he spoke and there wasn't a feeling of mutual respect."
Find a mentor, then become one: One of SIGA's signature initiatives is its global mentorship program for young female leaders led by Katie Simmonds, SIGA's COO and managing director of SIGAWomen.
"There's no reason to have to go down a path when someone has gone down that path and learned from that path and can show you," says mentor Nicole Jeter West, the CEO of the marketing agency Underdog Venture Team, the official partner for the 2022-2023 mentorship cycle. "That's the most valuable, when you can have those open, honest dialogues."
"The global game needs a pipeline for the next generation of female leaders, and networks and mentoring can help."
Women can also see mentors to navigate other parts of their working life beyond traditional career growth, from facing mental health challenges to embarking on motherhood and handling maternity leave, panelists said.
Mentorship needs can change over time, but Cassandra Brownstein, a Mastercard product manager in its Cyber & Intelligence business who was a mentee in the program, says there's one thing she seeks out: "I really like to look for someone that has similar values to me — different backgrounds, different language, different culture, but same values, so that when you do talk and connect, it really does resonate."
Debbie Hewitt, the first female chair of the U.K.'s Football Association and one of the most powerful women in global soccer, called for women to be hungry and learn: "The global game needs a pipeline for the next generation of female leaders, and networks and mentoring can help."
Banner photo: Sally Nnanami, center, the U.S. co-executive director of PeacePlayers International, discuses the power of mentorship with Lisa Murray, the chief marketing officer and chief diversity officer at Octagon, left, and Lindsay Gorman, sponsorships manager at M&T Bank, right.  (Photo credit: Rebecca Abraham)