The creator economy
'If I make a dollar, I know how to make a million': How a digital content creator built her business
March 15, 2023 | By Vicki Hyman

Rhonda Saunders' brother once FaceTimed her at work — and then he quickly burst out laughing.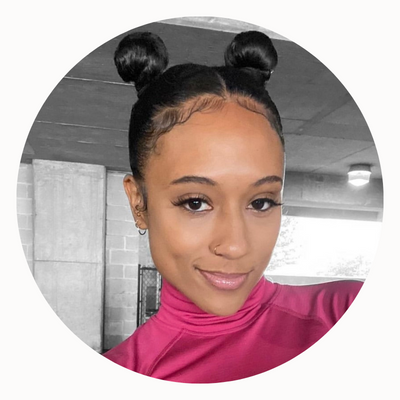 Saunders is a former hair salon owner who made a sharp pivot during the pandemic to become a digital content creator, building new worlds in the metaverse, and she happened to be wearing her virtual reality headset when she answered the call. "The whole talk of my family was 'Oh, she's gaming. Oh, she's playing video games,'" she says. "Explaining what the metaverse is, what virtual reality is, to someone who's never experienced it, it's kind of like speaking cursive. Where do you start?"
Today Saunders — better known as Rhonda X — is the founder of RXVR Brands, a virtual world development and marketing company whose Horizons World work with Mastercard includes True Self World, part of Meta's Pride World Hub, and Small Business City, where entrepreneurs can find guidance and network to build up their businesses.
As the pandemic accelerated digitization and social media democratized the ability to reach audiences (and monetized that reach), she is one of millions of people now part of the creator economy, a growing sector already generating billions of dollars a year. 
Few people except her closest friends believed she could make a living as essentially a virtual architect, but within a few months of buying her first virtual headset and learning how to use Meta's Horizon Worlds platform, she had designed and sold her first tiny home in the metaverse.
"I opened up my LLC because I'm like, 'OK, these people are going to take me seriously if I take myself seriously,'" she said in a recent interview with the Mastercard Newsroom. "While everyone was still having fun on the platform, I was like, 'I want to know how I can take advantage of these early opportunities.'"
Saunders spoke to the Mastercard Newsroom about her journey in virtual reality, the business of being creative and advice for getting started with VR.
You owned a hair salon in Atlanta before COVID-19 hit, and your business was shut down. How did you make the jump to digital content creator?
Saunders: When COVID hit and we were all at home, I instantly thought, "Okay, I need to think about something that I could do to make money from home." I started doing research about stocks and investing and it was so cliché, but it taught me so much about trends. It taught me about what the hot topics are, what's up and coming, and that's where the whole metaverse conversation came from.
Were you always interested in tech?
Saunders: I'm one of the girls that liked STEM. I'm good at coding. When I was in high school, I used to build people's MySpace pages and they used to pay me to build out their own pages. So I thought I was like a coder then, but I didn't see a lot of people in tech that look like me. So I was like, "I don't want a career in tech." It didn't seem like something that I could do. It was unrealistic, unfortunately, in my mind. So during the pandemic, I started doing research, and the metaverse conversation came up, and then Mark Zuckerberg said he was launching his own metaverse. And I was like, "Okay, let me dive in and get the headset."
How did you get started?
Saunders: In Horizon Worlds, you can build your own world in the app. So I started building, and at first I'm like, "I'm not really an artist. I don't really think this is something I can do." But when I realized everyone was just starting out, I was like, "OK, it's fair game." Everyone had just bought the headset within six months — it was so fresh. I started building and I started networking and then I got the opportunity with Mastercard to build Small Business City.
How did digital content creation become a business for you?
Saunders: In the beginning, I started building tiny homes, and I was selling tiny home templates for people that didn't know how to build. I was building. I was selling staircases. I know that sounds crazy, but in the platform they're so hard to build, because it's a technique and a lot of people don't know how to build staircases. And I was like, "Honestly, if I make a dollar I know how to make a million."
Recent Mastercard research in North America shows that 21% of millennials and Gen Zers say they are creators, and an additional 61% say they aspire to become creators. Why do you think it's so appealing, as opposed to pursuing a more traditional career?
Saunders: This is the age of creators. Companies used to hire these big celebrities for their marketing campaigns, and now it's about the community. Everyone is getting that equal opportunity to create their content and share what they like. Anyone could do it. You can do it in your own home. And there's no wrong way to create. Creating is not a wrong or right answer. It's expression, and there's always someone that can relate to you.
What advice do you give to young creators trying build their careers?
Saunders: I will tell them to start with what their interests are. Whatever piques your interest, start at that, become obsessed with it and figure out how you can be expressive with it. Because then you'll be good at it … You're giving a service and then the reward comes. When you're trying to figure out "How am I going to make money? How am I going to be famous? How am I going to get recognition?" — that's backwards. If you figure out what gives you fire, what fuels your soul, figure out how to be expressive in that lane and figure out how to give back to other people, that's the formula.
Banner photo: Screenshot from Small Business City in Horizon Worlds, featuring Saunders' avatar, center.