Data for good
In Mozambique, a virtual assistant powered by data analytics is driving opportunities for informal workers
September 22, 2023 | By Sophie Hares

When hairdresser Sarifa Sergio opened her own salon in Mozambique's capital, Maputo, she was struggling to support her parents and six siblings.
She needed more clients but couldn't afford paid advertising after covering the rent and stocking up on supplies. Then she discovered Com-Hector, a virtual assistant designed by the global nonprofit Fundación Capital that gives low-income workers access to advertising technology and business management solutions.
Uploading images and her salon details to the WhatsApp-based service, she quickly produced customized flyers via the digital assistant to promote her wigs and braiding.
"Now things have improved a lot. It was hard to find new clients without publicity," she says.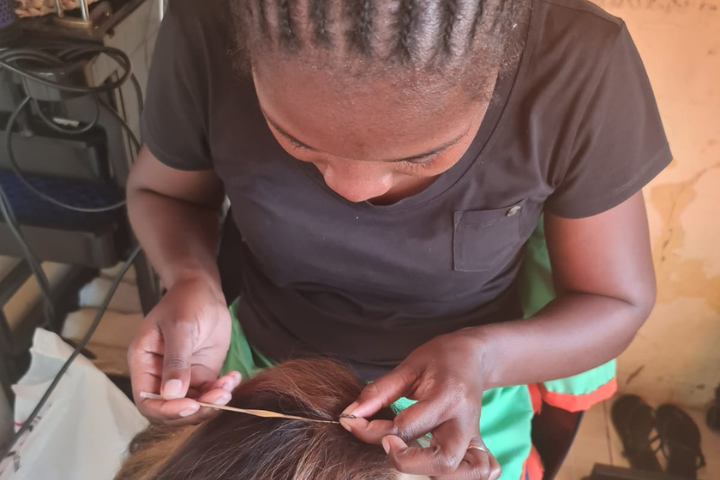 Sarifa Sergio, a hairstylist, is one of Mozambique's millions of informal workers, but she's growing her business thanks to digital tools and data insights. (Photo credit: Fundación Capital)
Com-Hector is one of the key services used by Data for Workforce Nurturing (D4WN), a joint project of Fundación Capital, the Mozambique tech startup UX and the social enterprise Data Elevates. D4WN blends data insights with business tools to help informal workers become more economically resilient.
In Mozambique, a southeast African nation on the Indian Ocean, more than 90% of workers are in the informal sector. These workers face higher rates of poverty, greater economic insecurity and limited opportunities for upward mobility. Most workers rely on side hustles and word of mouth to find work and cobble together an income. For example, up until recently, the only way for most mechanics, plumbers or day laborers to get the word out was painting their phone number on a wooden plank nailed to a tree.
"There's millions of people who are underserved," says Rodrigo de Reyes Lanfranco, Fundación Capital's Mozambique country managing director. "We want to aid their growth so they can make ends meet."
To help workers move beyond tree postings and provide them with the kind of business intelligence that more established companies can access, D4WN incorporates the capabilities of two business tool providers. The first is Fundación's Com-Hector, the app that allowed Sergio to make flyers to build business at her salon.
The other is Biscate, a digital job board for the informal sector where clients can find workers. Unlike other job-matching services, where users need internet access or a smartphone, Biscate lets them navigate a series of telephone or text prompts to either build a profile or find a worker.
"Most of the people in Mozambique that have a mobile phone, they don't have a smartphone or they cannot afford data charges," explains Tiago Borges Coelho, co-founder of UX, which owns Biscate and is part of D4WN. As of now, the board has 80,000 registered workers.
D4WN combines information from Com-Hector and Biscate to build a data warehouse. The organization then slices and dices its market data to create customized insights, all of which adheres to responsible data privacy and security practices.
"It's all about educating and trickling down insights that you hope will guide people in the right direction."
Delivered through Com-Hector, these tips let people what the demand is for their type of work in their area, share what time potential clients are likely to call so they are ready to pick up the phone, and offer information about average wage rates in their area. So far, D4WN's strategy is reaping financial rewards, with both Biscate and Com-Hector users reporting an earnings rise.
Now the organization is building on the support it received from the Mastercard Center for Inclusive Growth and the Rockefeller Foundation to push their impact further. D4WN was one of nine awardees around the world to win Data.org's $10 million Inclusive Growth and Recovery Challenge, which sought innovative examples of data for social impact.
In Mozambique, D4WN recognized that one area ripe for improvement is the ability of women like Sergio to grow their business or find gainful work. Women account for only one in five workers advertising their skills and experience on Biscate, which means they are more likely to miss out on job opportunities.
"One trend that we see in the data is that women suffer more from time poverty — they're spending more time but earning less than men," says Borges Coelho. "We want to bring down gender barriers between professions."
Using wage data to highlight which jobs pay more could encourage women to shift out of lower-paid sectors and target higher-earning careers. Matching women with mentors to learn new skills and helping entrepreneurs build connections and create value chains can also boost financial inclusion, Borges Coelho says. "It's all about educating and trickling down insights that you hope will guide people in the right direction."
Banner photo: A Biscate team member helps informal workers register with the platform, which connects them with clients. D4WN uses the market data from Biscate and Com-Hector to deliver insights to help build their businesses.