Innovation
Welcome to ... Electric Avenue?
May 18, 2023 | By Anthony Venutolo

Even though electric vehicles have seen massive adoption all over the globe, there is still a tinge of hesitancy from the masses. We get it. Prices for most EVs are still a hefty lift for the average family, and another concern is overall range between charges.
Enter Sweden, which is working on the first permanent electric road in the world. The Amsterdam-based tech site The Next Web reports that an integrated system will allow electric cars and trucks to charge while traveling a 13-mile stretch of the E20 highway between Hallsberg and Örebro, part of the route between Sweden's two largest cities, Stockholm and Gothenburg.
The highway will be yet another feather in the cap for the eco-friendly nation, which, along with neighbors throughout Europe, has been ramping up attempts to transition to fossil-fuel-free mobility. 
Trafikverket, the nation's transport administration, is in charge of the electric road system project and is still considering which EV technology will be implemented: overhead conductive — similar to how electric trams are powered, it would be available only for taller, more heavy-duty vehicles — ground-based conductive, or ground-based inductive charging.
The latter two have the potential to accommodate smaller vehicles. In a ground-based conductive system, power is transferred from specialized tracks, installed either above or below the pavement, to a mechanical arm on the vehicle. Inductive charging requires the installation of conductive coils in both vehicles and roads.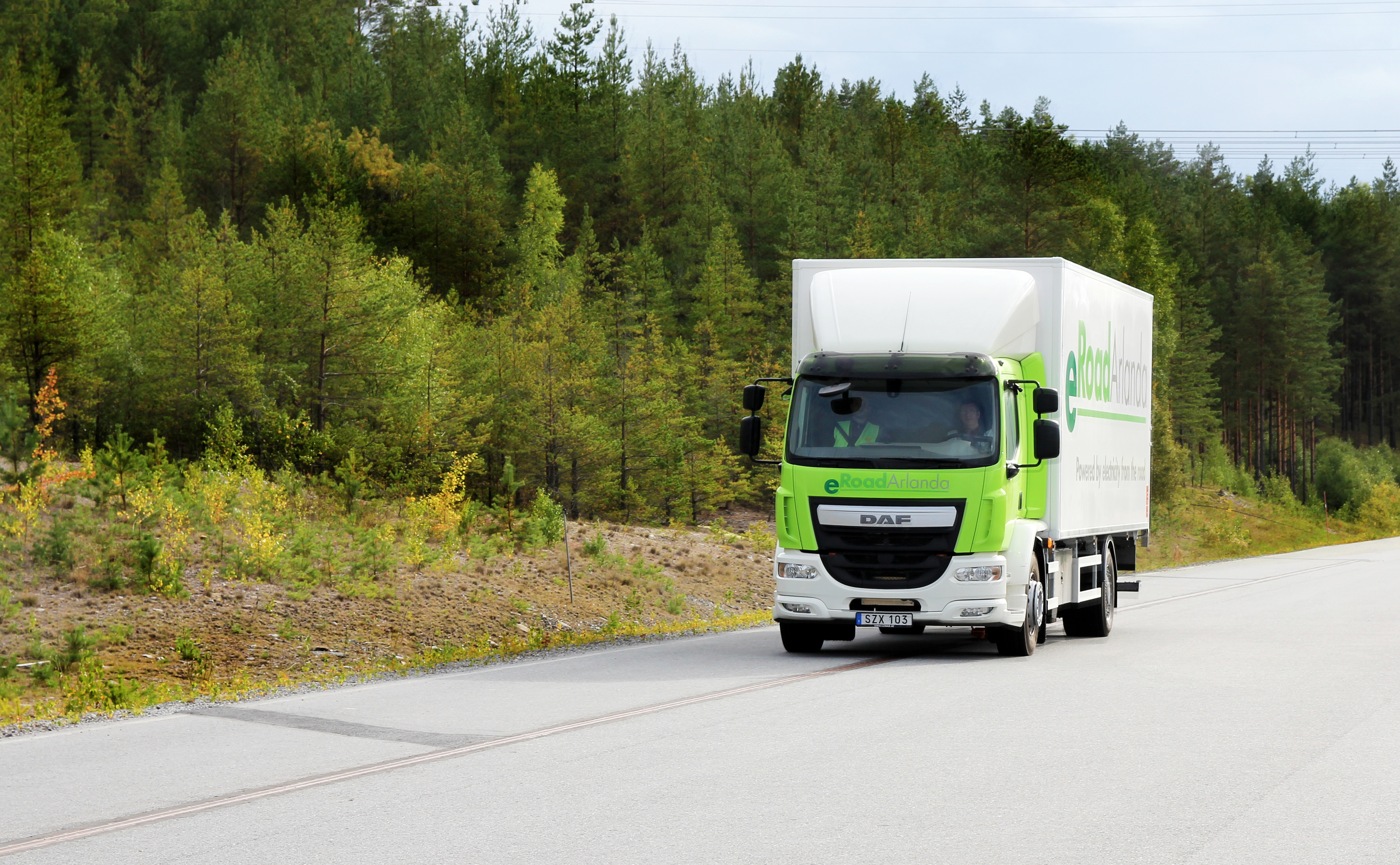 In 2018, Trafikverket, the Swedish transport administration, began testing a mile-long electric road between Stockholm Arlanda Airport's freight terminal and a logistics center using ground-based conductive charging. (Photo credit: Trafikverket)
Similar initiatives are underway in the U.K., Germany, Italy and Israel, according to Electrive. In the U.S., Norwegian firm ENRX has disclosed plans to build a mile-long inductive electric road prototype section on a stretch of four-lane highway close to Orlando, Florida.
Sounding a faster alarm
Researchers at Cardiff University in Wales have developed technology that may help reduce the human devastation brought on by tsunamis. 
Their approach, outlined last month in a study in Physics of Fluids, combines acoustic technology with artificial intelligence to classify tectonic activity in real time and quantify the risk it poses, which, if combined with current technology, would allow monitoring centers to provide warnings more quickly and precisely. 
What makes a tsunami, typically created by underwater earthquakes, more devastating? The answer is something called a "vertical slip" — when the flanks of a fault move up or down, as opposed to sideways. This displaces more water, which can create larger tsunamis. Understanding this information earlier can reduce false alarms and make early-warning systems more reliable, the researchers say.
In their study of more than 200 Pacific Ocean earthquakes, they measured the acoustic radiation emitted, which travels faster than the seismic waves that are used in current monitoring systems.
The new system evaluates tsunamis by combining two methods. An analytical model evaluates the size and direction of the oncoming tsunami, while an AI model evaluates the magnitude and nature of the quake. The software the researchers developed can determine the tsunami's origin, size and which coasts will be affected around 17 seconds after receiving the relevant data. 
One European warning center has already agreed to host the program for a trial period.
Brewing a gasoline alternative
Could a Bloomington, Minnesota, inventor solve the world's gas woes? Get Ky Michaelson to Detroit, because his latest creation is a motorcycle powered by ... beer.
Michaelson, who was recently featured on Fox 9 Minneapolis-St. Paul, is a garage Einstein whose previous inventions include a rocket-powered toilet and a jet-powered coffeepot. His beer-powered cycle boasts a 14-gallon beer keg with a heating coil instead of a gas-powered engine. 
Why beer? "The price of gas is getting up there," he told the news channel. "I don't drink. I'm not a drinker, so I can't think of anything better than to use it for fuel."
The way it works is fairly simple: The beer is heated in the coil to 300 degrees Fahrenheit, which transforms it into superheated steam that is then emitted through the bike's nozzles to launch it forward. (Which brings us back to the question, why beer? "It could be Red Bull. It could be Caribou Coffee. It could be anything," says Michaelson's son Buddy. "But beer – why not?."
According to Michaelson's calculations, his motorcycle is capable of reaching speeds of up to 150 miles per hour. And while he hasn't officially taken the cycle onto city streets, he told Fox 9 that he's looking forward to putting the motorcycle through its paces at a drag strip sometime in the near future.