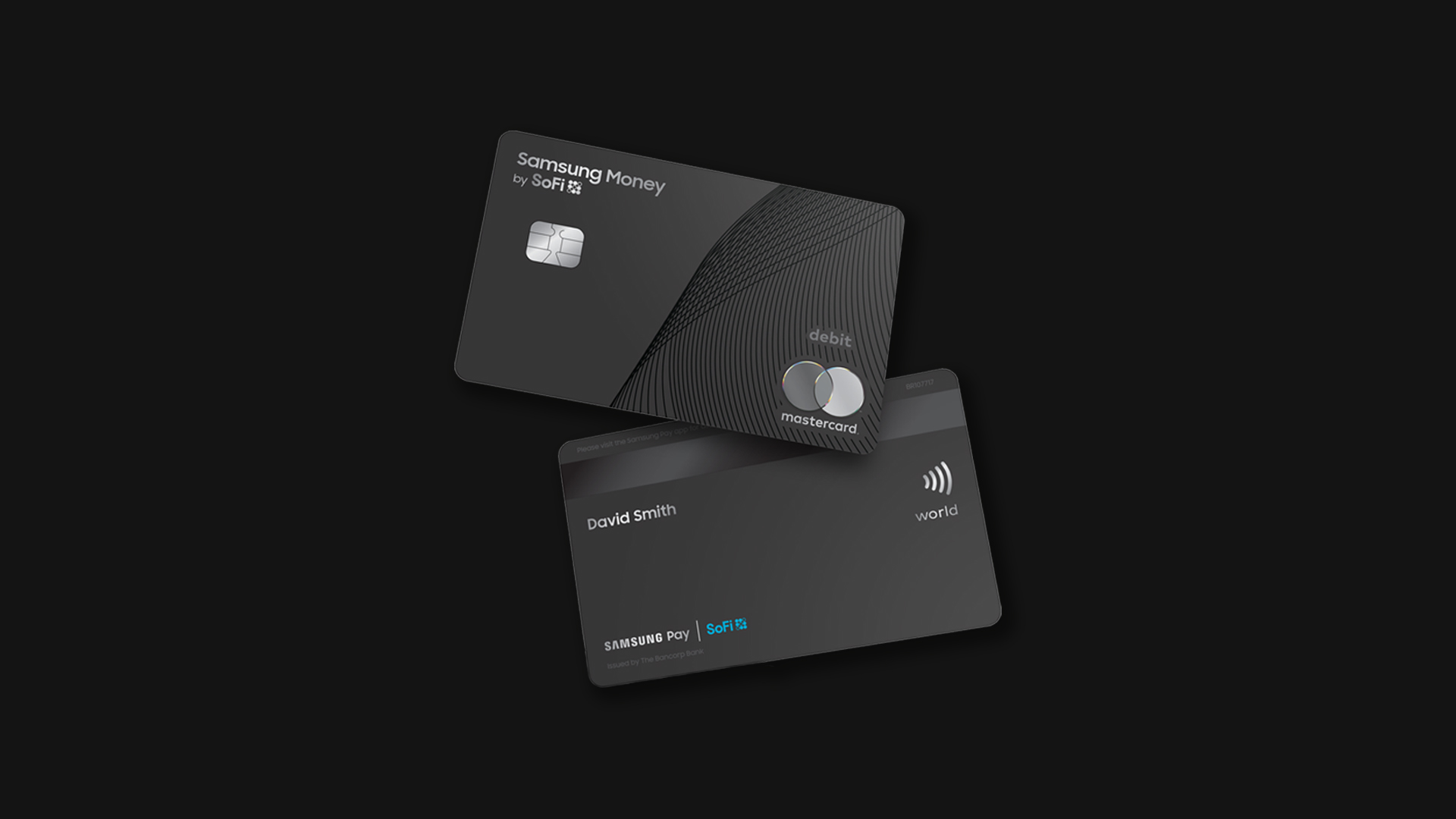 Introducing Samsung Money by SoFi: Do More With Your Money
May 27, 2020 | Mountain View, California
Samsung, SoFi and Mastercard team up to offer a simple and secure way to manage everyday finances—with a no account fee, higher-interest earning cash management account and debit card within Samsung Pay

Samsung Electronics America, Inc., today unveiled Samsung Money by SoFi, a new mobile-first money management experience that brings a cash management account and accompanying Mastercard debit card along with exclusive benefits to Samsung Pay, in partnership with innovative fintech company SoFi. The account is secure, with no account fees and rewards users for saving—earning higher interest relative to the national average of transactional accounts.[1] At a time when people are turning to their technology to take care of essential tasks without leaving home, Samsung Money by SoFi makes it easier for them to manage more of their financial life in the Samsung Pay app.[2]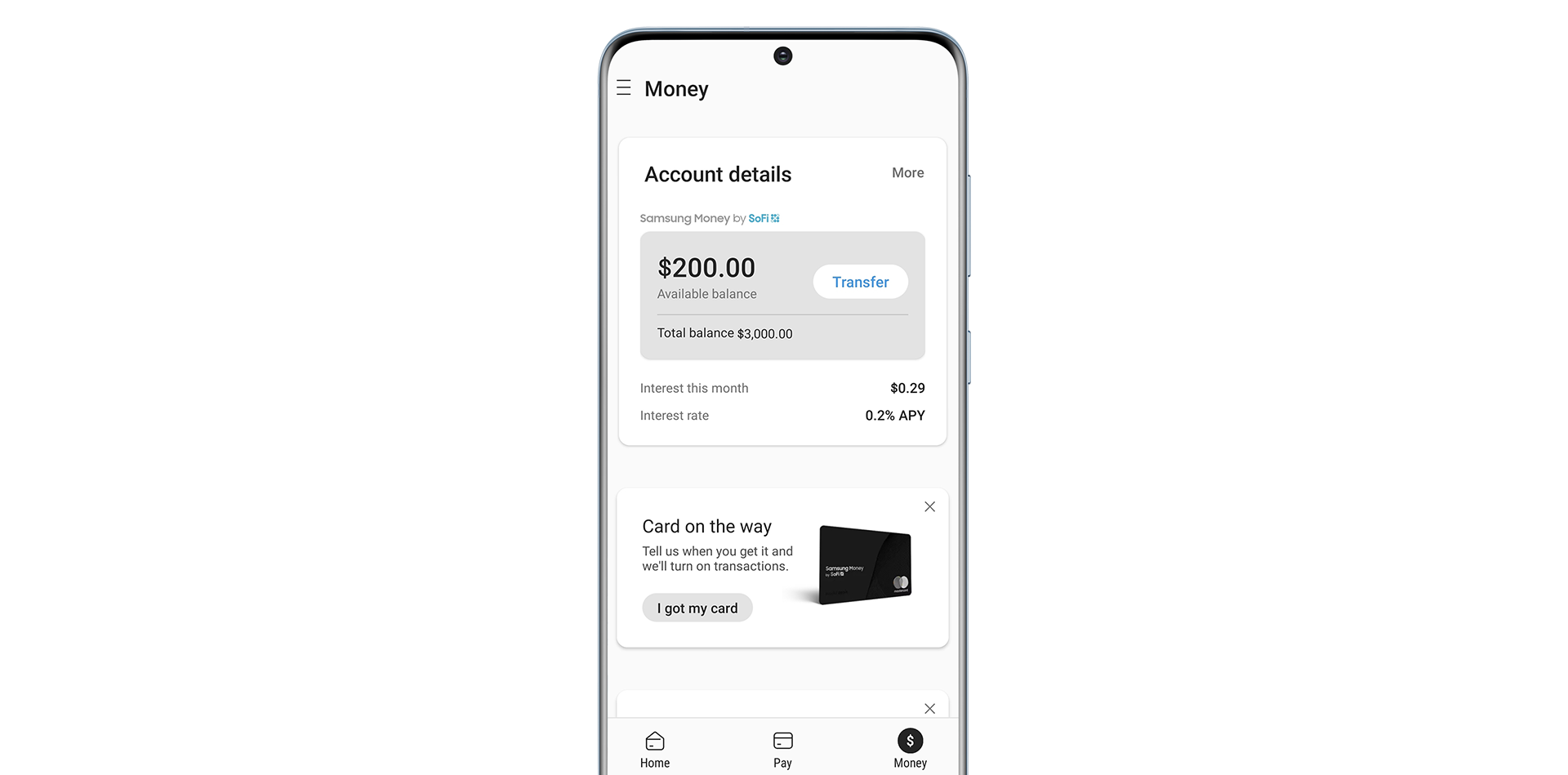 "Samsung's goal is to make everyday life better by putting powerful tools in the hands of Galaxy users," said Sang Ahn, Vice President and GM of Samsung Pay, North America Service Business, Samsung Electronics. "Samsung Money by SoFi is our biggest move yet to help users do more with their money. Samsung Pay is already the most rewarding shopping and payments experience driven by numerous innovations over the years. Now, users can access mobile-first financial services and earn exclusive Samsung benefits. We're excited to help our users reach their financial dreams by allowing them to spend, save and grow their money and access it easily and securely." 

Launching later this summer, Samsung Money by SoFi marks the beginning of a new partnership between Samsung and SoFi. As leaders in mobile and financial technology, Samsung and SoFi share a vision to make it more convenient for people to take more control of their financial lives.

"At SoFi, we're committed to helping people achieve financial independence both directly through the SoFi brand, as well as indirectly, through partnering with leading brands like Samsung to help the world get their money right," said Anthony Noto, CEO of SoFi. "We're excited to partner with Samsung, a world-class technology company, to help power this next-generation financial experience, while expanding the impact of SoFi exponentially."
More convenience, more control

Now more than ever, people are counting on their technology to help them pay, shop, and manage their finances. At the same time, many people prefer payment methods that can earn interest instead of paying it. Samsung Money by SoFi offers the best of both: a no account fees, higher-interest earning, money management experience that combines the convenience of mobile payments and the control of a debit card.

Samsung Money by SoFi puts Galaxy smartphone users in charge of their spending and saving. Users can choose between opening an individual or joint cash management account. What's more, users enjoy in-network ATM fee reimbursement at more than 55,000 locations in the United States[3].

Setting up an account in the Samsung Pay app will take almost no time at all. The virtual card will appear instantly within Samsung Pay upon approval. And as soon as users receive their physical debit card in the mail, there's no need to call a 1-800 number; the card is ready to use in a snap—just open Samsung Pay and activate the card with a tap.

To help people manage their finances from anywhere, Samsung Money by SoFi will put essential financial tools at users' fingertips. With just a tap in the Samsung Pay app, users can check their balance, review past statements, and search transactions. They can flag suspicious activity, pause or restart spending, freeze or unfreeze their card, change their pin, and assign their trusted contact—all without ever having to leave home or call a representative.
Exclusive benefits & peace of mind

To help users make their money go further, Samsung Money by SoFi offers exclusive benefits. Users can enroll in the Samsung Rewards program to earn points for every purchase they make using Samsung Pay.  As an added bonus, loyal Samsung Pay users with 1,000 or more Samsung Rewards Points will be able to redeem their points for cash that will be deposited directly into their Samsung Money by SoFi account.[4]

Samsung, SoFi, and payments technology provider Mastercard are working to deliver consumers added peace of mind. A Samsung Money by SoFi account is FDIC insured for up to $1.5 million (six times that of a normal bank account)[5]. Samsung Money by SoFi account holders get the benefit of defense-grade security from Samsung Knox. The physical debit card will not display the card number, expiration date, or CVC. Should users need that information, they can easily find it within the "Money" tab of the Samsung Pay app, which is further protected by biometric or PIN authentication. Users assume zero liability should an unauthorized transaction occur.

"We are seeing a seismic shift across the world as consumers move to digital and expect safe and frictionless experiences," said Jorn Lambert, Executive Vice President, Digital Solutions, Mastercard. "Mastercard's digital first solutions combined with Samsung Money by SoFi shows how our collective strengths and innovation can deliver this promise of safety, convenience and ubiquity."
Availability

Samsung Money by SoFi will start to be available to U.S. consumers later this summer. To sign-up for the wait list and get the latest updates about Samsung Money by SoFi, simply go to http://www.samsung.com/us/money.

For more information about Samsung Pay, visit https://www.samsung.com/us/samsung-pay/

Disclosure

Samsung Money by SoFi® is a cash management account, which is a brokerage product, offered by SoFi Securities LLC. Member FINRA/SIPC. Neither SoFi nor its affiliates are a bank.

The Samsung Money by SoFi card is issued by The Bancorp Bank.

[1] Samsung Money by SoFi will launch with no account fees.  Fees charged will be subject to change at any time as described in the account terms and conditions.
[2] Compatible with Samsung Pay-enabled Galaxy smartphones (Galaxy S6 and later) and select Galaxy wearable devices. For the full list, see: https://www.samsung.com/us/support/owners/app/samsung-pay
[3] SoFi partnered with Allpoint to provide consumers free ATM access at any of the 55,000+ ATMs within the Allpoint network. Consumers will not be charged a fee when using an in-network ATM, however, third party fees incurred when using out-of-network ATMs are not subject to reimbursement.  SoFi's ATM policies are subject to change at SoFi's discretion at any time.
[4] One-time offer available upon signup for Samsung Money by SoFi. Requires 1,000 or more points (1,000 points = $5).
[5] The cash balance in Samsung Money by SoFi cash management accounts is swept to one or more program banks where it earns a variable rate of interest and is eligible for FDIC insurance. FDIC Insurance does not immediately apply. Coverage begins when funds arrive at a program bank. There are currently six banks available to accept these deposits, making customers eligible for up to $1,500,000 of FDIC insurance (six banks, $250,000 per bank). If the number of available banks changes, or user elects not to use, and/or has existing assets at, one or more of the available banks, the actual amount could be lower. For more information on FDIC insurance coverage, please visit www.FDIC.gov. Customers are responsible for monitoring their total assets at each of the Program Banks to determine the extent of available FDIC insurance coverage in accordance with FDIC rules. The deposits in Samsung Money by SoFi or at Program Banks are not covered by SIPC.
Media Contacts

Samsung
samsungservices@berlinrosen.com 

SoFi
pr@sofi.com 

Mastercard
william.tsang@mastercard.com
About SoFi

SoFi helps people achieve financial independence to realize their ambitions. Our products for borrowing, saving, spending, investing, and protecting give our more than one million members fast access to tools to get their money right. SoFi membership comes with the key essentials for getting ahead, including career advisors and connection to a thriving community of like-minded, ambitious people. SoFi is also the naming rights partner of SoFi Stadium, future home of the Los Angeles Chargers and the Los Angeles Rams, opening in July 2020. For more information, visit SoFi.com.
About Mastercard (NYSE: MA)

Mastercard is a global technology company in the payments industry. Our mission is to connect and power an inclusive, digital economy that benefits everyone, everywhere by making transactions safe, simple, smart and accessible. Using secure data and networks, partnerships and passion, our innovations and solutions help individuals, financial institutions, governments and businesses realize their greatest potential. Our decency quotient, or DQ, drives our culture and everything we do inside and outside of our company. With connections across more than 210 countries and territories, we are building a sustainable world that unlocks priceless possibilities for all.
www.mastercard.com
About Samsung Electronics America, Inc.

Headquartered in Ridgefield Park, N.J., Samsung Electronics America, Inc. (SEA), is a leader in mobile technologies, consumer electronics, home appliances and enterprise solutions. A wholly owned subsidiary of Samsung Electronics Co., Ltd., SEA is pushing beyond the limits of today's technology and providing consumers and organizations with a portfolio of groundbreaking products and services across mobile devices, connected appliances, home entertainment, 5G networks and digital solutions. To discover more about Samsung, please visit www.samsung.com. For the latest Samsung news, please visit news.samsung.com/us and follow us @SamsungNewsUS.
About Samsung Electronics Co., Ltd.

Samsung inspires the world and shapes the future with transformative ideas and technologies. The company is redefining the worlds of TVs, smartphones, wearable devices, tablets, digital appliances, network systems, and memory, system LSI, foundry and LED solutions. For the latest news, please visit the Samsung Newsroom at http://news.samsung.com.