Innovation
Two brothers (and MBA dropouts) are bridging a gap in AI for banks
January 29, 2021 | By Kristin Kloberdanz
Back in 2012, brothers Abhinav and Raghav Aggarwal were feeling restless. As teenagers in Mumbai, India, they had already launched an educational software company that helped teachers and students coordinate class schedules and work. But they had recently developed an interest in artificial intelligence, devouring every bit of information they could find about the technology and teaching themselves to code.
Sitting around the dinner table, they kept thinking about a gap they saw in AI software for banks. Some companies sold chatbots to interact with customers. Others sold AI platforms to help banks crunch data, find new efficiencies and automate decision-making. But it seemed no single company was doing both.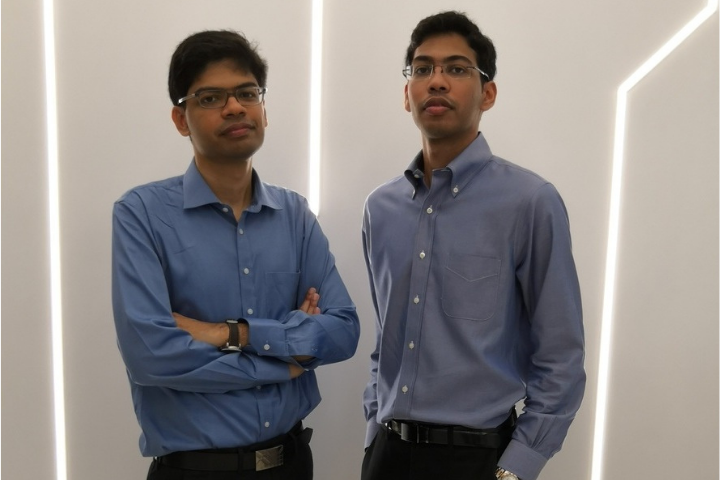 Brothers Raghav, left, and Abhinav Aggarwal dropped out of their MBA programs to grow their Mumbai-based fintech, Fluid AI.
"We realized the true value is when you put both of them together: really smart decisioning powered by AI that can communicate and interact with customers on that decision," Abhinav says.
Out of that realization Fluid AI was born. The company offers an interactive platform for financial institutions that combines back-end data crunching with customer interactions.
AI has enormous potential in financial services, with many banks looking at infusing advanced AI across their organizations. This work could benefit both the financial institutions and their customers, providing people with more personalized and automated services at lower costs, while also enabling banks to make better informed decisions in marketing, risk assessment and trading. According to a study from McKinsey & Company, AI could add $1 trillion globally every year to the banking industry. Yes, that's trillion.
Fluid AI, for example, worked with one large bank in North America to cut down on the time it takes to sign up a customer for a credit card. It used to take 12 days between the bank mailing a customer a card promotion and then calling them to follow up. Fluid AI lets the bank predict a customer's need for a credit card the moment that person makes a transaction. It then immediately enables a bot to send a WhatsApp message to sign the customer up for a new card. The process now takes about 12 minutes. 
Today, Fluid AI is valued at $50 million with 65 employees and customers including Bank of America and Intel. But back in 2012, it was just an idea. At an age when most high school kids are still playing video games, Abhinav, 30, and Raghav, 34, took money they had saved and hired a small team of engineers to help them build Fluid AI.
By 2014, they were both working in the company full-time while attending MBA programs at top-tier institutes in India. 
But when the business opportunity got too big, they both dropped out to expand their startup. "The risk is low at that age, because if you fail or things don't work out, there's not much to lose," Raghav says. 
"There's a recognition now that if it's not digital first, it might as well not be there at all."
By 2017, the company had gained some traction in India, landing customers including Axis Bank. But the brothers had their sights set on a global market. To help get access to bigger financial customers, they joined Mastercard's startup engagement program Start Path, which helped them build new relationships and better understand how the global payments system works. They credit $2 million of Fluid AI's business to the program's advice and connections.
The brothers say the pandemic has brought them even more business as companies scramble to figure out better ways to serve remote workforces and bank customers who are reluctant to show up in person. "[The pandemic] has definitely accelerated the push towards digital. If someone was on the fence or if they were figuring out budgets, they are now very excited to get that rolling," Raghav says. "There's a recognition now that if it's not digital first, it might as well not be there at all."
After a decade building startups together, the brothers say they still enjoy each other's company — literally. "Ever since we were kids, we always dreamed of building a business together," Abhinav says. "We got lucky. And I think we're living that childhood dream."