Inclusion
In pursuit of clothing their kids, these Brazilian women stitched together a business
December 14, 2022 | By Caroline Morris

In Sitio Tambor, families do not have a lot of options when their children's arms outgrow their sleeves or their pants become too short. The tiny Brazilian village is located on a country road in the eastern state of Paraíba, far from shopping centers or reliable internet access for online purchases. And with a high poverty rate, buying new clothes is unaffordable for most.
For decades, village kids depended on donations from the local chapter of Rotary, the international service club. But when COVID-19 hit, donations dried up and the mothers of Sitio Tambor went on a desperate hunt for a viable alternative. That's how Costurando Esperança — Sewing Hope — began.
They envisioned it as a sewing collective where, for a small monthly fee to buy supplies and maintain their equipment, women would make clothes for families in their communities and also sell them to others to gain financial independence for themselves. Globally, many women struggle to gain financial autonomy. According to the most recent Mastercard Index of Women Entrepreneurs, 80% of the world's women-owned businesses with credit needs are either unserved or underserved, and only 10% of all existing policy measures take gender into account and address women's specific needs.
It's even harder for women in a region like Sitio Tambor, where employment opportunities are scant and cultural biases against working women still exist. So, despite their entrepreneurial spirit, the founders of Costurando Esperança quickly discovered they lacked the knowledge and resources for such an undertaking.
They turned to the Campina Grande do Sul Rotary — the same group that had been making donations — and met member Philipe Moura, a Paraíba native who now works in Brasilia as a director for government and public services in Mastercard's Data & Services business. Impressed with their concept and brimming with ideas about how to help, he recruited four of his colleagues in the company's Brasilia and São Paulo offices to get involved.
With the help of Mastercard's Young Professionals organization, they created a course on entrepreneurship, designed to be accessible to the residents in Sitio Tambor, where illiteracy rates are high — another obstacle to financial independence. The women fully embraced it.
"From the moment we entered the room, their energy was 'I want to learn,'" Moura says.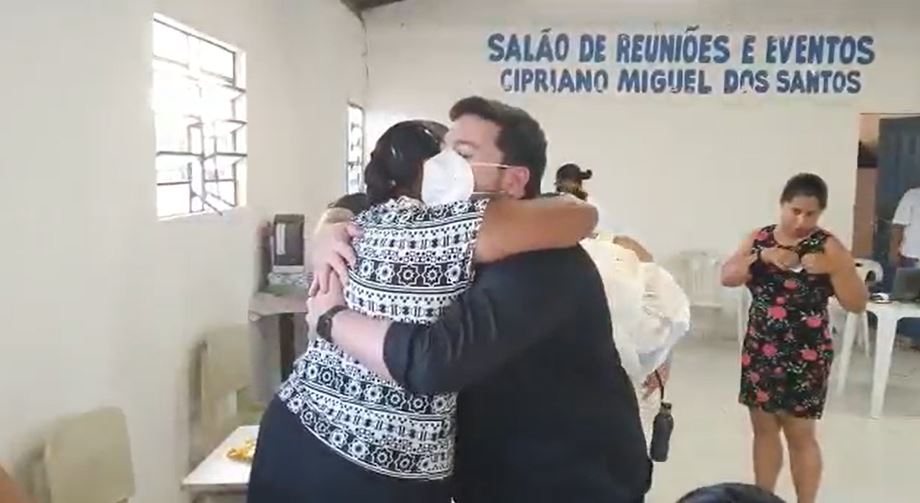 Mastercard's Philipe Moura gets a hug from a member of the women's sewing collective he helped spark in Sitio Tambor. (Photo courtesy of Philipe Moura)
In addition to business acumen, the women also needed to learn how to sew quality products. Though many had some beginner skills, they were hardly a team of professional seamstresses. So they partnered with Senac, a trade association that offers a wide variety of skills-based learning, for professional sewing lessons. The next hurdle was fundraising to obtain ten new sewing machines for Costurando Esperança. The Mastercard team spearheaded that effort and surprised the women with the new machines after their final entrepreneurship class. And despite Sitio Tambor's lack of internet or even computers, they pushed to get a laptop and a hotspot to set up an Instagram where they promote and sell their business.
"The focus and will of the moms was visible," says Luisa Cury, an associate analyst for market delivery based in São Paulo, "and it was so because they were empowering themselves to take care of their own journey and solve their own challenges."
But the women also faced their share of doubters. When the collective's founding member shared her plan with her husband, he told her she would fail. Another member, whose husband forbade her from working on the project, decided to leave him to pursue the financial independence Costurando Esperança offered her.
Now, over a year and a half later, Costurando Esperança sews clothes for dozens of families in their community and sells its products across the entire state.
"I can, I want, I will," says the community leader known as Dona Preta. "And I can make it."
And the initiative's impact is only growing stronger. Memberships have nearly quadrupled from the original 30 founding mothers. Men in the community are searching out their own economic opportunities by working to get skills training from Senac, too. And other communities surrounding Sitio Tambor have contacted Rotary to pursue similar projects.
Important as Rotary was in getting Costurando Esperança off the ground, Moura is quick to point out that the women deserve all the credit. "They came to us," Moura says. "But it was their idea, it was their dream … It was them."
Banner photo: Philipe Moura presents Dona Preta with sewing machines and donated fabric for clothes she and her sewing collective will make for their community. (Photo courtesy of Philipe Moura)