Inclusion
How fish-skin sneakers could tip the scales for these women in Central America
July 11, 2022 | By Sophie Hares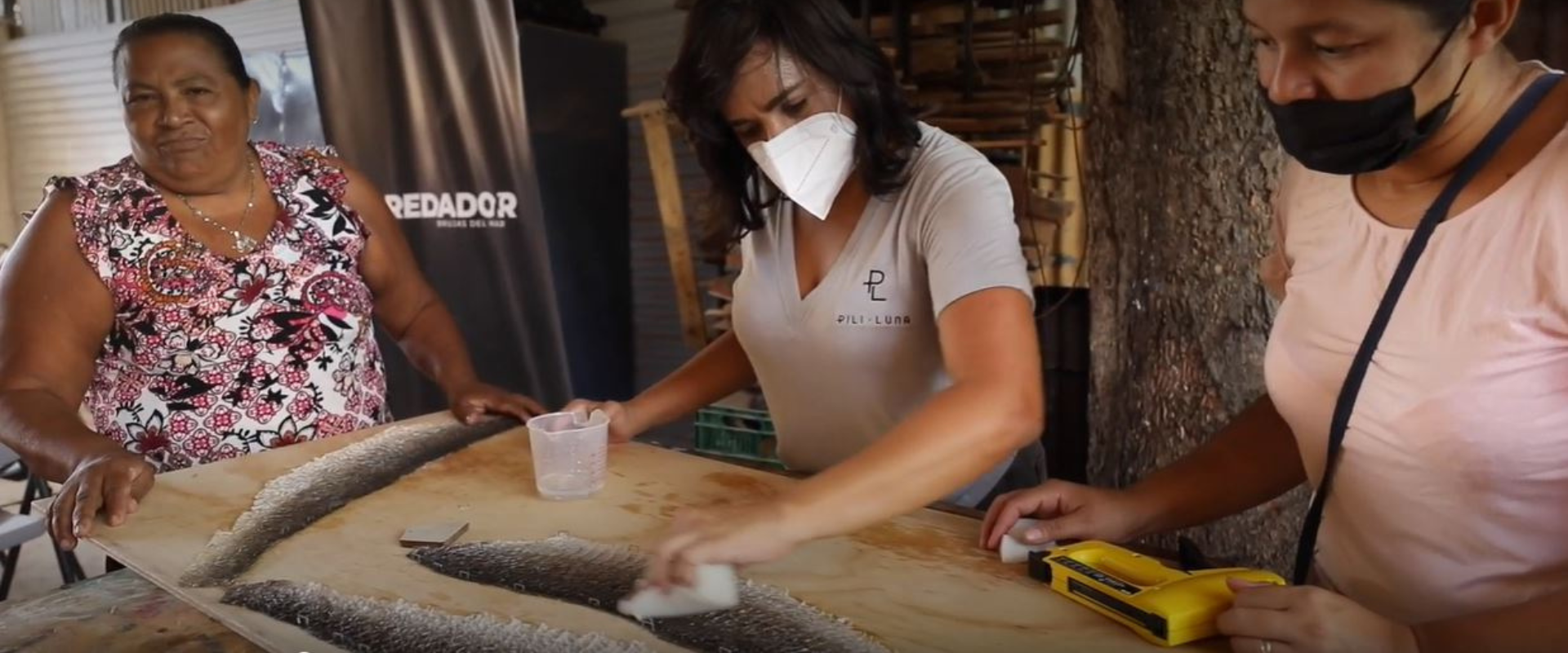 Pili Luna has a gift for transforming discarded objects into treasure.
After her ex-husband moved out of their home in Tegucigalpa, Honduras, Luna found a pair of jeans he left behind in haste. Rather than throw them away, the fashion-merchandising graduate figured out how to remake them into sneakers. 
Those denim shoes were the genesis of Luna's company, VOS Honduras, which was soon making thousands of pairs of shoes out of old clothes and discarded plastic for disadvantaged families. 
Four years ago, she had a similar epiphany when visiting a remote village in La Mosquitia, the easternmost region of Honduras. She noticed how fish skins — removed by women filleting the day's catch — shimmered in the sunlight, and envisioned a pair of shiny new kicks.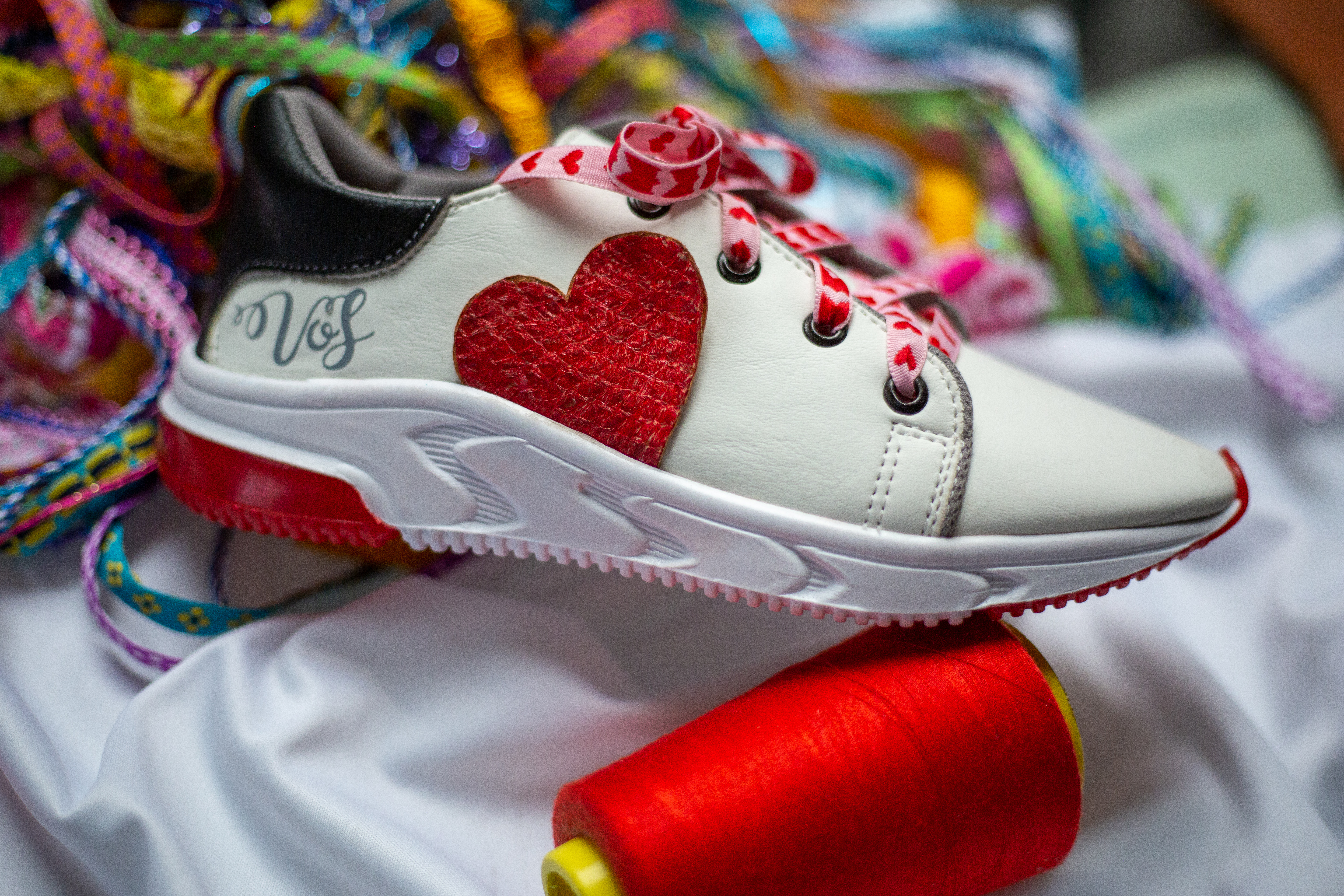 A pair of Vos Honduras sneakers embellished with fish skin. (Photo courtesy of Pili Luna)
Before long, Luna was experimenting with methods to turn the slippery waste into a robust yet flexible fish leather. Now she sells high-end sneakers, sandals, pumps and accessories made with silvery or brightly dyed fish skins to clients from Alaska to Andorra. Using what she learned from LEADS Mujer — a program for women entrepreneurs in Central America that's run by Costa Rica's INCAE Business School and sponsored by Mastercard — she's also trained and employed more than 180 women to make fish leather in two villages in La Mosquitia and along Costa Rica's Pacific coast. 
This steady work creates much-needed income for these women — often single mothers responsible for feeding entire households in their fishing communities. It also offers a safe and legal path to surviving and potentially thriving in a country where in May, the most recent month for which figures are available, nearly 200 families each day embarked on the dangerous trek to the U.S. because of limited economic opportunities. Across Central America, 75% of women live in extreme poverty. 
VOS Honduras buys grouper and robalo skin. These skins used to be thrown away, which contributes to ocean acidification, but now more money can be made from the same fishes. Workers then clean and soak the skins for days in a secret solution Luna developed from tree bark and berries. 
"It's like making a carrot cake," says Luna, 49, whose fashion-designer mother taught her to sew. "I worked on the formula until I got to the texture I needed, the thickness I needed, the touch and smell I needed."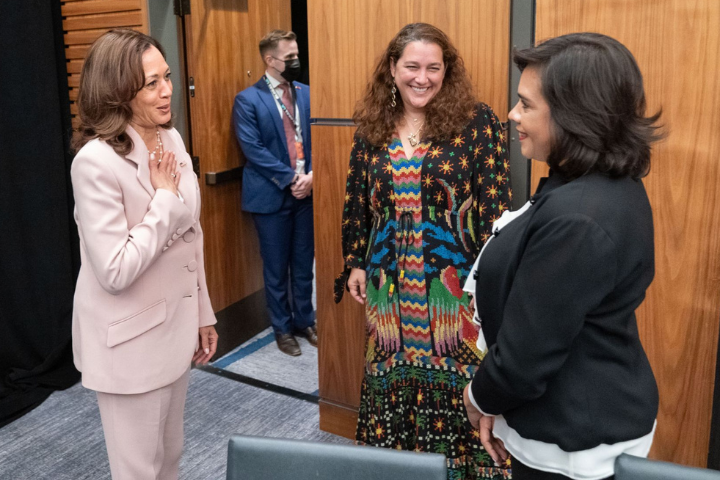 U.S. Vice President Kamala Harris, left, met with entrepreneur Pili Luna, right, at the Summit of the Americas in Los Angeles in June, with Celina de Sola, co-founder of Glasswing International, center.
Working alongside NGOs and development organizations, Luna now wants to increase demand by marketing the textured fish leather to international designers to use in their own creations. 
"Empowering women is my life's mission," she says. "I know how painful it can be to be in an abusive relationship, where you as a woman are not valued because you don't bring food to the table."  
Luna learned to structure and expand her business through LEADS Mujer, part of Mastercard's commitment as a founding member of the Partnership for Central America to lift up more than a million women in the region through greater digital and financial inclusion. Every dollar invested in woman-owned startups in the region generates 78 cents, compared with 31 cents for those owned by men, and women reinvest 90% of their income back into their communities, according to the PCA. 
"When we empower women, that investment also strengthens the communities in which they live, creating more potential for job creation and long-term prosperity," says Luz Gomez, vice president of the Mastercard Center for Inclusive Growth for Latin America and the Caribbean. 
PCA is core to the "Call to Action" for regional investment launched by U.S. Vice President Kamala Harris, who met with Luna to talk about her work at the Summit of the Americas last month.  
It was a seminal moment for Luna. "People leave our countries because there's no opportunities … I told her I will have fulfilled my mission when Honduras is exporting innovative materials instead of breaking up families," she says. 
And to make certain Harris would know what it's like to walk in her shoes, Luna presented the vice president with a pair of sneakers embellished with silver and blue fish skin.