Data
Inclusion is the key to more responsible, human-centered data practices
July 19, 2022 | By JoAnn Stonier and Raj Seshadri
Data can be both impersonal and eminently personal at the same time. It can be large and extensive, reflecting broad and emerging trends across communities and countries. Or data can be small and targeted, shedding light on individual preferences and practices, families and even faces.

Data-driven decisions that start on one side of the globe can ultimately impact people in everyday ways half a world away, from San Francisco and Seoul to São Paulo and Sydney. Whether someone is approved for that mortgage, gets that small-business loan or is protected from a cybercriminal with operations spanning a continent, the data used and the methods empowering those decisions connect us all.   
For that reason, in 2019 Mastercard unveiled our data responsibility principles. Our vision was for these principles to guide our data-related decisions regardless of the scenario. We knew that as we embarked on our journey to bring data-driven innovation to an increasingly complex and digital world, there would be unprecedented situations around every corner.
That was a massive understatement. In the two and a half years since, we've witnessed a reckoning on racism and discrimination of all kinds, a global pandemic, a tremendous shift to digital and much more. Yet our six data responsibility principles have held strong, helping to guide our ethical collection, management and use of data around the world — and our data-driven work with businesses, governments and nonprofits.
This confluence of events has also underscored the need for diverse thinking in everything that we do — something possible only when equipped with diverse experiences, backgrounds and insights. To address this head-on, we've decided to expand our data responsibility principles to reflect the journey we've been on as a company to build inclusion into everything we do — including our data practices.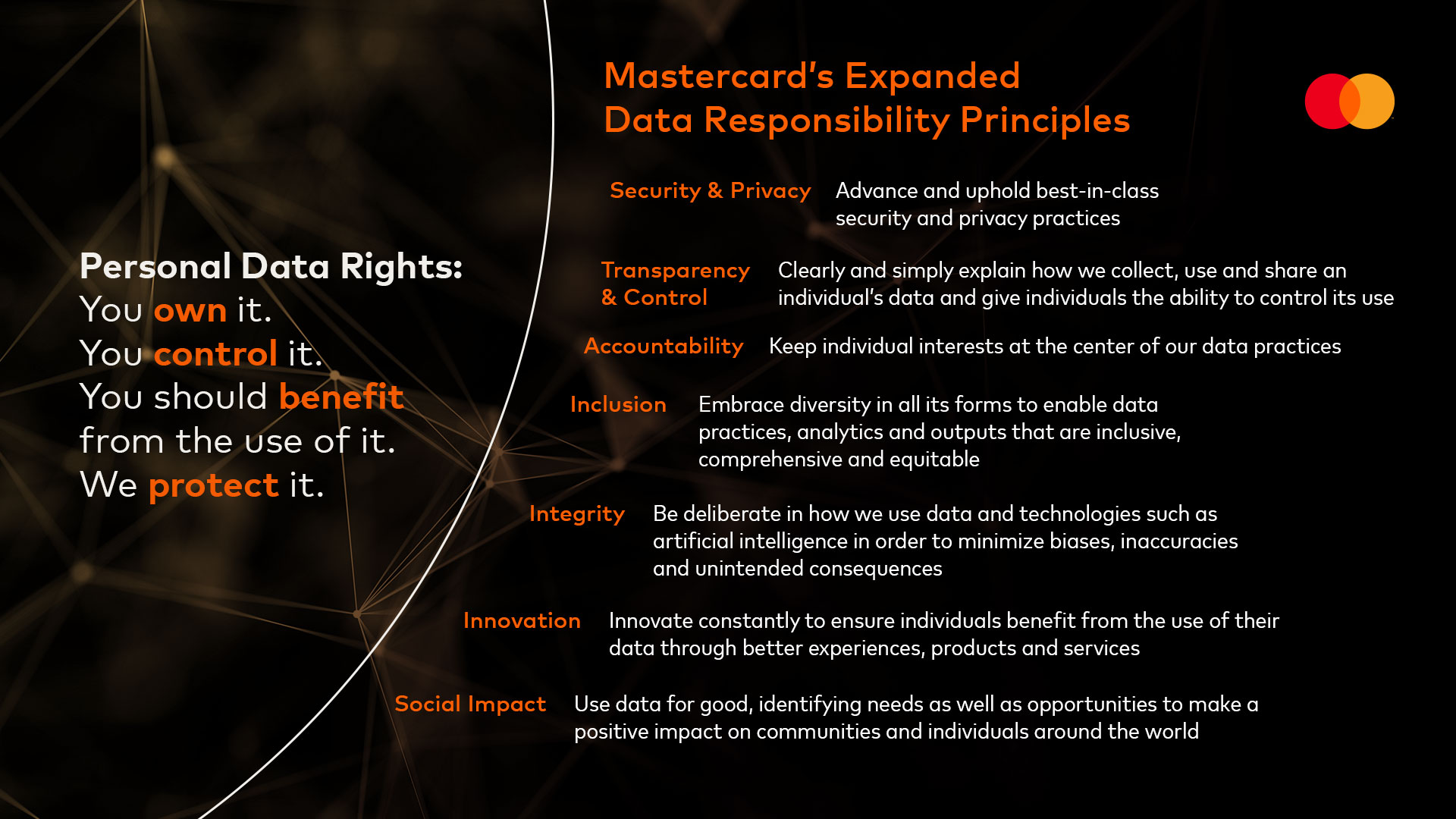 This is our new commitment: to embrace diversity in all its forms to enable data practices, analytics and outputs that are inclusive, comprehensive and equitable. With these standards, we believe we can better deliver on our promise of data responsibility across the board. It will be better for our team, our company, our customers and our communities around the world.
This is a natural next step in our In Solidarity initiative at Mastercard, which we launched in 2020 to promote racial equity, beginning with our own culture and the inclusive products we build, as well as the good we are doing in society. In Solidarity encompasses the "who" behind our efforts — ensuring we have a truly diverse workforce, including our growing data team — and permeates why we do what we do and how we do it.
Inclusive data is a critical element in the efforts to close the racial wealth and opportunity gap, as is the next generation of data scientists who will make the data-inclusive future we envision into reality. We launched data.org with The Rockefeller Foundation to help build the data science field, and earlier this year we pledged $5 million to support the creation of the Center for Applied Data Science and Analytics at Howard University, which is focused on addressing racial bias in AI-driven credit approval processes.
These efforts build on work across our company to deliver on our promise of ethical, sustainable data practices.
We've emphasized data inclusion throughout our product development process to ensure that bias is mitigated in all our data practices so all can benefit. This is at the crux of our best-in-class artificial intelligence and machine learning governance process, which complements our data science teams' best practices to minimize bias in AI models and underlying data. This is work that happens in real time.
We provided frequent local insights to dozens of governments — including those in New York, London and Barcelona — throughout the pandemic to help them identify and address local needs and make a positive impact on their people during the pandemic and beyond.
And we continue to innovate to make sure consumers everywhere benefit from their data, securely, whether through new ways to prove they deserve that small-business loan or something as simple as using their face or fingerprint to check out faster.
Over the past two years, we've witnessed the power of connections — and the harm that results when those connections break down. Data connects us all, but we need to ensure that it reflects us all. We have the responsibility and the opportunity to make sure we build our digital world to live up to its full, inclusive potential.
JoAnn Stonier is Mastercard's Chief Data Officer. Raj Seshadri is president, Mastercard Data & Services.