Inclusion
ShearShare is giving the salon and barbershop industry a new look
July 17, 2023 | By Caroline Morris

When Tye Caldwell was 10 years old, he picked up a pair of Fiskar kiddie scissors and decided to trim his brother's hair.
His brother's hair had gotten unruly and — with seven siblings living in a one-bathroom house — his parents could use an extra set of hands. An avid drawer, Caldwell put his artistic skills to use and gave his brother the then-popular Kid 'N Play-style high-top fade. And with that, he discovered that his true medium was hair.
He spent the next 39 years perfecting his skills, running an award-winning salon in Plano, Texas, and even earning a doctorate in professional barbering and cosmetology. Now he and his wife, Courtney, are changing the beauty industry through ShearShare.
In the past, hairstylists and barbers had a few options for pursuing their craft, each with its own drawbacks: long-term booth rental contracts, commission, or salary. With booth rental, stylists sign long-term leases, have to pay weekly or monthly rent even on for days they don't work and bring in their own clients. Working by commission means a stylist gives the salon a large percentage of their profits — as much as 70% — for booking appointments. Some salons do offer salaried or hourly positions, but the income is low and often inhibits professional growth, even for a stylist with a terrific reputation.
ShearShare is giving this traditional business model a makeover as the salon services market in the U.S. continues to grow. Its app enables salon owners to rent out empty chairs to hairdressers and other beauty professionals on a per diem basis. Operating in more than 900 cities with 50,000 users across the country, salons can use the ShearShare app to advertise empty chairs to independent beauty professionals.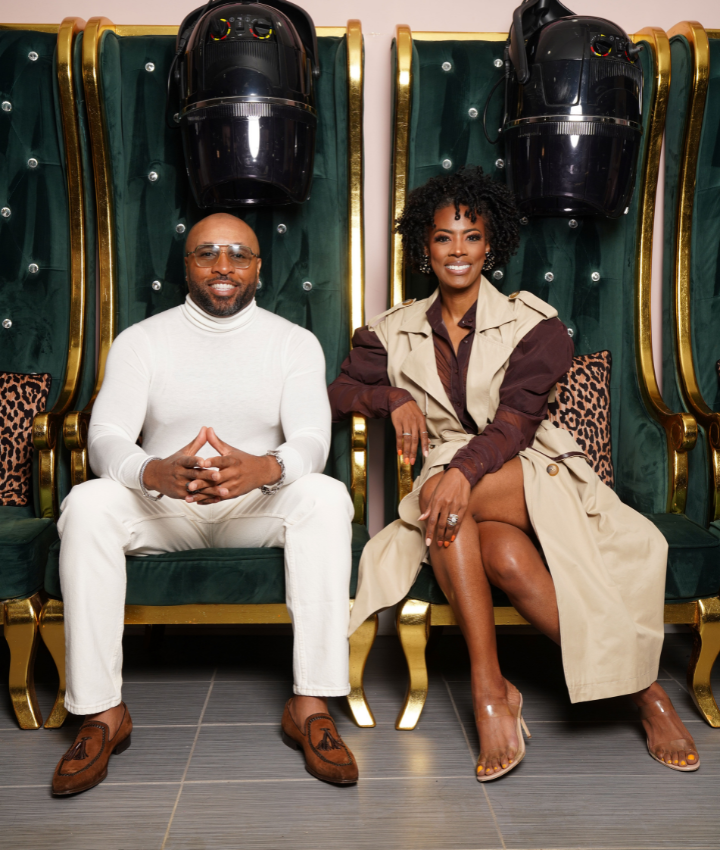 Its easy-to-use interface — it's been called "Hair BnB," an AirBnb for hairstylists — customizes workspaces, amenities, location and dynamic pricing to each user. Salons and barbershops make money off their previously empty chairs, and stylists can earn their wage in high-quality facilities, with flexibility and accessibility that lets them earn more and grow their small business on their own terms.
The Caldwells came up with the concept shortly after they rebranded their salon in 2012, when a young woman walked in and asked if she could rent out a station by the day.
"I thought it was a joke," Tye Caldwell says. Nevertheless, they decided to give it a shot — one of the suites was empty anyway. He invented a daily package with a premium to cover the value of the chair, products and services. Thrilled with this new arrangement, the woman hired the Caldwells as her handler, getting short-term contracts at other high-end salons. Soon the couple became liaisons for many stylists, manually matching them to salons for three years.
"Eventually, we looked up and said, 'Is there an app for what we do?'" Courtney Caldwell explains. The answer was no. "What if we built it?"
Building the app turned out to be the easy part. Their biggest hurdles came with raising capital. The Caldwells were repeatedly rejected for being married co-founders — investors, they said, found the potential for divorce too daunting. At their first pitch meeting in Silicon Valley, the investor opened by commenting on their race. Courtney Caldwell had a particularly tough time — Black female founders historically receive a fraction of the venture capital funding their white male counterparts do.
But they persisted and beat the odds. So far, ShearShare has raised $5.5 million in venture capital, which makes Courtney Caldwell only the 33rd Black woman founder in the U.S. to raise more than $1 million in venture capital. "I shouldn't know the exact number," she said. "I should be one of millions."
She finds these statistics particularly confounding in relation to the hair industry. "Black women spend 10 times as much as any other race or ethnicity group on beauty and hair products," she says. "So why would it be strange for me to be talking to an investor about an industry that I'm so invested in?"
"Black women spend 10 times as much as any other race or ethnicity group on beauty and hair products. So why would it be strange for me to be talking to an investor about an industry that I'm so invested in?"
To accelerate ShearShare's growth, the Caldwells recently joined the Mastercard Start Path startup engagement program as part of the In Solidarity track, which is designed to support fintech startups with Black founders and is part of Mastercard's $500 million commitment to help close the racial wealth and opportunity gap.
Recently, ShearShare expanded to serve other beauty and barbering specialists, including nail techs, estheticians, makeup artists, colorists, microblading artists, and massage therapists. And their platform offers everything from educational business resources to beauty product e-commerce to pay-by-day insurance with their partner Lloyd's of London.
Next, they're planning to add a financial module, offering clients instant payout capabilities, microloans and tech resources for managing small businesses, where Mastercard can lend a hand and help them scale these new products.
This kind of digital technology can be the key to giving barber and beauty professionals financial control over their lives, Tye Caldwell says: "The opportunity to fuel their own micro-enterprise — that's what ShearShare can offer."