Inclusion
Sustainable development? Unsustainable without women
August 30, 2023 | By Laxita Gautam

NEW DELHI ― "If we are to make meaningful progress in creating a more balanced, equitable and inclusive society, we must place women at the center stage of all development priorities," declared Amitabh Kant, India's Sherpa, or lead envoy, to the G20, at the opening of the first Asia Inclusive Growth Forum here on Friday.
The day-long event, hosted by the Mastercard Center for Inclusive Growth and brought to India in partnership with Sattva, gathered private and social sector leaders, fintechs, entrepreneurs, government officials, multilateral organizations and academics to share insights on what it will take to accelerate inclusive growth across Asia and close the continent's gender gap.
At the top of the list: making the long-term digitization of economies more equitable. That can be done in part through open-source APIs and citizen-owned data, finding new ways to improve access to credit for women entrepreneurs, and forging innovative partnerships to extend the benefits of digitization to women in rural areas.
To give women entrepreneurs in India better access to financial services, Airtel Payments Bank, Frontier Markets and Mastercard Center for Inclusive Growth announced the launch of She Leads Bharat: Udyam at the forum. In India, one in five micro, small and medium enterprises are owned by women, but women receive only 5% of total financing by public-sector banks.
"Access to credit is a massive challenge today, yet it holds the key to unlocking the next level of economic development — particularly when applied to women entrepreneurs," said Ari Sarker, Mastercard's Asia Pacific president.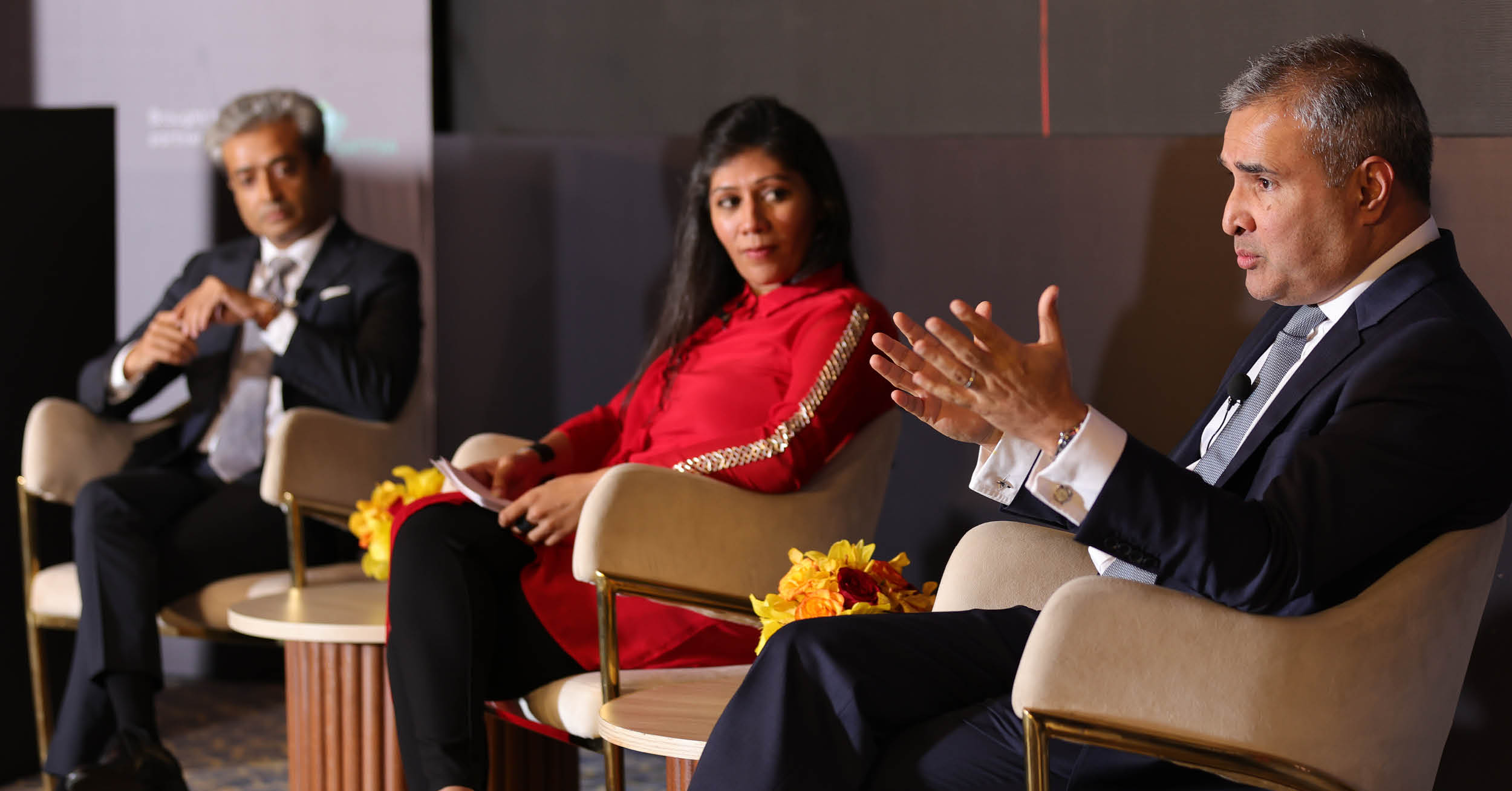 Mastercard Asia Pacific President Ari Sarker, right, with Airtel Payments Bank CEO Anubrata Biswas, left, and Frontier Markets' founder and CEO Ajaita Shah, at the Asia Inclusive Growth Forum in New Delhi Friday. 
The initiative will give 100,000 women small-business owners in rural areas access to resources, networks and tools via Frontier Markets' Meri-Saheli platform. It's a first-of-its-kind partnership that brings together private sector, social enterprise and philanthropy to show what a digital-first model can be, said Ajaita Shah, Frontier Markets' founder and CEO.
At the forum, participants highlighted three areas where centering on women can help drive sustainable development.
01
Digitization is core to equal opportunity creation
"What we have learned at the Center for Inclusive Growth is that when it comes to lending, women don't just pay it back, but also pay it forward to their communities and the country," says Shamina Singh, the center's founder and president. "Doing well and doing good, by choice or by chance, not only makes sense for society, but it also makes good business sense." 
The digital acceleration has helped women across Asia, and in particular India, access services across sectors. The number of female internet users has risen significantly in the past few years, putting more power in their hands and bringing about a paradigm shift in commerce. Key to this momentum is keeping an open network as it's the economy's foundation, said T Koshy, CEO of the Open Network for Digital Commerce, a government-led interconnected e-commerce platform. He characterized his platform as an equal opportunity model, helping consumers select the best-quality product — not just the best-marketed one.
Women also need safe spaces to thrive on the internet, said Sairee Chahal, the co-founder and CEO of Mahila Money, a financial platform for women, and the founder of SHEROES, a women-only social network. "When you feel safe, when you feel included, you experiment, you learn," she said. "You can find work; you can become entrepreneurial."
02
Keep women at the forefront of climate action
Women account for about 80% of people displaced by the climate crisis, so gender mainstreaming ― taking into account the different needs and circumstances of women and men when developing policy and programs ― may be critical when looking at issues of climate finance, adaptation and mitigation, said Rathish Balakrishnan, managing partner at the social impact consulting group Sattva.
And that means including women in the decision-making process, said Deepali Khanna, the Rockefeller Foundation's chief representative for Asia. Consulting women and co-creating with a community, she said, is the way to create scalable solutions that properly address people's needs.
03
A healthy economy needs healthy women
Access to quality healthcare services is necessary to empower the next generation of female leaders. Women in Asia have been underserved, due in part to deep-rooted stigmas around a variety of health conditions and lack of practical treatment plans, said Shobhita Narain. She is the co-founder of Veera Health, an online clinic that treats polycystic ovary syndrome, which, if left untreated, can lead to reproductive problems and affects as many as one in five Indian women.
Digitizing health care, including access to online health care literature and telemedicine, is helping women, said Shobana Kamineni, executive vice chairperson of Apollo Hospitals, the largest hospital chain in India. Science and medicine need to focus more on women's health care, she said. Plus, employers need to modify benefits, such as offering support for maternity planning and prenatal needs — which will support women's choices  and retain female employees in the workforce, she added.
Banner photo: Shamina Singh of the Mastercard Center for Inclusive Growth with Shobhana Kamineni of Apollo Hospitals.