Inclusion
How artists are projecting social change and propelling racial justice
June 17, 2021 | By Sophie Hares
With an audio recording of the last nine minutes of George Floyd's life playing in a continuous loop in the background, the British-Nigerian conceptual artist Àsìkò photographed himself kneeling naked on the floor, his head wrapped in an American flag.
This emotionally draining process helped him channel the anger, disappointment and sadness that overtook the artist after Floyd's murder by a Minneapolis police officer in May 2020. 
Àsìkò's darkly powerful piece, titled "I Can't Breathe," claimed first prize in the inaugural "Movement: Art for Social Change" collection that centers on racial justice following the worldwide protests sparked by Floyd's death. Pitroda Art, a social enterprise that promotes contemporary global art, organized the collection, and Mastercard is the global sponsor.
"Just seeing what sort of trauma we were all going through as Black people ... I felt compelled to create those images," says Àsìkò, 43, of the photograph.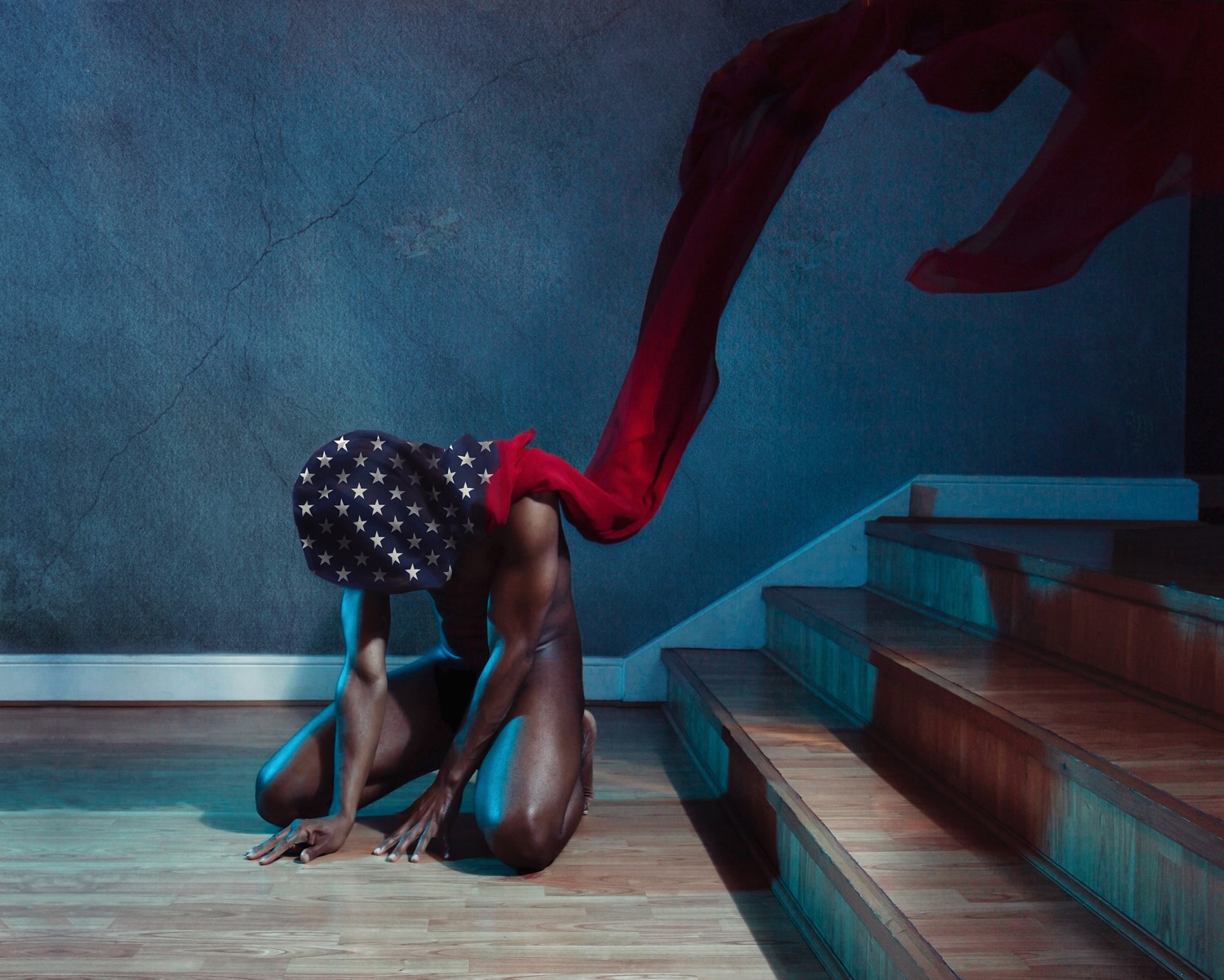 Nigeria-born, UK-based photographer Asiko's self-portrait "I Can't Breathe" won top honors in the inaugural "Movement: Art for Social Change" exhibit. Courtesy of the artist and Pitroda Art.
Black people around the world continue to struggle with the same difficult feelings. Though last year's global outcry for racial justice  — and the April conviction of Floyd's killer — were signs of progress, they also revealed how deeply racial inequity is etched into our society. Those themes ran through many of the pieces in the new collection.
Through an open call, artists from 33 countries submitted more than 500 pieces. A guest jury of curators whittled that list down to a final 14 pieces. Over the last month, the artwork has toured the U.S. as part of a series of public art projections in iconic locations curated to tell a larger narrative of racial justice, including Washington, D.C.'s Black Lives Matter Plaza, Los Angeles' Sugar Hill, the historic West Adams neighborhood where Black entertainers laid the groundwork for the Fair Housing Act, and Chicago's Bronzeville Art District, the country's largest African-American arts district. The tour culminates at the Brooklyn Museum of Art in New York on June 21. 
Pitroda Art is auctioning off original artwork from the collection on Mastercard's Priceless.com platform, with 25% of the proceeds going to the National Urban League. The auction ends June 23. 
For Sonja Miokovic, who co-founded Pitroda Art with fellow social entrepreneurs Sam Pitroda and Carolina Pozo, displaying the art in U.S. cities is a valuable way to expose issues around racial injustice and spark dialogue. 
"Art in the public space can inspire and engage people in unsuspecting ways. You have people from all different kinds of backgrounds looking at and appreciating the artwork spontaneously. This shared experience has impact," says Miokovic. "Art is always reflecting life back to us. Art shapes culture, cultivates the imagination, fosters understanding and serves as a vehicle for social change."
Barbadian artist Kadiejra O'Neal says seeing her self-portrait beamed onto Atlanta's City Hall last month reminded her that amid the noise of social media, powerful images can still make a lasting impact.
In her monochrome photograph "Black Enough," O'Neal questions Black cultural identity in Western society as she cleanly splits her own hair down the middle — wearing it naturally curly on one side, straightened on the other.
"This piece for me was a way to deal with and heal the stereotypical roles in society," says O'Neal, 29. "It's time for us as Black artists to find our voices, share our stories and create new dialogues of topics that not only interest us but affect us as a people." 
While Black artists are finally getting more exposure, Àsìkò contends that more can be done to promote their work. With a background as a data architect for the pharmaceutical industry, he points out that companies can boost Black artists by commissioning pieces and campaigns that celebrate their work and introducing them to the commercial world.
"It's a great time to start to celebrate each other, to celebrate diversity, to celebrate the environments that we're in," he says. "It's on us to grow together and evolve together as a society." 
Top banner, from left: Nombuso Dowelani (South Africa), "Madonna in Africa," 2019, digital print; Kadiejra O'Neal (Barbados), "Black Enough," 2015, photography; Mark Wilson and Paola Zarate (USA), "Why The Long Face," 2020, acrylic on canvas. Below: Antoine Williams (USA), "Othered Suns," 2020, ink on vellum. Each courtesy of the artists and Pitroda Art.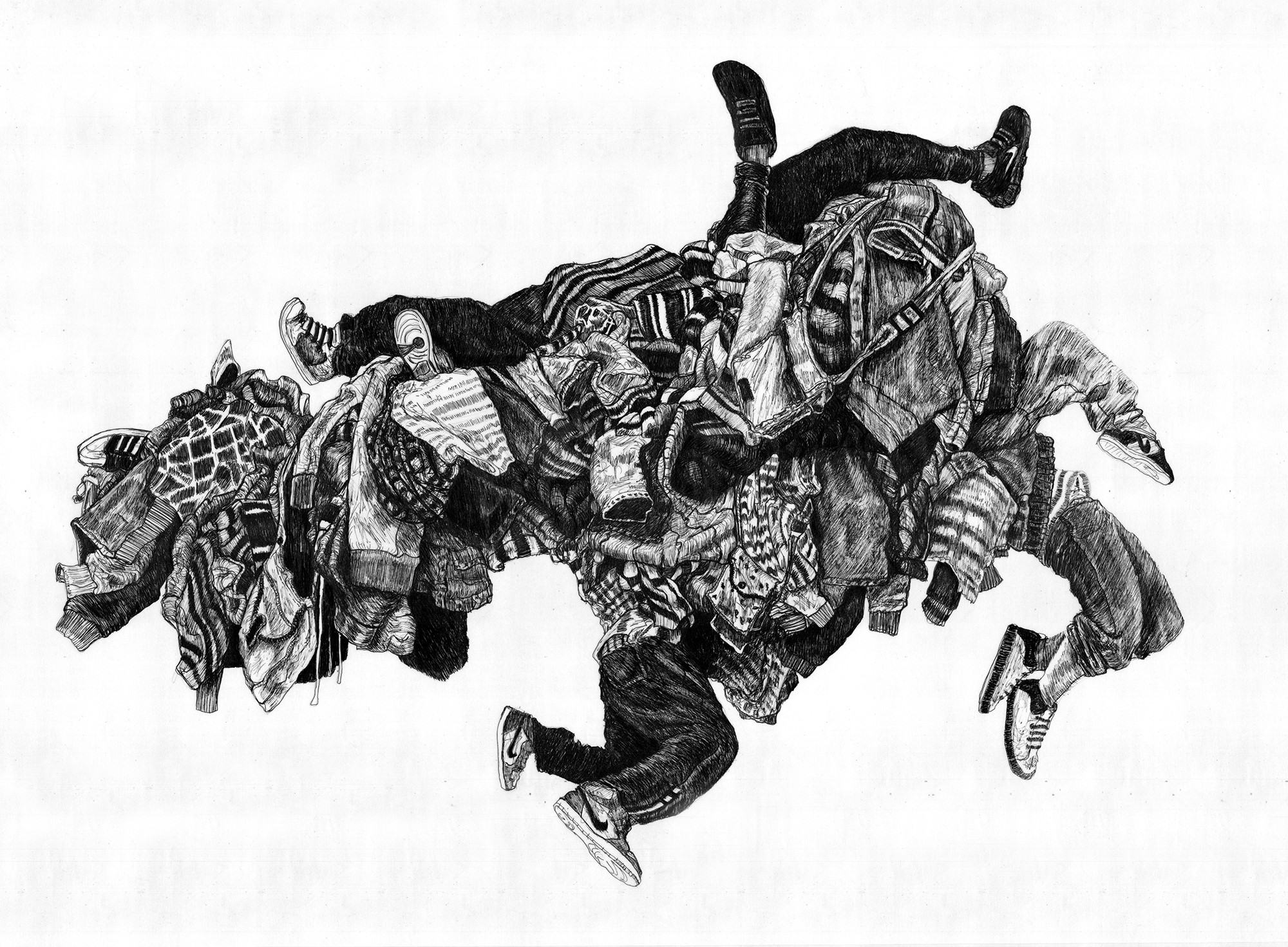 Inclusion
Solidarity in action
Mastercard has joined Pitroda Art as the global presenting sponsor of "Movement: Art for Change" as an extension of an ongoing commitment to further racial equity and to advance opportunity for all. Mastercard is working to build a more inclusive economy for everyone, everywhere, by creating paths to financial security, helping small businesses to grow, assisting cities through an inclusive recovery and helping close the persistent racial wealth and opportunity gaps that exist across the U.S. 
Learn more