Innovation
What happens after the 'aha' moment?
April 20, 2022 | By Vicki Hyman

One person's nightmare may be another person's eureka moment.

That was certainly the case for entrepreneur Peter Janes, whose friend had been trying to selling his Mercedes convertible on an online marketplace in the U.K. The friend met a potential buyer at the train station and took him on a test drive, and when they returned to his home to seal the deal, the man drove off with the car. All his friend had was an email address.
"On these marketplaces, people are basically blindly trusting each other when trying to transact," Janes says. He saw a solution in escrow — the long-accepted and paper-heavy practice of a third party holding money until a contract's terms have been met — but simplified and streamlined for the digital age. 
He spent more than a year refining the idea for the digital escrow service and winning approval from U.K. regulators, and by 2017 he was ready to start developing the platform, called Shieldpay. That was when he joined Mastercard Start Path, the company's startup engagement program that pairs startups with mentors to refine strategy, forge connections and access new markets.
For Janes, the program was invaluable in helping Shieldpay grow. "We really found our place in the world," Janes says. "As a startup, the most difficult thing to do is figure out exactly where you sit and what you want to be. Maybe naively, most startups try to boil the ocean and try to own everything as part of the journey. We may be a cog in a massive ecosystem, but we are a cog that is world-class at what it does."
Since 2014, Start Path has worked with nearly 300 startups, many of which have gone on to enter the public markets, reach unicorn status and forge extended commercial engagements with Mastercard and its customers. The company has more recently launched specialized programs within Start Path for cryptocurrency and blockchain innovators and founders from underrepresented communities.
Today the company is welcoming its latest cohort of startups from across four continents to help scale a wide range of innovative solutions, from helping small businesses achieve net-zero goals to bringing more inclusive financial tools to the unbanked to revolutionizing checkout with biometrics.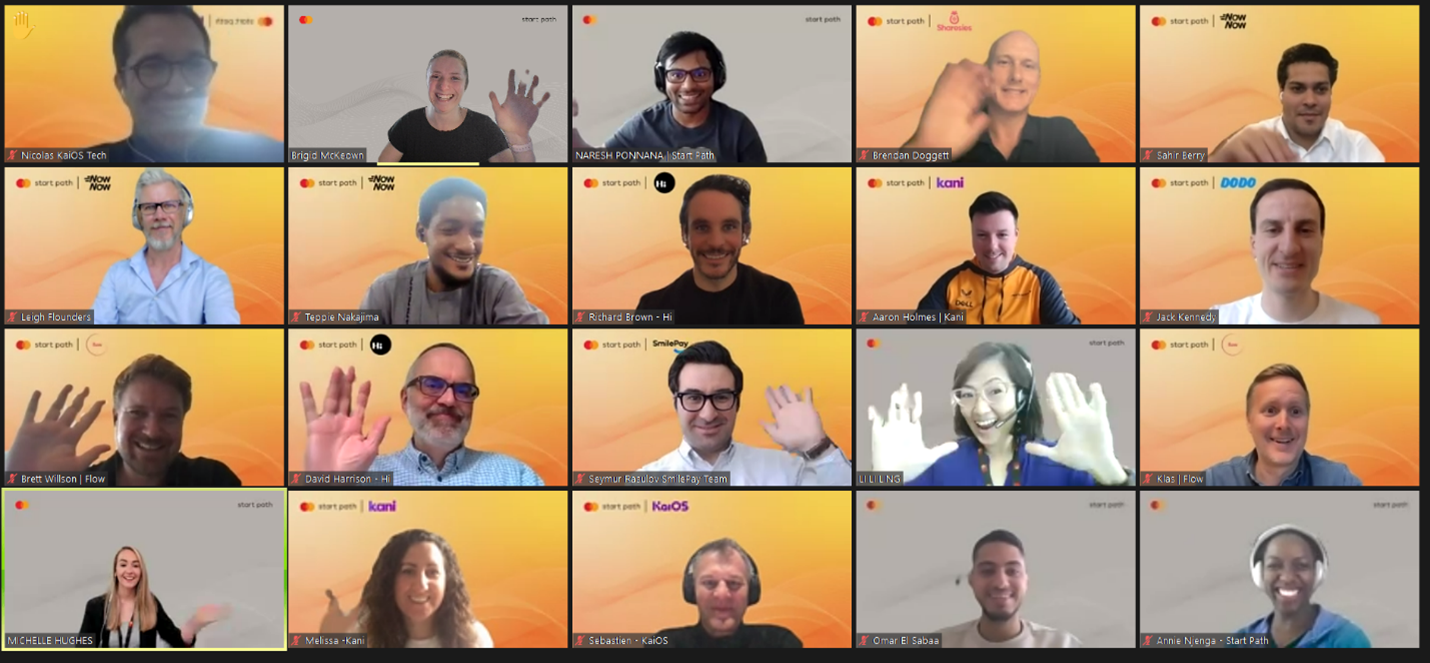 Naresh Ponnana, the Start Path Global lead, has mentored more than a dozen startups at Mastercard. Whenever a new class of startups joins the program, Ponnana and his colleagues work with the founders to refine their vision with a deep dive into their business model and product.
"With startups, we know they're juggling concepts for many products, across many markets, and many customers," Ponnana says. "Through the program, we try to point them to the one unique idea or opportunity to take to market in collaboration with Mastercard and our customers."
Since joining Start Path, Shieldpay, which focuses on high-value transactions, has launched a sister solution called Paycast, a rapid escrow service and payment hub for marketplaces and freelancers, giving buyers and sellers a safe and trusted way to transact online. In November, Mastercard and Paycast announced a collective partnership to launch a digital card product to offer faster and more convenient ways for marketplace sellers to get paid.
The connections the Start Path team was able to make within the company certainly accelerated the partnership deal, Janes says. "It saved months. This is the problem that all startups face. Who is the person we need to speak to? Basically, the fintech lead pointed us in the right direction to bring Paycast to life."


"We really found our place in the world. As a startup, the most difficult thing to do is figure out exactly where you sit and what you want to be."
Peter Janes
Another success story is Zeta, the banking tech unicorn that last month announced a five-year global partnership with Mastercard to jointly launch credit cards with issuers worldwide on Zeta's net-gen credit processing platform. The company had joined Start Path in 2017 and, more recently,  the Mastercard Developers Partner Network called Engage, which gives the company access to the Mastercard network to pre-integrate or bundle products and services.
Another alum is Cledara, the U.K.-based all-in-one software-as-a-service purchasing and management platform, which announced in March — a year after joining Start Path — that it has expanded to the U.S. The company saw transaction volume grow by 600% in 2021 and has grown from a core team of five to more than 40 employees.
Janes' advice for incoming startups? "Try to speak to as many people in Mastercard as you can. In almost every conversation, we unearthed another asset that could enhance our product."
Ponnana also counsels patience: "The Start Path program acts as a springboard for co-innovation with the startups, and in some cases, the opportunities tend to realize only after the program ends — either through the continued engagement with their mentors or through the host of other programs within the Mastercard Developers portfolio, from Engage to Fintech Express."
Sometimes it just takes a small pivot — for the startup, but sometimes for Mastercard as well. "As the company continues to expand in payments, extend our services and embrace new networks," says Blake Rosenthal, executive vice president of Fintech & Segment Solutions at Mastercard, "these startups are a natural partner for accelerating change in the world."
Here are the companies joining Start Path's latest wave:
Mastercard Start Path startup engagement program wave 22