Inclusion
How FOMO could be the secret to building personal wealth
January 5, 2022 | By Sophie Hares

In 2008, freshly-minted U.S. Foreign Service Officer Fonta Gilliam was working in Seoul reviewing visas at the U.S. embassy when she came across an application from a South Korean street food seller. Somehow the woman had managed to save $200,000 to start a dry-cleaning business in America.

Though Gilliam was initially skeptical about how the woman had gotten so much money, her colleagues quickly explained why the story checked out. The vendor was part of an informal savings circle where members regularly paid into a pot that went to one of them each year. Koreans have relied on these pooled saving plans to fulfill their dreams for centuries.
As she traveled around Africa, the Middle East and Asia working with women exporters in her role as an American diplomat, Gilliam discovered that informal saving systems are everywhere.
Returning home in 2016, she hit on the idea of bringing savings circles — known as sou sou in West Africa and the Caribbean — into the financial mainstream.
"As I moved from country to country, I started to see how other countries and cultures were doing it," Gilliam says. "I said to myself, what if we could modernize the concept of saving and investing as a group with cutting-edge fintech and machine learning?"
It's a concept that could help diverse communities find and use financial tools and products to support their goals, such as buying a house or building a business, Gilliam says. The racial wealth gap is significant — with the median net worth of a white household nearly 8 times greater than that of a typical Black household — and a recent report by the Brookings Institute showed that in predominantly Black neighborhoods, Black borrowers and depositors face considerable challenges in accessing banking services.
In 2019, Gilliam teamed up with corporate lawyer Nneka Ukpai to launch what eventually evolved into Wellthi. Earlier this year, they joined Start Path, a startup engagement program in the Mastercard Developers portfolio, which offers an express lane for fintech companies of all sizes to build, launch and grow. Through Start Path, Gilliam and Ukpai made the connections within the company – and through it – that enabled them to hone their app and white-label solution for financial institutions. Now, with a team of 14 people, Wellthi plans to introduce its digital wallet for group savers early next year.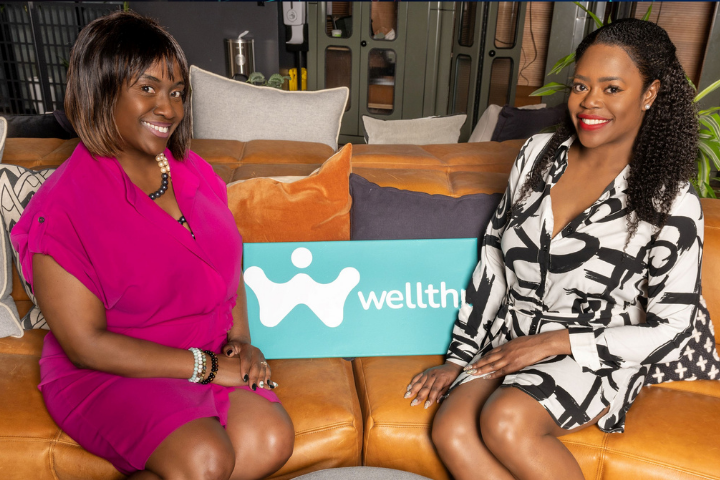 Fonta Gilliam, left, and Nneka Ukpai of Wellthi, a social banking startup that has joined Mastercard's Start Path.

For consumers, Wellthi lets groups of people set goals and encourage each other to save. These might be friends planning a spring break vacation or college buddies trying to save for mortgage down payments. Organizations, like churches, business associations and fraternities, can also use Wellthi to manage group fundraisers and recurring donations virtually.
Once users activate a Wellthi digital savings wallet, they set a target amount and invite people to join them on their savings mission. They can use the social networking functions to encourage their friends and eventually book hotel rooms or buy plane tickets via their wallet or debit card.
By integrating Wellthi's technology, banks can offer group savings to underserved customers. "You'd be surprised how many Americans don't have a bank account and are still using payday lenders. It's keeping them in this vicious cycle of poverty," Gilliam says.
"By digitizing these age-old savings systems and fusing with a communal strategy, Wellthi can help give underserved people the opportunity to save the way they live: socially. Wellthi also comes with a built-in marketing strategy to connect with this traditionally hard-to-reach segment. Banks can quickly and inexpensively attract potential clients as users invite friends to their savings plans. In fact, a community bank and a credit union will start offering Wellthi's solution to clients next year.
Positive peer pressure, competitiveness, and FOMO — fear of missing out — all encourage people to keep making payments into these social banking plans that Ukpai says have a minimal default risk.
Gilliam understands the behavioral science firsthand. She joined a savings circle with college friends to save for a mortgage deposit and ended up using some of the money to get Wellthi off the ground.
Gilliam and Ukpai dedicated the last 18 months to rigorous research and development and testing while also fighting an uphill battle to snare funding to launch.
Their hard work paid off, raising $1.7 million from angel investors, the Independent Community Bankers of America and the W Fund that targets women and underrepresented founders.
"We know that it's going to be more difficult to raise venture capital, as women and as women of color," Ukpai says. "I feel good about our traction."
Wellthi joined Start Path in August as part of a new program dedicated to supporting early-stage startups led by founders who are underrepresented in the fintech space. Wellthi will soon offer Mastercard debit cards to customers and the co-founders want to eventually expand the business to markets such as Latin America, East Africa and Europe.      
But Gilliam credits most of Wellthi's success to the Korean street food vendor and the African women exporters she met more than a decade ago, and others like them. "I learned the power of tenacity, bootstrapping and being a lean start-up from the women that I was working with overseas," she says. "They were moving mountains and doing amazing things with nothing."