Innovation
How two millennials teamed up to tackle the generational wealth gap
May 17, 2022 | By Siobhan Stewart

Maya Nijhawan and Neel Ganu were college graduates with business degrees — she in marketing and accounting, he in finance — but despite this, they both felt frustrated when it came to managing their personal finances: multiple accounts, building credit, making sense of rewards points and wondering where to invest and how to weigh their risks. They soon realized they weren't alone.

Nijhawan and Ganu, who met at university, found there was a serious generational wealth divide in the U.S. According to a 2021 Bloomberg analysis of Federal Reserve data, 40-year-old millennials are only 80% as wealthy as their parents were at the same age.
"Millennials have faced the worst economic odds of any generation," Nijhawan says. "They're already on a back foot financially."
Nijhawan believes that investing and building credit are two of the best things people can do to support their long-term wealth. In 2019, they left their day jobs and joined forces to tackle both problems.  
"We've found the best and simplest way to help people invest and build credit is to tap into their existing spending behavior," Ganu says.
Their solution, currently in beta, is Finch, a platform that links checking accounts to the Finch Rewards Mastercard, which earns up to 5% cashback on all purchases. The difference? That money is automatically invested for the cardholder. Finch offers personalized investment recommendations based on experience and risk. It also reports cardholders' monthly spending to credit bureaus as creditworthy payments to help millennials with low credit scores or thin credit files build their credit.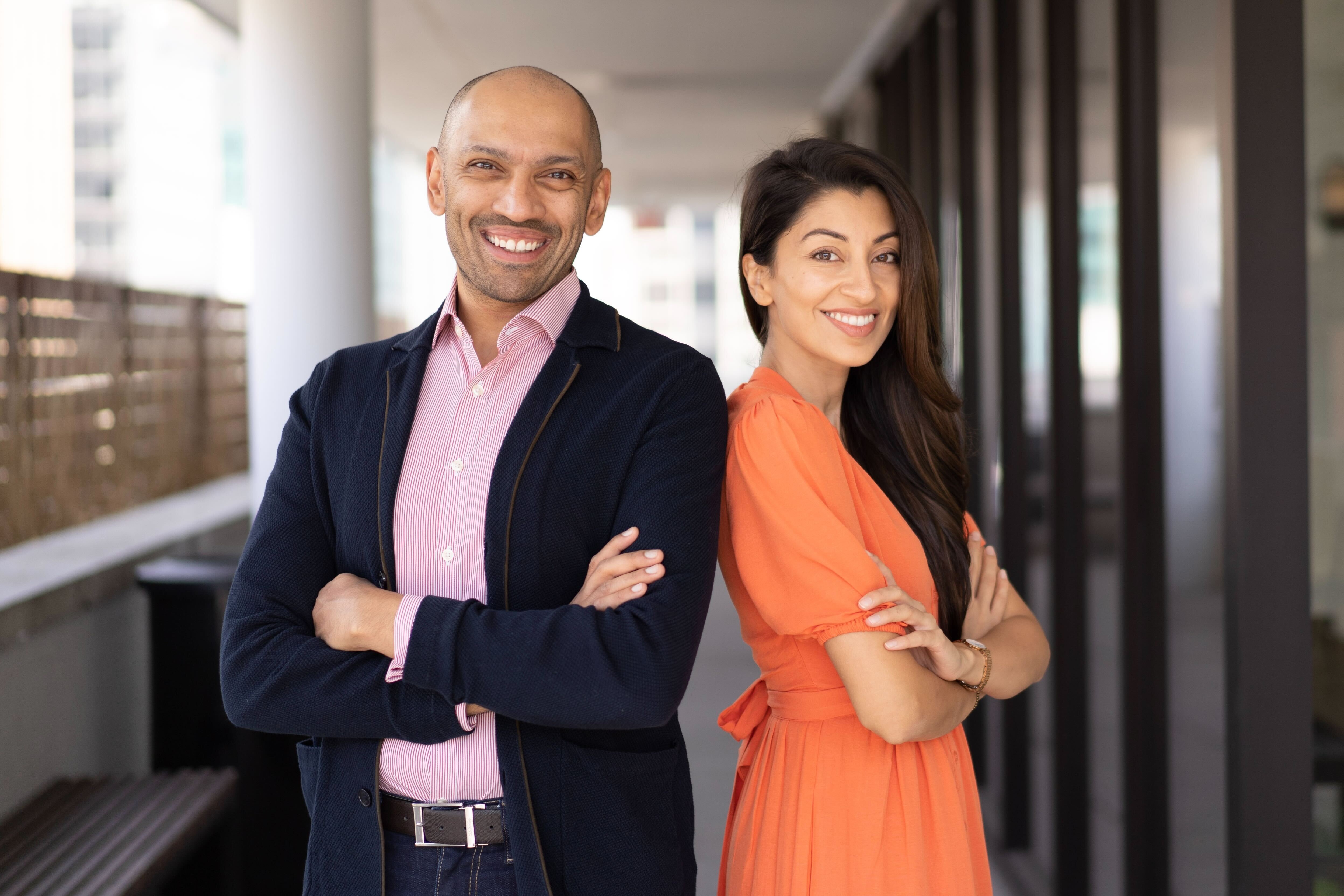 Neel Ganu and Maya Nijhawan of the startup Finch. (Photo courtesy of Finch)

With no hidden fees or credit requirements, Finch is an accessible way for customers to transform everyday spending into investing and credit building, Ganu says.
Finch also offers a choice for customers to only invest in socially responsible companies — those that have passed environmental, societal and governance screening requirements. "We want to enable our customers so they can put their money to work in a way that aligns with their values," Ganu says. 
After working with Mastercard to get the Finch Rewards card off the ground, the startup joined the Mastercard Start Path global startup engagement program for underrepresented founders, which helps early-stage startups scale through connections, expertise and fintech resources.
Founders of color often have difficulty attracting the venture capital needed to scale – and their diverse perspectives can be key in developing innovative products and services for customers both inside and outside the financial mainstream. When it comes to investing, for example, a recent Gallup survey found that 64% of white respondents own stock compared to 46% of respondents of color.
Finch will launch later this year in the U.S. for people on the waitlist, and they're already thinking about how to expand their target audiences and help people start investing and building credit at an even younger age, Nijhawan says.
In tandem with Finch, Nijhawan has become a "finfluencer," carrying her passion for helping people be smarter with their money to social media. On TikTok, she produces bite-sized videos to help teach her more than 372,000 followers financial education lessons and engage with potential customers directly. (One recent tip that speaks directly to Finch's mission: "Pay yourself first.")
The best piece of advice she received as she and Ganu built Finch? "Know the reason why you're doing what you're doing and make sure you're connected with the problem you want to solve."