Inclusion
Davos takeaways: The economy, blockchain and building trust by accelerating inclusion
January 23, 2023 | By Vicki Hyman

DAVOS — As multiple crises continue across the globe — including a war just 1,200 miles from this tiny Swiss village — decision-makers gathered this past week at the World Economic Forum's annual conference. Many struck hopeful notes about the state of the economy, the power of data to combat inequity and the potential for collaboration to solve global challenges.  
About 2,700 policymakers, finance and tech leaders, celebrities, journalists, academics and activists gathered at Davos to debate topics such as deglobalization, decarbonization, distrust and digitization under the theme of "Cooperation in a Fragmented World."
"If we can unleash the innovation and motivation of the private sector," said Michael Froman, Mastercard vice chairman and president for Strategic Growth on one panel on innovation for social good, "we can scale commercially sustainable social impact."
Here are four takeaways from Davos 2023:
01
Guarded optimism on the economy: Despite fears of a downturn, many CEOs and government officials were cautiously optimistic, with Citigroup CEO Jane Fraser telling CNBC that in the U.S., a "mild, manageable recessionary scenario, driven by the strength that we've got in the labor markets," is likely.
"For Europe, we should avoid a recession, which I wouldn't have said with such confidence three months ago," said François Villeroy de Galhau, the governor of the Bank of France at the panel "The Role of Finance in a Recovery." "We will win, at the end of the day, the battle against inflation."
At the same panel, Mastercard CEO Michael Miebach ticked off some positive signs: relatively low unemployment, strong consumer balance sheets and agile consumers. "One common trend across the board is that spending on essentials versus discretionary spending has been increasing, but within that, the consumer is trying to make tradeoffs," he said. "Headline: The consumer is resilient."
02
ESG isn't going away: Companies continue to embrace — and work to deliver on — commitments they've made on environmental and societal goals. At the panel "Stewarding Responsible Capitalism," Bank of America Chief Executive Brian Moynihan called for a set of official global standards to guard against poor practices and "align capitalism with what society wants from it and get us going faster."  
But realizing the power of the private sector in meeting climate and equity goals may require buy-in beyond the boardroom. Sustainability shouldn't be a vertical — it should run across and throughout the whole of the business, said Mastercard Chief Sustainability Officer Ellen Jackowski.
"When it comes to private sector involvement in inclusion and ESG, it works best when companies do things that are genuine and authentic and additive to the core business."
That's why last year Mastercard changed its compensation model for all employees to link bonus pay to the company's progress on its ESG priorities, she said, mirroring what it had done for executive pay in 2021. "When you build in that incentive, they are going to be much more motivated to be a part of that solution and to make better choices," she said at The Female Quotient's panel "The Cost of Technology."
"When it comes to private sector involvement in inclusion and ESG," Froman said at the panel on innovating for social impact, "it works best when companies do things that are genuine and authentic and additive to the core business."
03
New tech requires more thoughtfulness: Following the recent spate of high-profile implosions in the crypto space, it's not surprising the take on crypto at Davos was analytical, with calls for more regulation from, yes, regulators, but CEOs as well. More clarity will be key to bringing in established players, and regulation can create the guardrails to scale, Miebach said at the recovery panel. "I think we're at that juncture in the road to make this a formidable ecosystem that can solve a lot of problems."
Many remain bullish on the blockchain tech that powers crypto, with UBS President Colm Kelleher calling it "unstoppable."
And just like the rest of us, Davos attendees couldn't stop talking about ChatGPT and the potential of artificial intelligence — and the pitfalls ranging from bias to more sophisticated cyberattacks to data privacy. "When we apply AI across product development," said Jorn Lambert, Mastercard's chief digital officer, in an interview with Axios, "we have principles that we follow to ensure that the consumer knows how their data is being used. We need to protect that data and thoughtfully apply it."
04
Digitization and data are key to inclusion — and so is trust: And inclusion can be a way to foster trust, said Salah Goss, the head of social impact for North America at the Mastercard Center for Inclusive Growth at the panel "Disrupting Distrust." "If you can believe that your participation in the system actually leads to prosperity, you start to trust that more and more … If you don't have access and you don't have equity, you are more mistrusting."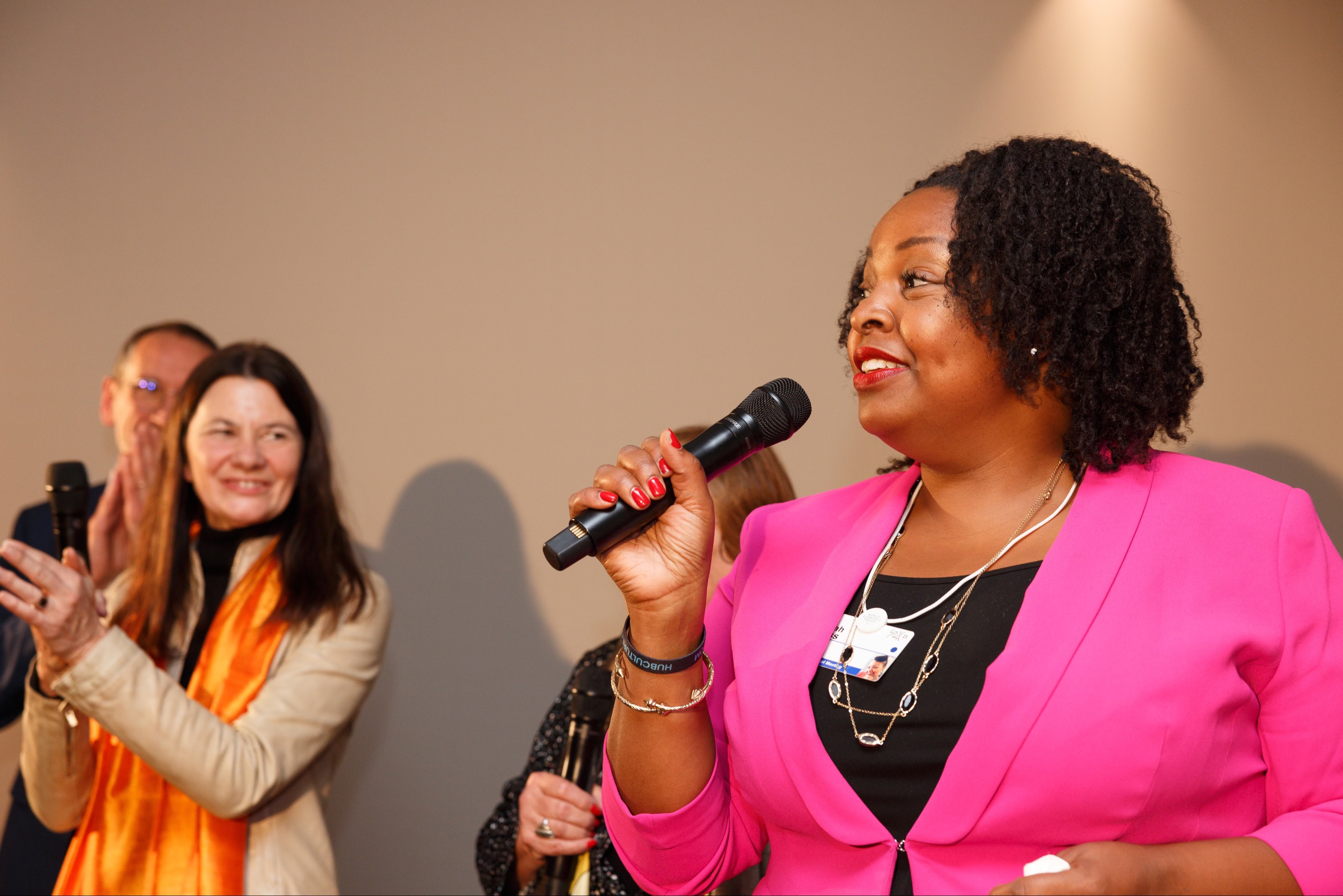 At Davos, Mastercard's Salah Goss highlighted the company's $500 million commitment to reduce the racial opportunity gap in the U.S. (Photo: Lia Mausolf/Mastercard) 
The small business sector could benefit greatly from continued digitization and deeper collaboration across the financial sector, Ling Hai, Mastercard co-president for International Markets, told Hub Culture. Entrepreneurs drive a lot of innovation, but they often lack access to credit, which can stifle their potential. That's because lenders often don't have insights into their creditworthiness. "With digitization, there's so much data," he said. "The question is, how do you use data responsibly to do lending and at the same time safeguard the privacy of small businesses?"
Helping close the information inequality gap — between the data haves and the data have-nots — can unlock enormous potential for nonprofits and others looking to close other kinds of equity gaps, said Shamina Singh, the president of the Mastercard Center for Inclusive Growth at the "Data Collaboration: Lessons from the Field" panel. "We invest in building the field of data science for social impact, which means to build capacity of social sector organizations to realize the power of their own data."
The economy, trade tensions and the conflict in Ukraine made headlines, and debate flared over protectionism, but the return of travel to pre-pandemic levels, the resilience of the consumer, and the reopening of borders also dominated conversations. And most seemed willing to embrace the theme of cooperation and get to work. Said Singh at the annual Women Leaders Reception, "We all have something to say, we all have something to hear, now we all have something to do."
This story was written by Vicki Hyman in New York with reporting from Biz Cozine, Alisdair Haythornthwaite and Lia Mausolf in Davos.  
Banner photo: Mastercard's Shamina Singh with Jeff Merritt, a WEF executive committee member and head of urban transformation, at the panel "The Big Opportunity Behind Small Businesses." (Photo: Ciaran McCrickard/World Economic Forum)