Gaming
How cyber athletes are gaming the job market
February 15, 2023 | By Amy Kover

Last October, Chandi Kanhai sat down at his computer to solve a mystery. First, he analyzed the metadata of an image of an alleyway to pinpoint its location, the date it was taken and what device took the image. Then he analyzed and reverse-engineered an unusual piece of malware. Finally, he cracked a set of password hashes though pattern recognition.
Kanhai wasn't just playing a cool new video game, but testing his skills in the National Cyber League, a cybersecurity competition for American high school and college students.
After sleuthing for several days, Kanhai was shocked to receive a congratulatory note. It turned out he had won the individual portion of the competition. "I didn't notice until someone told me," says the 21-year-old, who is studying computing security at the Rochester Institute of Technology. "I just like puzzles a lot — trying to figure out what happened and why."
He hopes to continue his winning streak this summer as one of 30 young cybersecurity aces chosen to represent his country on the U.S. Cyber Team at the International Cybersecurity Championship (ICC) — the Olympics for up-and-coming so-called ethical hackers, the cyber pros who use their powers for good. Held in San Diego this August, the competition will bring together more than 200 cyber athletes from 64 countries and test their prowess in areas such as cryptography, reverse engineering and leveraging weaknesses in systems and devices.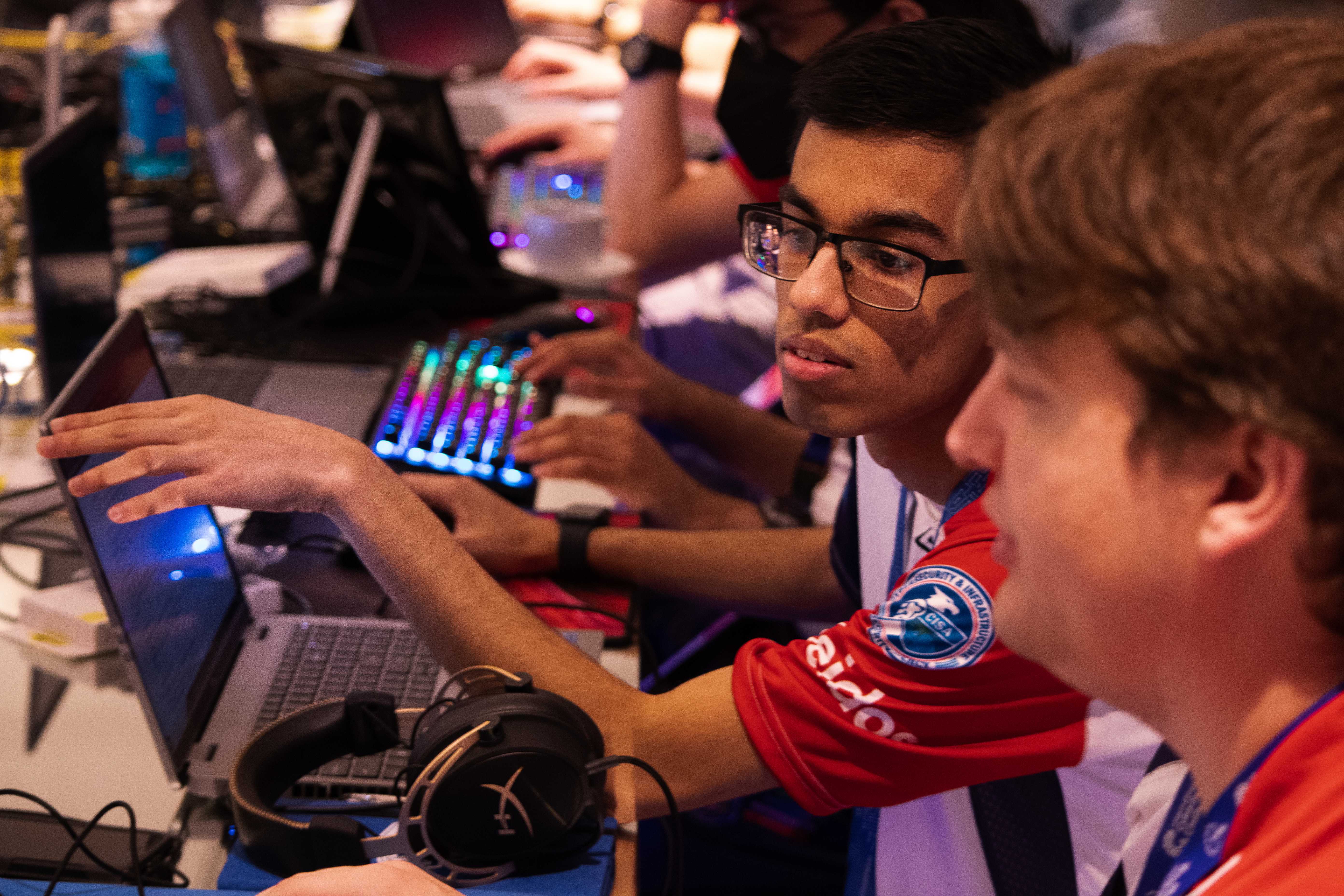 Chandi Kanhai, left, competing at the International Cybersecurity Challenge in Athens last year. (Photo couresty U.S. Cyber Games)
Like other cybersecurity competitions, the international championship uses a gamelike format, which offers a deceptively entertaining way to address the global shortage of cybersecurity professionals. As cyberattacks continue to grow — a recent report showed that organizations were attacked on average 1,168 times weekly in 2022 — the worldwide gap in cybersecurity workers reached 3.4 million workers.
"If we want our young people to become the talent base of the cybersecurity industry for years to come, they need a place to learn, grow and fail," says Dane Brown, an assistant head coach of the U.S. Cyber Team. "Giving them something educational that's also fun brings them in, makes them feel engaged and welcome and gives them a reason to continue coming back."
Training with the U.S. Cyber Team, supported by Mastercard, offers real-time immersive experiences to help athletes recognize indicators and threats and respond with hands-on application of tools and techniques to fend off attacks. 
That will include trying to outsmart Mastercard's own cyber experts working virtually at the company's St. Louis Tech Hub Cyber Range, says Jon Brickey, a Mastercard Technology senior vice president who serves on the Cyber Games advisory board. It's not entirely altruistic, he points out with a laugh. "We value these athletes' skills and their strategic thinking, and we hope this kind of talent can help us meet the demands of protecting the digital economy."

The best cyber athletes aren't just tech whizzes. "We need people with grit and resilience, people with a positive attitude who are team players," says Brown, who is also an assistant professor in the cyber science department at the U.S. Naval Academy. "We want people always looking to get better. This is a field that moves way too fast to ever say, 'I know it all.'"
Kanhai first got interested in cybersecurity during high school, when he was tinkering with a Robotics Club project and the coach of the school's cybersecurity team invited him to join. As a competitive gamer, he discovered he had a knack for these events. "Being able to think fast, improvising, communication and attention to detail are useful in both fields," he explains.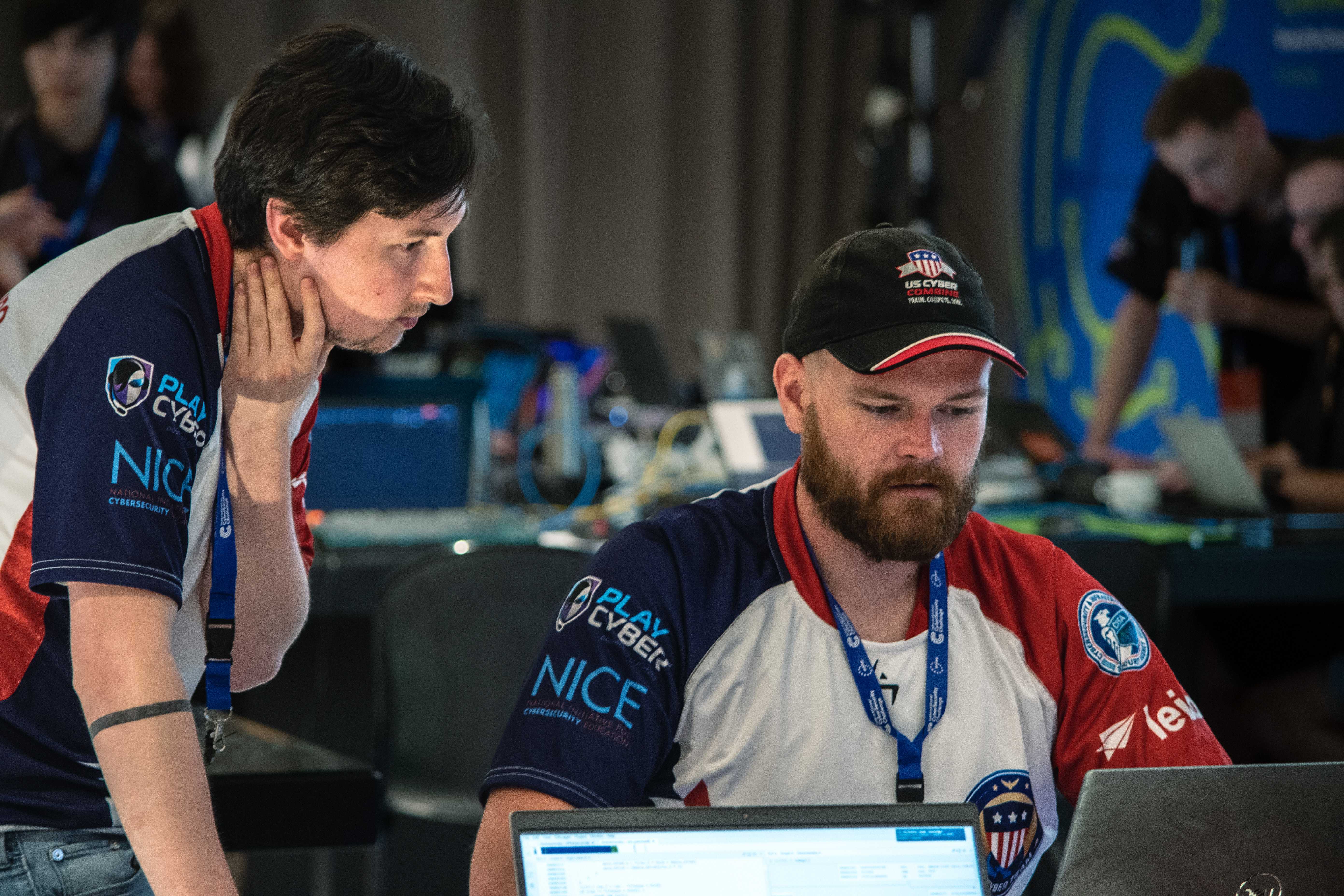 Logan Stratton, right, is a two-time member of the U.S. Cyber Team who now works as research engineer at the Dakota State Applied Research Laboratory. (Photo couresty U.S. Cyber Games)
What kept him competing was the way the challenges opened up different aspects of computing, shedding light on how each facet of technology works together and revealing how he could make computers "do things — sometimes things they aren't intended to do."
Now, Kanhai and his fellow U.S. Cyber Team members travel the country to attend competitions to prepare for the ICC. And, like Kanhai, his teammates are gamers drawn to the competition's playlike feel. "A lot of the challenges have instant gratification about whether you solved it or didn't, and that hooked me," says Logan Stratton, who graduated from Dakota State University with degrees in cyber operations and computer science in 2021.
The payoff for those challenges has lasted longer than Stratton anticipated. Since graduating, the 24-year-old has noticed that his competition experience has provided the technical and teamwork skills needed to succeed in his current job as a research engineer at the Dakota State Applied Research Laboratory. But what's really surprised him are the lessons that resonate beyond his career or gaming: "It's like life: Just keep moving forward, and don't give up."
Banner photo: The U.S. Cyber Team at the at the International Cybersecurity Championship in August. (Photo courtesy U.S. Cyber Games)