Inclusion
Singer-songwriter Jozzy on owning who you are
February 7, 2023 | By Jolie Lash

There's an old adage: "You are your only competition."
For singer, songwriter and producer Jozzy, born Jocelyn Donald, that took on new meaning in November when she learned that two of the albums she contributed to as a songwriter — Beyoncé 's "Renaissance" and Mary J. Blige's "Good Morning Gorgeous (Deluxe)" — were vying for Album of the Year category at the 2023 Grammy Awards.
And for Jozzy, 2023 is only about to get better. This year, she will step away from songwriting and into the spotlight as she becomes the first artist with Sean "Diddy" Combs' R&B imprint Love Records. The Memphis, Tenn. native signed with the renowned hip-hop producer last year and will drop her first EP on his label — "Songs for Women"— which features her singing about falling in love as a queer woman.
In the lead-up to the Grammys Sunday night, Jozzy joined hip-hop legends MC Lyte and Lil' Kim and other trailblazing Black women to discuss balancing being creators and businesswomen as part of Mastercard's She Runs This panel discussion series to help inspire a new generation of entrepreneurs. At the event, Jozzy took a few moments to speak to the Mastercard Newsroom about her passions, her mentors and how she learned to ask for what she's worth.
What did it mean to you to be the first artist signed at Love Records?
Jozzy: Puff is a guy who's [been successful] so many times. He did it with Biggie; he did it with 112; he did it with Mary [J. Blige]. And he does it through true partnerships.  I'm not signed to him. We're partners 50/50. He sees that I'm not like everybody else, but I'm needed right now in the industry.
Tell me about balancing being an in-demand songwriter with your new career as a solo artist.
Jozzy: Talking to some of my friends, I have begun to think that, in this next step of my life, I want to write less for other artists and focus on me. At first, I was like, "Yo, I want to do both," but talking to them made me realize this is my time to be selfish, and totally devote everything to Jozzy as an artist.
You've worked with a lot of big artists. Was there a point where somebody advised you, you need to ask for what you're worth?
Jozzy: I knew from watching all my counterparts. When I'm hanging out with some of my producer friends, I am like, 'Yo, they've got a big house.' You start wondering maybe they're not taking my songwriting – you know what? Maybe I'm not asking for it. So that's what I started seeing: Everybody around me kind of leveling up financially.
What do you enjoy about performing onstage? What have you learned about yourself?
Jozzy: This is my first time really touching the stage and I've got to say, it's so much fun. I am realizing that you need to own who you are when you step on stage. Whoever you are, whatever you want to represent, represent that, but don't act like you're scared. People can feel it. Even when you pick up the mic, you better do it with conviction. And don't act like you didn't mean to hold this mic. Whatever I am, I will tailor that stage to me.
Banner photo: Jozzy performing at a pre-Grammy panel on Black women entrepreneurship as part of Mastercard's She Runs This: Celebrating Entrepreneurship in Business and Hip-Hop discussion series. (Photo credit: Rich Polk)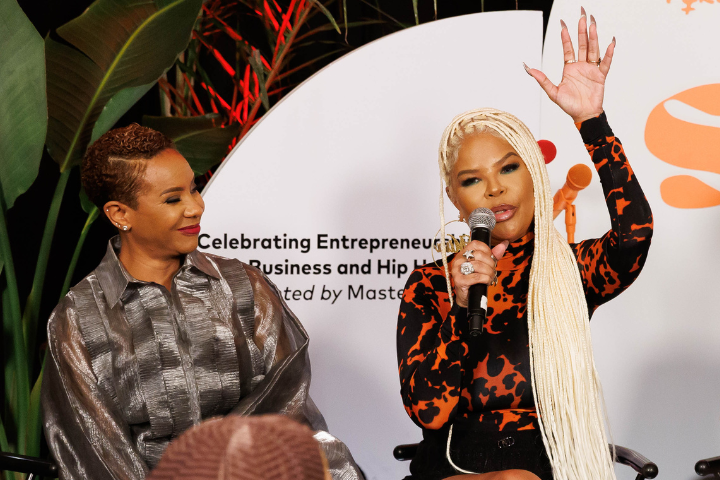 inclusion
Hustle and grow
On the 50th anniversary of hip-hop, Black women trailblazers including MC Lyte, Lil' Kim and Misa Hylton reflect on entrepreneurship, perseverance and the power of passing the mic.
Read more