Inclusion
These HBCU students are making their cities smarter
February 28, 2023 | By Vicki Hyman

In 2019, a natural gas explosion near downtown Durham, N.C., killed two people and injured 25 others, including nine firefighters, after contractors installing underground cables mistakenly cut through a gas line.
A passing driver first reported the smell of a gas leak nearly an hour before the explosion, but firefighters were first dispatched to the driver's location a few blocks away and didn't locate the source of the leak until a second report nearly half an hour later. If firefighters had access to real-time information about the neighborhood, such as the permit for the cable installation work, could they have tracked down the source of the leak faster? Could more lives have been saved?
That's what Sina Ndhlovu, Arnold Bhebhe and Robert Mukuchura wondered. "It's easy to for me to judge and say, 'You could have done better. Why didn't you do this?,'" Bhebhe says. "What could I have done if I was in their position?"
So the three computer science students — Ndhlovu at St. Augustine's University in nearby Raleigh and Bhebhe and Mukuchura at Alabama State University, all historically Black institutions — joined forces to figure that out. As part of the inaugural HBCU Smart Cities Challenge, they developed a proof of concept for a platform that could give first responders, including police officers, timely and relevant information to help them make smarter decisions faster. And that, Mukuchura says, could also fortify trust in communities where faith in first responders may be lacking.
"How they respond to situations can be the difference of life and death," Ndhlovu says.
The challenge, developed by Pathway OZ and supported by Mastercard, encouraged student developers, entrepreneurs, designers and engineers at the nation's 107 HBCUs to build smart city applications for challenges ranging from air quality to traffic and public transit to food access to waste management.
Pathway OZ is a Raleigh-based organization that connects the often untapped innovative power of HBCUs to the potential of Opportunity Zones, which offer tax breaks for investment to spur economic growth and job creation. More than 50 HBCUs are located in Opportunity Zones, where Black Americans makes up more than twice as large a share of the population as they do nationally.
"HBCUs have always been the anchor of a lot of African-American communities, so it's only right to tap into the existing intellectual capital that's there and them at the center of these solutions," says Kevin Fomengia, the co-founder of Pathway OZ and its director of innovation. "We truly believe we have all the solutions in our backyard."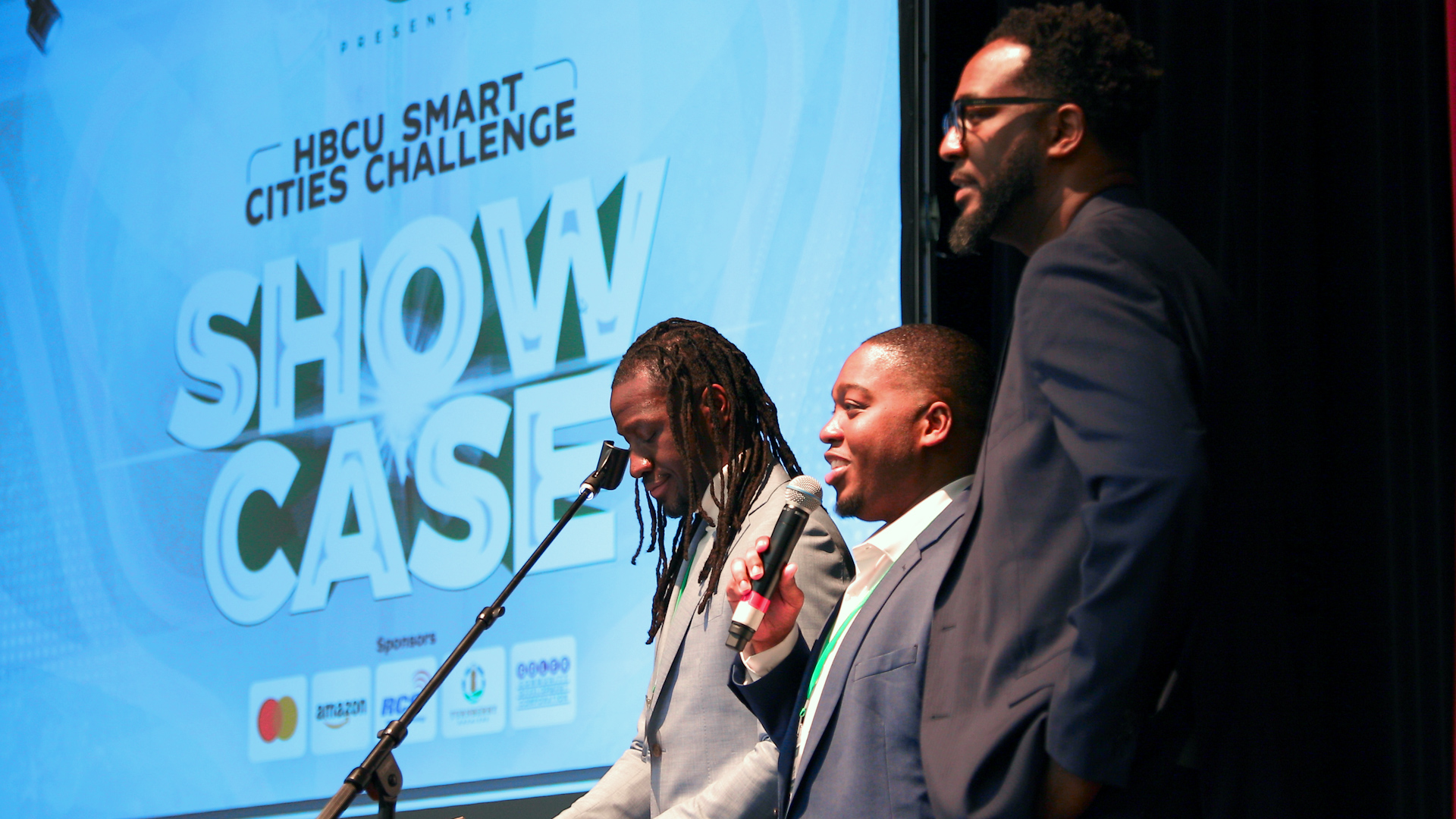 "We have to ensure we are creating opportunities for students and building durable pipelines that are able to support their creativity and change the trajectory of their life and career," says Earl Turner III, right, a Pathway OZ board member and research and education advisor, with Pathway OZ co-founders Kevin Fomengia, left, and Ayinde Simon, center. (Photo courtesy of Pathway Oz)
Mastercard's investment in HBCUs is part of its $500 million In Solidarity commitment to reduce the racial opportunity gap, but the challenge also reflects its work to make cities more equitable and inclusive, says Phillip McAuley, who coordinates government and urban partnerships and served as a judge for the challenge. "I was so impressed by all the teams," he says. "These solutions are proof positive that HBCUs are key to ensuring that digitization can — and should — benefit everyone, everywhere."
Pathway OZ worked with six cities — Raleigh and Winston-Salem in North Carolina, Tuskegee and Tuscaloosa  in Alabama, Greenbelt, Md., and Columbia, S.C. — to define specific challenges they wanted the students to help solve, and then hosted workshops and Town Halls with the teams to help them develop their platform or product.
The eight teams with the strongest ideas — from smart kiosks for tourists to an incentive-based recycling system that uses sensors to better manage waste collection to Innova, the emergency response platform developed by Ndhlovu, Bhebhe and Mukuchura — pitched their ideas to a panel of judges at the challenge final earlier this month in Winston-Salem. Team Innova won first place, but Pathway OZ and the participating cities will be evaluating all the finalists' offerings for further development.
Team Innova developed their platform for Winston-Salem, working with the city to better understand how 911 calls are routed, what information is available to first responders, and what kind of information might be useful — for example, live surveillance from nearby security cameras, the layout of gas lines, blueprints of a house, or even a report that a water meter reader got bit by a dog on his last visit.
"One of the things I love about it is that it's so intergenerational," Fomengia says. "You have  students, the next generation, and the current generation and the older generation working together for this north star."
Team Innova was also an example of the challenge's borderless model —  where students from different HBCUs could work together based on shared interests. "We wanted to center HBCU students as problem solvers and foster more collaboration between communities," says Ayinde Simon, Pathway OZ co-founder and director of partnerships. "We are building a collective brain of HBCU talent."
Top banner: Arnold Bhebhe, left, and Robert Mukuchura, center, of Alabama State Univeristy, and Sina Ndhlovu, right, of St. Augustine's University, presenting their first response solution at the HBCU Smart City Challenge in Winston-Salem on February 18. (Photo courtesy of Pathway OZ)