Inclusion
Transforming tech opportunities through mentorship, education and … transportation?
May 16, 2023 | By Cort Williams

A guaranteed job as a software engineer? Without a college degree? In less than a year? One might understand why then-17-year-old René Nelson — not to mention her parents — were a bit dubious when a representative from Access Point presented this opportunity to Nelson's advanced computer class at St. Louis's Ritenour High School. 
"It seemed too good to be true," Nelson recalls. "It caused a lot of turbulence with my parents when I said I wanted to do this instead of go to college, but I told them to just trust the process."
Together with school districts, colleges and universities and corporate alliances such as Mastercard, St. Louis-based nonprofit Access Point looks to remove barriers for young people and underrepresented communities by providing life-changing opportunities and long-term careers in technology through access to education, mentorship and financial support.
Access Point offers paid apprenticeships with its corporate partners and entry-level jobs for those who complete the eight-month program. Students like Nelson — now 19 and a full-time software engineer in Mastercard's Technology business — curate an individual plan alongside an Access Point member to complete a bachelor's degree.
Along the way, mentors in the St. Louis IT community help them learn necessary tech skills in addition to soft skills like how to succinctly respond to emails, social etiquette in the corporate setting and even how to golf, through individual sessions with local pros from the Advocates Professional Golf Association. 
One of those mentors is Maurice Mahone, a former Mastercard vice president who now serves as a national program director at Daugherty Business Solutions, a major IT consulting firm based in St. Louis. He has long been an advocate for bringing more people of color into the world of technology.
"As someone who has been involved with several technology organizations across the St. Louis area, I was tired of being the only person of color in these meetings," Mahone says. "It's crucial to expose these young people to the opportunities that our digital world provides at a grassroots level, so they can realize their full potential and grow within the organization, but more importantly, so they can find a career and show others that there is room at the table for people of color."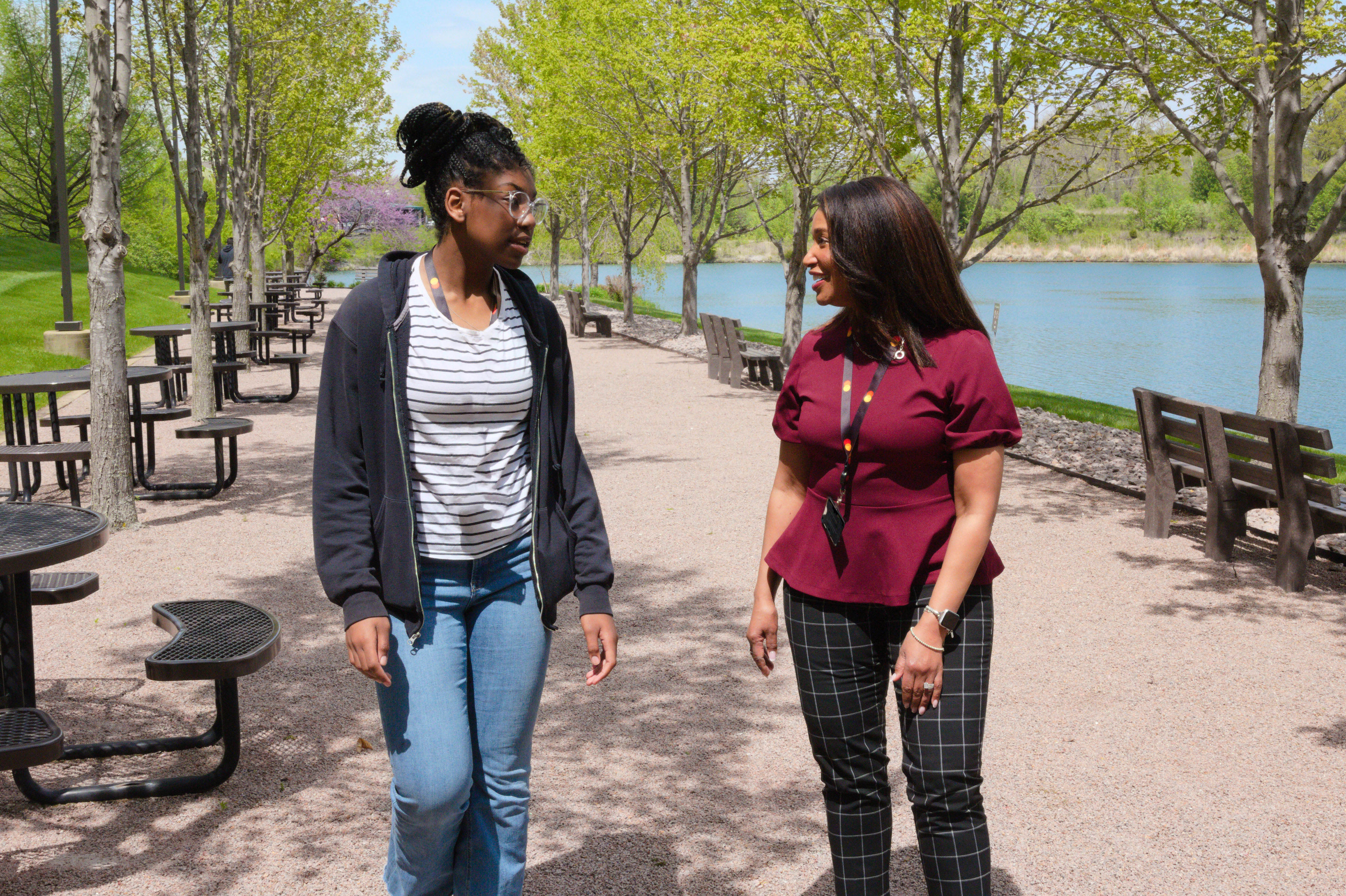 Wendy Richardson, right, Mastercard's senior vice president of Tech Hubs, launched the Access Point partnership that brought René Nelson to the company's St. Louis Tech Hub and has mentored the young software engineer. Top photo, Nelson is able to use rideshare to commute to work thanks to a partnership between Mastercard and Uber. (Photo credit: Mira Belgrave)
Despite Access Point's ongoing efforts to eliminate barriers for young students who want to work in the technology space, there was still one significant hurdle: the mass transit challenges across St. Louis that have hindered Access Point participants' ability to attend networking and courses that they provide, let alone commute to companies in their network, often located in suburban office parks not easily accessible to those without a car.
With no easy access via public transit to Mastercard's St. Louis Tech Hub in O'Fallon, Missouri, students like Nelson wouldn't be able to fully immerse themselves in office life and make some of the connections they need to advance their careers.
"If we could just lift that hurdle of transportation off a kid's shoulders, we knew we would be unlocking a new opportunity that once seemed out of grasp for so many," Mahone says. 
To do this, Mastercard and Uber — both of which have made long-term commitments to champion equity inside and outside their walls — decided to build on their long-standing partnership to bring instant payments and other benefits to those who drive with Uber. The two companies created a unique program that allows Mastercard to provide free rides to Access Point participants through a custom QR code on the Uber for Business platform, Uber's enterprise arm.
"We understand that transportation can often be a significant barrier — and we strongly believe that program participants shouldn't miss out on educational or career opportunities just because getting from point A to point B is a challenge," says Susan Anderson, global head of Uber for Business and Business Development at Uber. "We are committed to expanding opportunities for diverse and underrepresented talent in tech. Our work with Mastercard is a natural extension of Uber's ethos, and we're proud to support this incredible initiative that is effecting real change in the St. Louis community."
St. Louis is one of seven cities in Mastercard's In Solidarity initiative, a $500 million commitment to help close the racial wealth and opportunity gap, and this partnership builds on that work to bring resources directly to underinvested neighborhoods that need them the most.
"Being able to get a ride to the office whenever I need to grants me the opportunity to build a sense of community with my co-workers," Nelson says. "I was also able to join the business resource groups that make me realize there are others just like me within Mastercard and within tech." 
It's safe to say Nelson's parents are glad they trusted the process. 
"I think they see now what a great choice this was for me," she says. "They're happy when I'm happy, and so far, this has been better than I could have ever imagined."